Three Living Popes? Francis Retirement Could Create 'Worst-Case Scenario'
When Pope Benedict XVI abdicated in 2013, his abrupt resignation came as a shock to the world, who were familiar with seeing popes dying while still leading the Catholic Church. But is such an unusual move going to be repeated by Pope Francis?
A recent colon surgery, mobility issues and a series of events that hint at bolstering Pope Francis' legacy have gotten Vatican experts wondering if the pope is about to quit.
When Jorge Mario Bergoglio, now known as Pope Francis, was elected to replace Benedict XVI nine years ago, the newly appointed pope was a breath of fresh air for the Vatican, distinguishing himself from the conservative, stiff tenure of his predecessor, Joseph Ratzinger.
But that energetic demeanor has been now struck by a series of health issues that have forced the pope into a wheelchair for the last month, triggering mounting conjectures over the future of the Holy See.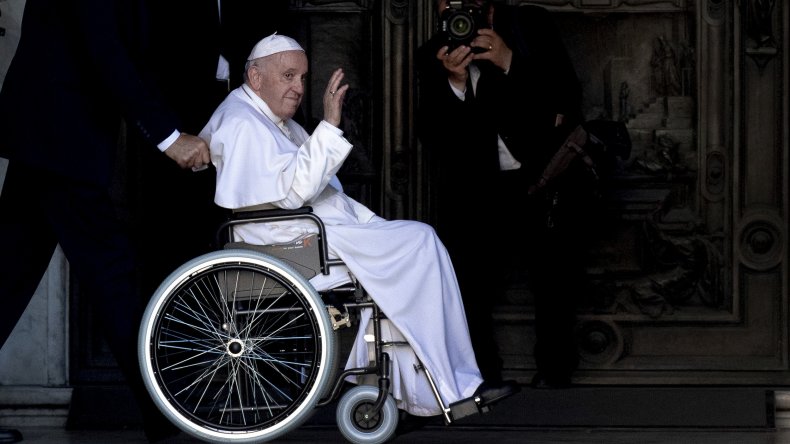 Rumors of the pope being ill and ready to resign are common in Italian media, where the Vatican makes headlines on a daily basis. Speculations over a possible resignation by Pope Francis have been reignited, fueled by the announcement that the pope will travel to L'Aquila in central Italy in late August.
Why Does This Trip Matter?
The trip to L'Aquila on August 28 will start the "Feast of Forgiveness," a seven-centuries-old festivity inaugurated by Pope Celestine V, who resigned in 1294 after four months in the pontificate—one of only a handful of popes to have resigned before Benedict XVI.
The celebrations will open only a day after Pope Francis is scheduled to appoint 21 new cardinals who are all eligible to vote for the future of the papacy should he quit, and all likely to share the pope's views on who his successor should be.
On top of this, the Vatican has announced two days of talks the following week to brief the new cardinals on the reforms to the Vatican bureaucracy supported by Pope Francis, including allowing women to head Vatican offices.
Altogether, this series of actions feels pretty final, suggesting Pope Francis is trying to ensure his legacy. In 2013, the pope was elected to reform the Roman Curia, scarred by various scandals. And in the past nine years, he has done so, even if only partially. His job done, the pope could potentially retire without regrets.
"Flying home from South Korea in 2014, Francis said that Benedict's resignation had opened a door to make resignations a part of the regular order of things and not an out-of-the-ordinary event," Christopher Bellitto, a church historian at Kean University in Union, New Jersey, tells Newsweek.
"The last papal resignation was about 600 years ago. Whether it becomes standard for every future pope to resign, who can say?"
More Than a Tradition: Why Do Popes Not Quit?
In 2013, Pope Benedict XVI became the first pope to resign in almost 600 years, since Pope Gregory XII in 1415. Resigning is possible under the Canon law of the Roman Catholic Church, which states that popes are allowed to renounce the role of their own will.
But the reason why popes usually die on the job, rather than resigning once it becomes clear their health is deteriorating to a point of undermining their capacity to take over the duties the papacy entails, has to do with fears that such a precedent would open the doors for popes being pressured into resigning or quitting once it becomes too hard.
"There's a biological factor to consider," Francesco Mores, a research fellow at the University of Milan and an expert in the history of Christianity and of churches, told Newsweek. "There used to be a whirlwind change in the bishops of the Church of Rome, the average life expectancy was much shorter and people died much easier than they do now. There was no need for popes to resign."
Mores explained that another key reason popes have not often resigned in history is because of their symbolic role as vicars of Jesus Christ on Earth. While bishops retire at the age of 75, popes do not have a retiring age.
"[The pope] is chosen in some way by God, as Jesus Christ's vicar. It's complicated for him to resign this way," he said.
Benedict resigned because he said he lacked the "strength of mind and body" to perform his role. Although many were shocked by his decision, which some said would "secularize" the Roman Catholic Church, others interpreted the decision to quit the pontificate as justified by a debilitating illness.
Nobody can contest a pope's resignation, as the resignation is not actually offered to anyone. There's no role above the papacy in the Vatican, and the pope has no guidelines to live by in case of retirement.
Could There Be Three Popes?
Before Pope Benedict XVI and Pope Francis, there had never been two popes living next to each other in the Vatican, one reigning and one calling himself "emeritus pope." The unprecedented situation caused some confusion and certainly stirred controversy.
What if the living popes became three?
"God save us from such a thing! It's already hard the way it is," Mores said, mentioning the presence of Benedict as "emeritus pope."
"Journalists say that he doesn't speak publicly, but he speaks with his eyes. Trying to interpret someone who communicates with his eyes, next to yet another 'emeritus pope' would be really very complicated," he added.
"There have been times in the past when there were popes and then challengers called anti-popes, but that hasn't happened since 1449," Bellitto explained. "That is not the case today. Benedict is no longer pope, but it is confusing that he still wears white and goes by his papal name 'Benedict.' The church has to put in place protocols so this confusion doesn't happen again."
"Certainly in the modern era, it would be the first time the Catholic Church had three living popes," Vatican and religious affairs expert John Thavis told Newsweek.
"Of course, the church would insist that two would be 'pope emeritus,' but in the minds of many Catholics, once a pope, always a pope," he said. "It's an entirely new scenario, but one that could be predicted as soon as Pope Benedict opened that door by announcing his resignation nine years ago."
"What makes it even more fascinating is that neither Benedict nor Francis after him, has ever defined the role of a pope emeritus. Benedict chose to live in relative isolation in a Vatican monastery, but even he has had a semi-public role at times—through interviews, published works and relayed conversations.
"It's not inconceivable that a retired pope could decide to take a much more active role, for example, visiting Catholic communities around the world, giving lectures, or even advising his successor," Thavis said.
"At this point, papal resignation will always be on the table. And the tricky thing is that it has to be done "freely," while a pope has all his faculties and is not subject to undue pressure. Certainly, Francis is aware of that, even while he pursues a very busy and important agenda."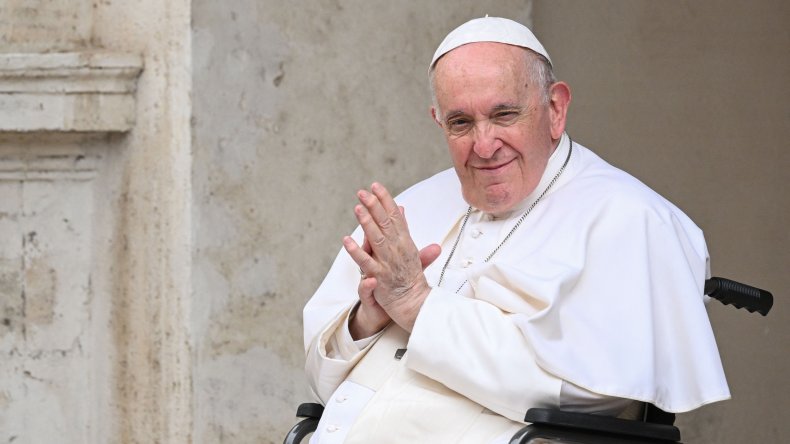 What if the Popes Disagreed With Each Other?
"Benedict's policy of avoiding public appearances is what most Catholics now expect of a retired pope," Thavis told Newsweek.
"But there are no rules at present, and it's a little harder to imagine Pope Francis, for example, keeping such a low profile. This raises the distinct possibility of two or more popes—whether retired or active—disagreeing publicly on a contentious issue. In the minds of many church officials, that probably represents a worst-case scenario," he added.
"Pope Benedict was clear when he retired that the papacy is not a sacred status, but an office that can, and sometimes should be set aside. When a pope retires, he is also stepping away from his authority as pope. But if popes continue to express their views after retirement, it's certainly possible that disagreements will emerge. In that case, bishops and ordinary Catholics may be tempted to take sides."
Is Francis Really About to Retire?
Some Italian media reports that recent announcements made by the Vatican suggest that the pope is not going to resign any time soon. On the other hand, Pope Francis is increasing his commitment and adding trips to his schedule, as long as his mobility issues allow him to travel.
In September, Pope Francis should be in Hungary and Slovakia, two trips scheduled before his recent colon surgery but which haven't been canceled since. More trips are planned this year to Congo, South Sudan, Canada and Kazakhstan. Next year, a major meeting of the world's bishops is planned.
It's possible that the increasingly frail health of Pope Francis has opened up discussions over his successor, but the same happened with Pope John Paul II, who preceded Pope Benedict XVI. Discussions over his possible successor lasted for some ten years before the pope died in 2005.
Bellitto told the Associated Press that Pope Francis might resign, but not before the now 95-year-old Benedict XVI dies. Mores advised against reading too much into the current series of events which seems to suggest the Pope is about to resign.
"I don't think there will be such a big change soon, with two "emeritus popes" and a reigning pope," Mores said. "But I might be wrong. The good thing about history is that things often surprise us."
Newsweek reached out to the Vatican for comment.
Update 06/06/22, 12 p.m. ET: This article was updated with comment from Francesco Mores.