The Three Major Clues That Led Team to Identify Zodiac Killer Explained
A team of independent investigators claimed they have uncovered the identity of the Zodiac Killer, a long unidentified serial killer directly connected to five murders in the late 1960s, but who claimed to have murdered 37 victims.
"The Case Breakers," a team of expert investigators, told Fox News in a story published online Wednesday that they believed the infamous killer's true identity is Gary Francis Poste. Unfortunately, even if they are correct, authorities will never have a live confession from Poste, who died in 2018.
The Zodiac Killer rose to notoriety for concealing his identity while committing a series of killings in 1968 and 1969 in the San Francisco Bay Area, and because he sent letters to the media and police containing complex clues. The odd case inspired numerous books, documentaries and movies over the years—including a 2007 film starring Jake Gyllenhaal—yet no one has seemed as sure of cracking the code until now.
The Case Breakers identified three key clues they said helped lead them to Poste.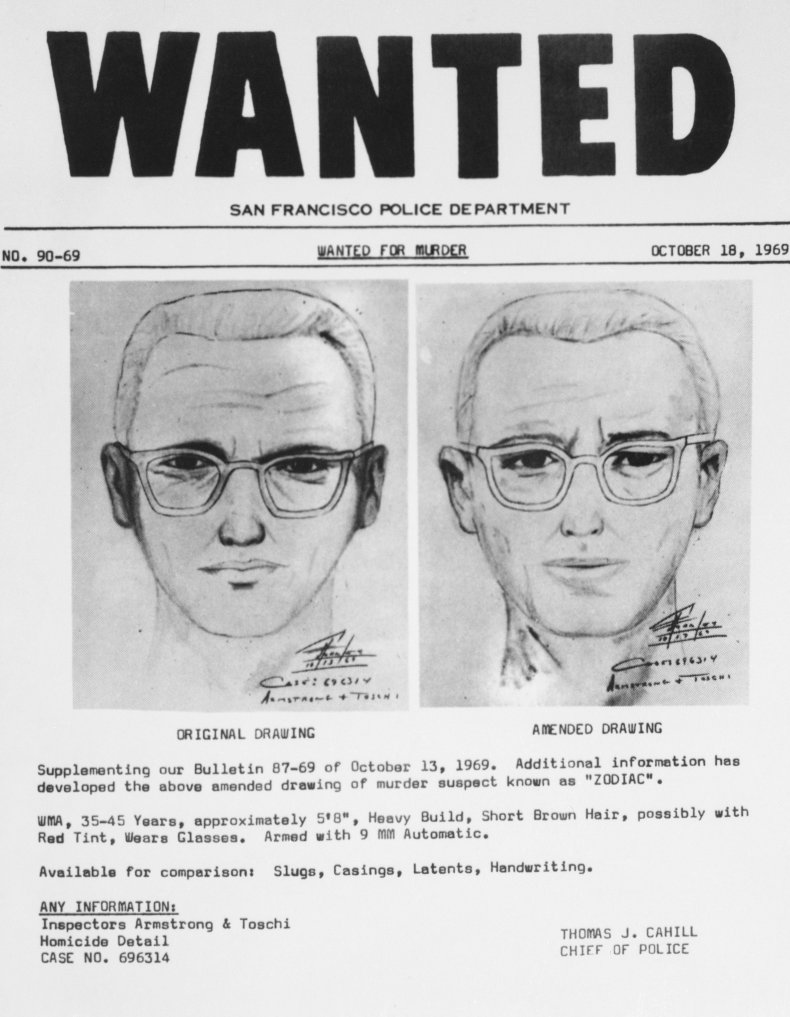 The Case Breakers are a team of more than 40 former law enforcement investigators, journalists and military intelligence officers. In the past, the team has investigated other famous cases, such as the D.B. Cooper hijacking and the disappearance of Jimmy Hoffa.
They detailed to Fox News the main points of evidence that they said pointed to Poste being the Zodiac Killer.
One of the most important clues they said came from years scouring over forensic evidence and photographs in Poste's personal darkroom. One image they found shows scars on Poste's forehead that match scars on one of the composite police sketches of the Zodiac Killer.
Another area the team focused on was letters sent by the killer. Jen Bucholtz, a former Army counterintelligence agent, told Fox News the letters of Poste's full name were removed to reveal an alternate message in one of the Zodiac messages.
"So you've got to know Gary's full name in order to decipher these anagrams," Bucholtz told the outlet. "I just don't think there's any other way anybody would have figured it out."
The final piece of the puzzle was the 1966 death of Cheri Jo Bates in Riverside, California, according to the group. Bates' murder occurred two years before the other Zodiac killings began, but authorities received a letter a year after her death that they believed at the time may have been sent by the Zodiac Killer.
However, investigators in 2016 received an anonymous letter from a person who claimed to have written the earlier handwritten note as a "sick joke." The Riverside Police Department's Homicide Cold Case Unit then treated Bates' death as unrelated to the Zodiac Killer, and it remained an open investigation.
However, The Case Breakers contended Bates was a victim of the Zodiac Killer and claimed an FBI memo from 1975 confirmed he was her suspected killer. They told Fox they were unable to obtain a sample of her DNA to compare to Poste's, but the team said there were a few clear links between her and Poste.
First, Poste was an Air Force veteran and received medical check-ups at a hospital 15 minutes away from where Bates was murdered. Additionally, a wristwatch found at the murder scene had paint splattered on it; Poste painted houses for most of his adult life. Finally, detectives documented military-style boot print at the scene, which The Case Breakers said matched the style and size of those found in both other Zodiac crime scenes and of Poste.
Fox News reported it spoke with a woman who lived next door to Poste, and she now believed he was the Zodiac Killer after seeing the evidence from The Case Breakers.
Another man, named Hans Smit, told Fox News he hid a whistleblower for 10 years from a criminal group led by Poste. The whistleblower told The Case Breakers and Fox that Poste had him "groomed into a killing machine," and he said he once saw Poste burying murder weapons.
Newsweek contacted The Case Breakers for comment but did not hear back in time for publication.