Three Marines Killed By Car Bomb In Afghanistan Identified
The Pentagon identified three U.S. Marines killed in Afghanistan on Monday after their convoy was attacked by a Taliban militant driving a car rigged with explosives.
The Defense Department identified Staff Sergeant Christopher Slutman, 43, from Newark, Delaware; Sergeant Benjamin Hines, 31, from York, Pennsylvania; and Corporal Robert Hendriks, 25, from Locust Valley, New York, as the Marines killed in Afghanistan on Monday.
The three Marines were all infantryman from 2nd Battalion, 25th Marines, a reserve infantry battalion headquartered out of Garden City, New York. The Marine reserve unit is apart of the Georgia Deployment Program-Resolute Support Mission, a reoccurring, six-month rotation between U.S. Marines and Georgian Armed Forces, said Marine Major Roger Hollenbeck. The unit first deployed to Afghanistan this past October.
Three other U.S. service members were wounded in the attack and medically evacuated, said U.S. officials in a statement released Monday evening.
On Tuesday morning, Resolute Support command corrected a portion of its Monday report which indicated a contractor had been killed alongside the three Marines. The contractor, an Afghan national, is alive and was treated along with other injured civilians.
"We feel and mourn the loss of these Americans with their families and loved ones," said U.S. Army General Scott Miller, commander of U.S. forces in Afghanistan. "They volunteered to protect their country. We will continue our mission."
Two Defense Department officials and later, Resolute Support, confirmed to Newsweek the convoy was hit by vehicle rigged with explosives or what's known as a vehicle-borne improvised explosive device (VBIED).
The American convoy was traveling to Bagram Airfield, the largest U.S. military installation in Afghanistan located roughly 25 miles from Hamid Karzai International Airport in Kabul. The base is home to thousands of U.S. and allied troops and contractors.
The militant was traveling in front of the military convoy but had pulled to the side of the road to allow the Marines riding in armored vehicles to pass. As the convoy became even with the car, the charges rigged inside the white Toyota detonated.
The Taliban claimed responsibility for the attack on Twitter and said a "martyrdom seeker" destroyed an armored personnel carrier and killed or wounded several foreign troops. The militants posted an alleged picture of the bombing moments after the explosion. Black smoke could be seen billowing towards the sky amid the outline of the snowcapped mountains which overlook the U.S. installation.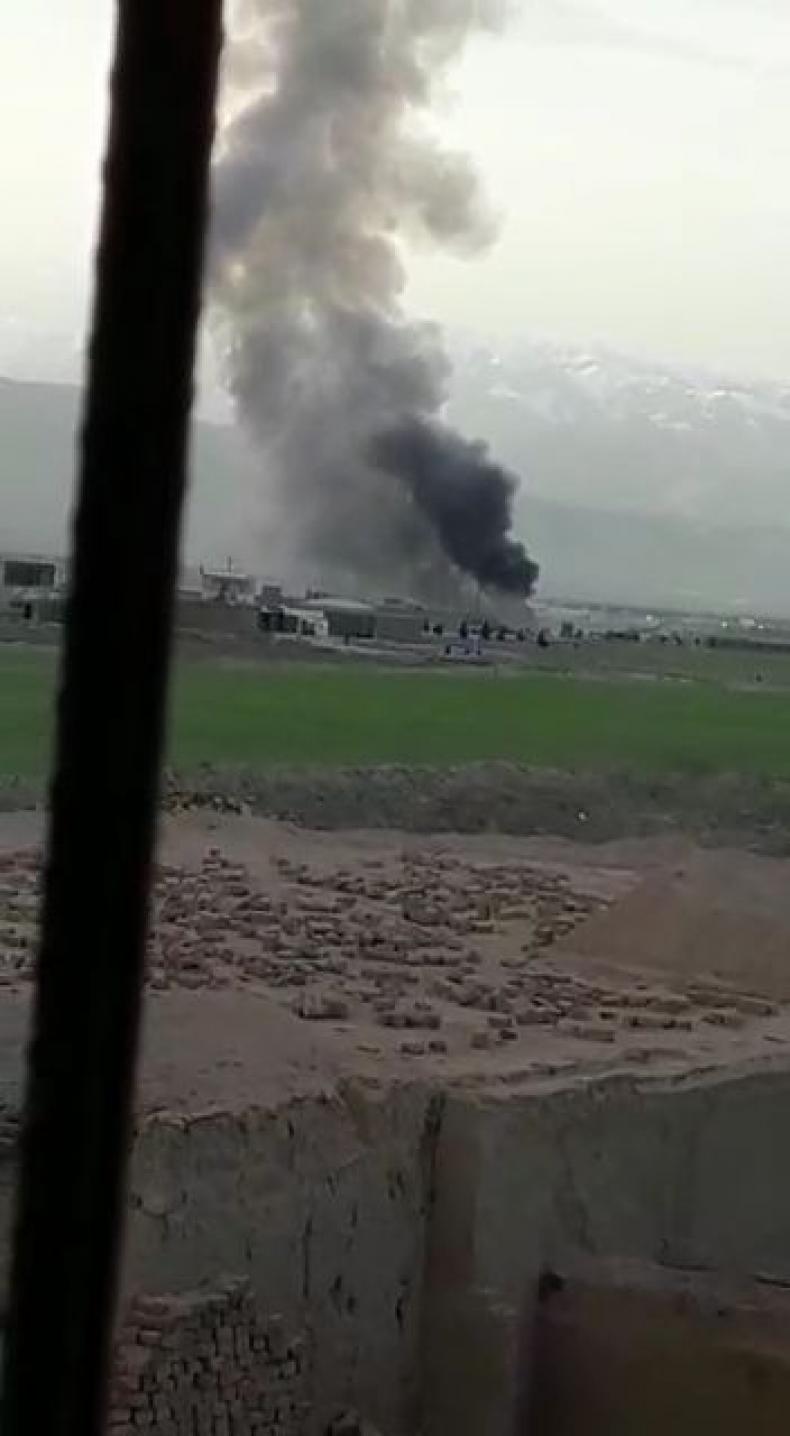 U.S. Marines opened fire immediately after the attack, said Abdul Shakor Qudosi, the district administrative chief in Bagram, in an interview with The Associated Press. Contacted by Newsweek on Tuesday, Resolute Support command could not provide further details.
Afghan National Police and Army soldiers cordoned off the scene surrounding the bombed-out vehicle. An Associated Press photograph after the attack shows an official holding empty shell casings, which appear to be 5.56x45mm NATO rounds, the ones used by U.S. forces.
Officials on the base closest to the gate where the explosion occurred reported hearing machine-gun fire, as a drone hovered overhead and emergency vehicles raced to the bomb site.
Abdul Raqib Kohistani, the Bagram district police chief, said at least five Afghan civilians were wounded after the attack on the convoy, according to The Associated Press. It is not known at this time if the civilians were injured by the improvised explosive device or the alleged gunfire from U.S. Marines.
A spokesman for the Marines said in a statement to Newsweek Wednesday morning the attack is under investigation, with no specific details available.
On Capitol Hill, U.S. Navy Secretary Richard Spencer asked members of Congress to pause in silent reflection on Tuesday for the Marines lost in America's longest running war. The deaths mark the first combat casualties for the Marine Corps in Afghanistan since September 2015, when Sergeant Charles Strong, a Marine Raider with 2nd Marine Special Operations Battalion, was killed by a militant wearing an Afghan National Army uniform in the western province of Herat.
The attack Monday brings the American death toll to seven this year as the spring fighting season intensifies amid volatile peace talks aimed at negotiating an end to the nearly 18-year war.
President Donald Trump has expressed his desire to end what he calls "these endless wars," in statements to the press. A proposed plan from the Pentagon would seek to withdraw all American forces over the next three to five years, according to reporting in March from The New York Times.
While promises have been made by the Taliban not to conduct attacks after a complete withdraw of U.S. and coalition forces, a clear breakthrough in political negotiations for reconciliation between Kabul, the Taliban and the United States has not been reached.
U.S. forces are supporting embattled Afghan forces struggling to prevail against a resurgent Taliban force that controls almost half of the country while an Islamic State offshoot seeks to expand its influence in the region.
Last month, two U.S. Army soldiers were killed by small arms fire during a joint operation between U.S. Army Green Berets and Afghan special forces soldiers in northern Kunduz Province. Four Afghan commandos were also killed, according to The New York Times. Three additional U.S. service members were injured during the firefight.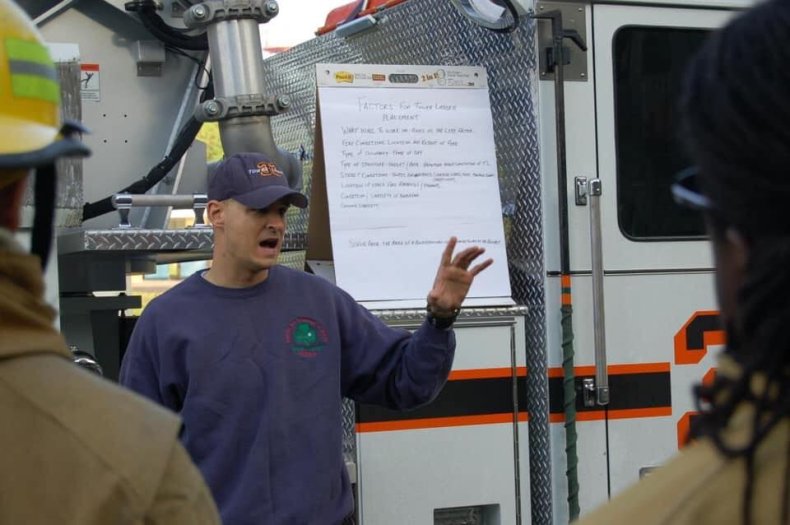 Marine Staff Sergeant Christopher Slutman was a lifelong firefighter and a life member of the Kentland Volunteer Fire Department in Landover, Maryland and served with the Ladderman tower company, said the department's website.
"Through this trying time, we will remember Chris for the father, husband, brother, son, and friend that he was, the moral character he displayed daily, and the courage and conviction to serve his fellow Americans, both at home and abroad," said Fire Chief Oleg Pelekhaty on Facebook. Pelekhaty leads the Kentland Volunteer Fire Department in Prince George County, Maryland.
"We ask for your thoughts and prayers for his firehouse brothers, his fellow Marines, his friends – but most of all, his family," said Pelekhaty.
Slutman joined Kentland's Company 33 in February 2000, and throughout a 19-year achieved the rank of captain. Slutman was also a member of the Fire Department of the City of New York, where he served in the Bronx as a member of Ladder 27. He received the Fire Chiefs Association Memorial Medal in 2014 for rescuing an unconscious woman during a multiple alarm fire in a burning apartment building in the South Bronx, said the New York Post. New York City Mayor Bill de Blasio ordered all flags to be lowered to half-staff on Tuesday in honor of Slutman.
Slutman first joined the Marines in November 2005 and previously deployed to Iraq and Mozambique in East Africa. He leaves behind a wife and three daughters.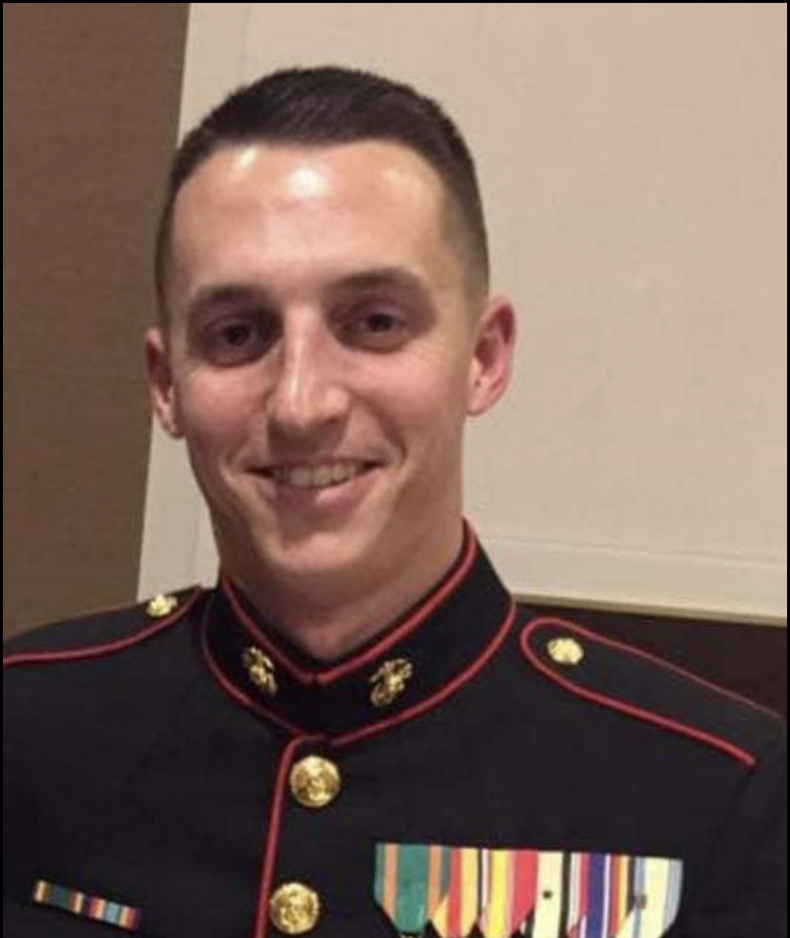 Sergeant Benjamin Hines was known for cracking jokes and pushing Marines under his command to be better than they were a day prior, people said on social media.
Marine Lance Corporal Stefan Krause said he bombarded Hines with questions when he was in is infantry squad. Krause wanted to learn more about being an infantryman and the business of warfare.
"He took me aside and said, 'Damn Krause, you're going to become the commandant with the amount of knowledge you will get.' That stuck with me because he always pushed me to become better in every way possible not only as a Marine but as a person," Krause wrote on Facebook Tuesday.
"I was lucky enough to experience a little bit of my USMC career with heroes like SSgt Hines and SSgt Slutman, and I will continue to strive to become that better Marine and person," said Krause.
Hines first joined the Marines in October 2006 and had been selected to be promoted to staff sergeant. A veteran of Iraq and deployment to Georgia, Hines was set to marry his fiancé, who had been planning their wedding.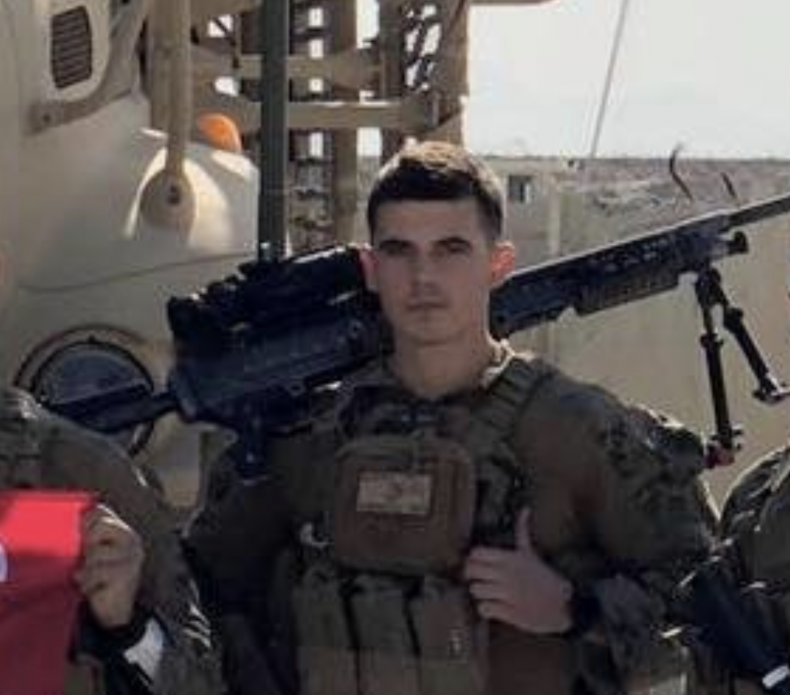 On Corporal Robert Hendriks Facebook page, he liked the movie American Sniper starring actor Bradley Cooper and director Judd Apatow's Funny People. Biggie, Eminem and Linkin Park were among some of his favorite music.
For all intents and purposes, Hendriks' likes and interests are typical among mid-twenty somethings today. Hours spent in front of a television screen playing Grand Theft Auto, one of his favorite video games, a common pastime. But what separates Hendriks from his peer group was his call to serve—a fact pointed out on social media Tuesday evening as Americans from all political ideologies posted sentiments of gratitude and prayer to the fallen Marines and their families.
Hendriks first joined the Marines in October 2012, specializing as an infantry machine gunner. He was on his first combat deployment.
"Marine Forces Reserve is deeply saddened to confirm the death of three of our Marines who were killed in an attack...Our focus in the wake of this attack is to support the family, friends and loved ones of our fallen Marines," said Major Roger Hollenbeck. "These Marines are honored for their extraordinary bravery and for their direct contribution to the defense of this nation."
In his opening remarks before the Senate Tuesday, Marine Commandant General Robert Neller said there about 41,000 Marines deployed in at least 60 countries around the world.
"Some in harm's way, as we found out all too well yesterday," Neller said.
Roughly, 14,000 U.S. forces are in Afghanistan nearly 18-years after the war first began.
Editor's Note: An update was added to this article as additional information about the deployment and the Marines was furnished to Newsweek on Wednesday morning from Marine Forces Reserve.