The Three Most Interesting Things Hillary Said on Facebook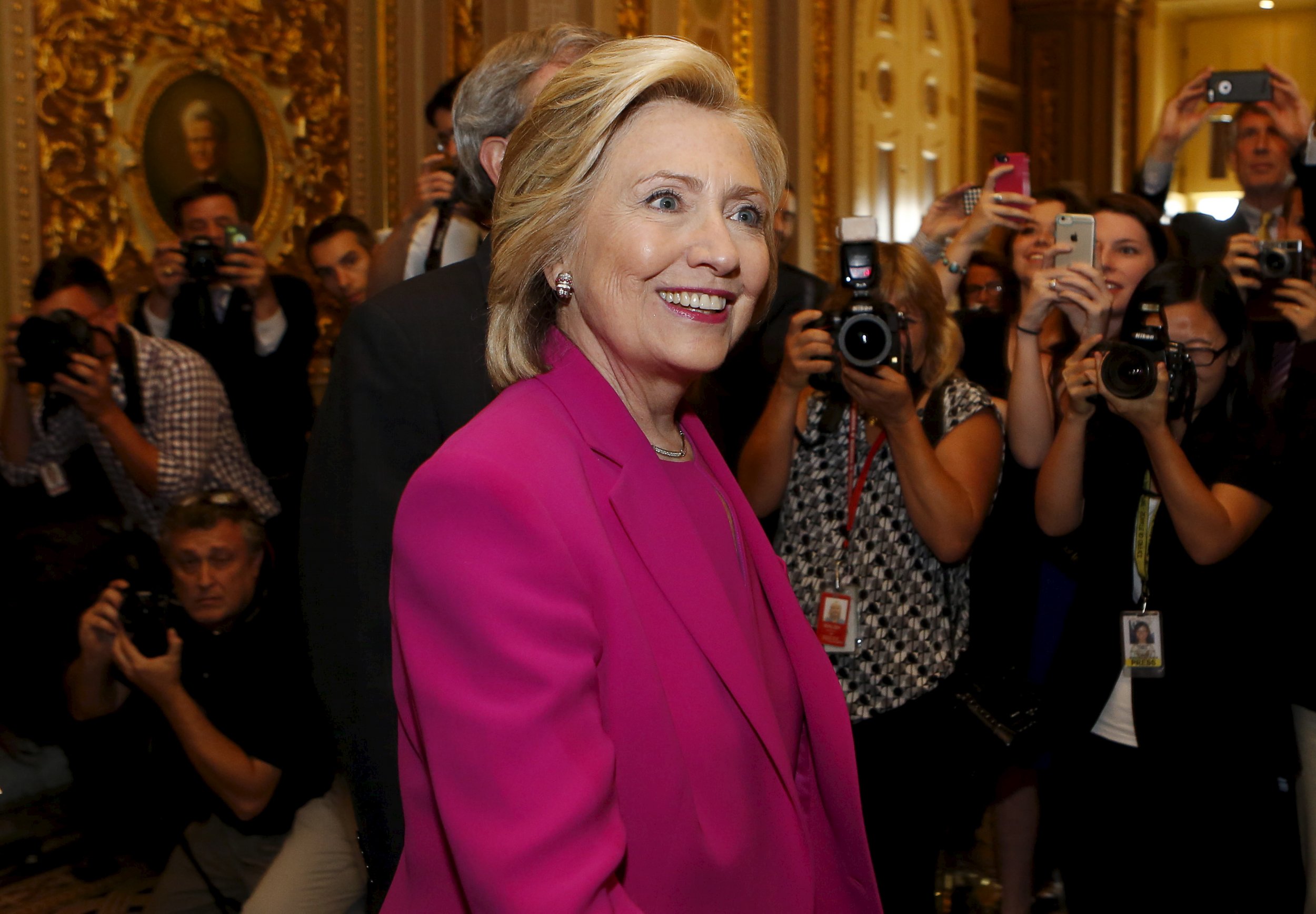 Hillary Clinton took to Facebook Monday to answer questions from voters (and even a few reporters) on everything from Wall Street reform to the Black Lives Matter movement to her favorite pantsuit. In the process, she took on a suite of potential Republican rivals in the 2016 presidential race, Senate Majority Leader Mitch McConnell and even her own past statements. But she continued to avoid any mention of her leading opponents for the Democratic nomination.
The three most interesting exchanges from Clinton's social media appearance:
She implicitly criticized her fellow Democratic candidates but left their names unsaid.
Asked about the Black Lives Matter protests that interrupted Vermont Senator Bernie Sanders's and former Maryland Governor Martin O'Malley's appearances at the liberal Netroots Nation conference on Saturday, Clinton did not mince words. "Black lives matter," she replied, something that Sanders and O'Malley failed to acknowledge, at least not to protesters' liking—and a response that she herself muffed in June (by saying "all lives matter").
"We need to acknowledge some hard truths about race and justice in this country," Clinton continued, "and one of those hard truths is that that racial inequality is not merely a symptom of economic inequality. Black people across America still experience racism every day."
She opened the door to making employee benefits "portable."
A Huffington Post editor asked Clinton about her plans for responding to the changing nature of work and the "gig economy" that's been created by on-demand services like Uber. Specifically: "What about flexible benefits, like workers' compensation or unemployment insurance, that are independent of any given employer, similar to the model of the Affordable Care Act?"
Clinton wrote back that "the experience of the Affordable Care Act shows that we need to make sure people have access to benefits and that they are portable as they move from job to job." It's a notion, however vague, that is sure to give Republicans heartburn.
She does not have a favorite pantsuit.
"Do you have a favorite pantsuit to wear? Being an avid follower for years, there have been quite a few to cross those public forum stages. Surely you have to have a favorite," wrote a woman named Brittany.
"I never met a pantsuit I didn't love," Clinton replied. "Go to our website and you can get one of your own," she added, pasting a link to her campaign store. For a mere $30, you, too, can have a Hillary Clinton logo "Everyday Pantsuit Tee," replete with a printed-on pearl necklace. The description: "Bringing a whole new meaning to casual Friday.*Pantsuit bottoms not included."