Three Officers Dead, Others Wounded in Baton Rouge Shooting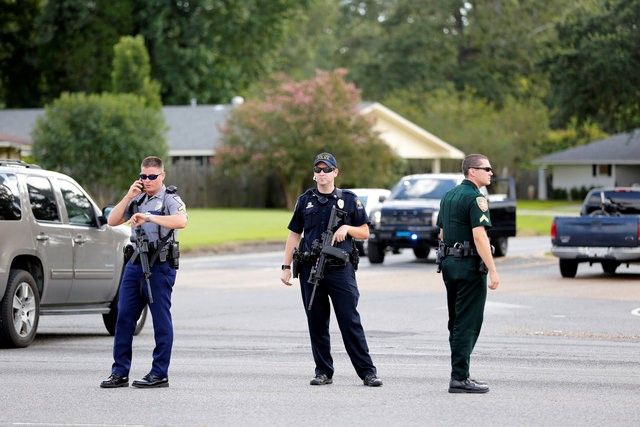 Three Baton Rouge police officers are dead and at least three are wounded after being shot Sunday morning.
The East Baton Rouge Sheriff's Office confirmed on Facebook that three officers had been killed in the parish that has seen protests since the shooting death of Alton Sterling by police. Casey Rayborn Hicks, a spokeswoman for the sheriff's office, confirmed to the Advocate newspaper that at least three officers were wounded in the shooting, which involved officers from both the Baton Rouge police and sheriff's office.
One shooting suspect is dead, and the sheriff's office said two others may be at large. Corporal L'Jean McKneely told the New York Times that officers were sweeping the scene for explosives. "We're going to check the scene thoroughly to protect ourselves," he said.
One officer is in critical condition at Our Lady of the Lake Regional Medical Center and another is in fair condition, hospital spokeswoman Kelly Zimmerman told Reuters. A third wounded officer was taken to a different hospital, and his condition is not known.
The shooting took place around 9 a.m. near police headquarters at Airline and Old Hammond highways, Baton Rouge Sgt. Don Coppola said, after police received a call of a "suspicious person walking down Airline Highway with an assault rifle," a source told CNN. The identity of the shooters was not immediately known, as Kip Holden, the mayor-president of Baton Rouge Parish, noted that "everything is moving fast, and I have not been able to verify everything." However, he described the shooting as "still an active scene.
"Right now we are trying to get our arms around everything," Holden said.
Brady Vancel, a witness to the shootings said he saw a gunman, a second man in a red shirt and another gunman running "as shots were being fired back and forth from several guns," Reuters reports.
The East Baton Rouge Sheriff's Office is asking the public to stay away from the area while nearby residents are advised to stay indoors and call 911 if they see anything suspicious.
President Obama said Sunday that the attack was the work of "cowards who speak for no one."
"I condemn, in the strongest sense of the word, the attack on law enforcement in Baton Rouge. For the second time in two weeks, police officers who put their lives on the line for ours every day were doing their job when they were killed in a cowardly and reprehensible assault. These are attacks on public servants, on the rule of law, and on civilized society, and they have to stop," the president said in a statement. "We may not yet know the motives for this attack, but I want to be clear: There is no justification for violence against law enforcement. None. These attacks...right no wrongs. They advance no causes."
Baton Rouge has seen repeated protests against police since the death of Sterling, a father of five, who was shot and killed at close range after police reponded to a report of Sterling threatening people with a gun. The ACLU sued Baton Rouge this week, alleging police had violated protesters' constitutional rights to speech and free assembly by using a "military-grade assault on protestors' bodies and rights."
Five officers were killed in Dallas during mass demonstrations there, one day after Philando Castile was shot and killed by police in Minnesota during a traffic stop.
More information will be included as it becomes available.