A North Carolina police officer has been fired after being caught on camera saying he "can't wait" to slaughter Black people and that a civil war was needed to wipe them out.
Officer Kevin Piner was terminated alongside Cpl. Jessie Moore and another officer, James Gilmore, after an internal investigation, the Wilmington Police Department's newly appointed police chief Donny Williams announced during a news conference on Wednesday.
Williams said the audit discovered extensive violations of the department's policies, including the standards of conduct, criticism and use of inappropriate jokes and slurs.
He said the fired officers had conversations that included "disrespectful language, hate-filled speech and referred to Black people as the 'N' word."
Williams added that they had also criticized him, several black officers within the agency and people outside the department. He said they also criticized the Black Lives Matter protests and the department's response to them.
"When I first learned of these conversations, I was shocked, saddened and disgusted," Williams said.
"There is no place for this behavior in our agency or our city and it will not be tolerated. Our agency is hurting today because individuals who we believed honored their oath of office violated it and ripped at the very fabric of our family."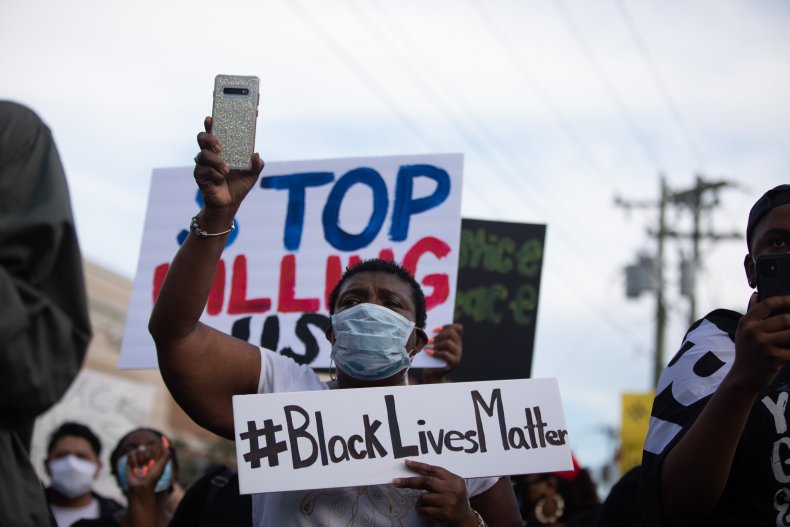 According to documents released by the police department, the investigation into the officers began when a sergeant conducting a routine monthly video audit on June 4 reviewed footage from Piner's car that had been classified as an "accidental activation."
After the sergeant listened to parts of the two-hour video, she determined comments made by Piner and Moore were "extremely racist" and notified the department's administrator for the camera system and an internal investigation was launched.
Just after the 46-minute mark of the video, Piner and Gilmore began talking to each other from their respective cars. Piner said the department's only concern was "kneeling down with the Black folks."
At one point, Pinner says he knew another officer was "bad news" and added: "Let's see how his boys take care of him when sh** gets rough, see if they don't put a bullet in his head."
Around 30 minutes later, Piner received a phone call from Moore, according to the investigation.
During that conversation, Moore referred to a Black woman he had arrested the day before as a "negro" and a racial slur multiple times. "She needed a bullet in her head right then and move on," Moore also said about the woman, according to the investigative documents.
Moore also described a Black magistrate as a "f****** negro magistrate."
Later, Piner told Moore that he feels a civil war is coming and that he is "ready."
Piner said he was going to buy a new assault rifle, and soon "we are just going to go out and start slaughtering them f****** n******. I can't wait. God, I can't wait."
Moore responded that he wouldn't do that, but Piner said: "I'm ready."
Piner then told Moore that he felt a civil war was needed to "wipe 'em off the f****** map. That'll put them back about four or five generations." Moore told Piner he was "crazy." The recording stopped a short time later, the documents said.
According to police, the officers admitted it was their voices on the video and didn't deny any of the things said. All three denied they were racists and they blamed their comments on the stress on working in law enforcement amid protests sparked by the death of George Floyd. Floyd, a Black man, died on May 25 after a white Minneapolis police officer kneeled on his neck for almost nine minutes while he struggled for air.
Williams said the officers will not be eligible for rehire in Wilmington and that he will recommend they not be allowed to work in law enforcement by alerting the North Carolina Criminal Justice Training and Standards Commission about their behavior.
Moore and Gilmore had worked for Wilmington Police Department since 1997. Piner was hired in 1998.
Cases involving the officers will be reviewed by the district attorney's office to determine if they committed any crimes or showed bias toward defendants, the documents said.