Three Michigan Officials Face Felony Charges Over Flint Water Crisis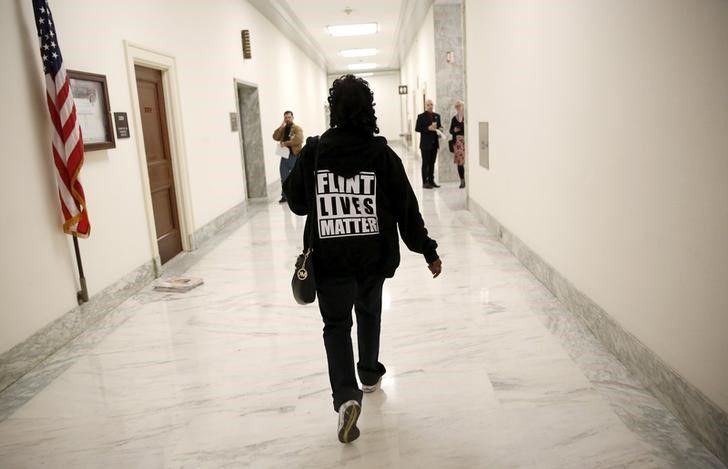 Updated | In Michigan, three state and city employees are now facing felony and misdemeanor charges in connection with the Flint water crisis.
Genesee District Court Judge Tracy Collier-Nix authorized the charges on Wednesday morning against Flint city employee Michael Glasgow and two Michigan Department of Environmental Quality employees, Steven Busch and Michael Prysby.
"So many things went so terribly wrong and tragically wrong in Flint," Michigan Attorney General Bill Schuette said during a press conference on Wednesday afternoon. "Today, we have filed criminal charges in the Flint water crisis."
Bush and Prysby are each charged with three separate felonies: Both are charged with misconduct in office, which carries five-year prison sentence; intentionally tampering with evidence of lead levels on certain water samples and homes, which carries four years in prison; and conspiracy to tamper with evidence "in their joint agreement to tamper with water samples," which also carries a potential four-year sentence, said Schuette.
Both also face misdemeanor charges: one treatment violation of the Michigan Safe Drinking Water Act and one monitoring violation of the act, according to MLive.com. Busch remains on paid leave after being suspended earlier this year, while Prysby was faces an additional charge.
Glasgow, who was Flint's water quality superviser and who ran the water treatment plant, faces a charge of felony tampering with evidence, including falsifying reports to the federal Environmental Protection Agency (EPA), said Schuette. The three men and their attorneys were not present in court on Wednesday morning when the charges were first read out .
"We're on the road back," Schuette said. "In Michigan, I've made it abundantly clear that our system of justice applies to everybody. No one is above the law, not on my watch."
Schuette said this is "just the beginning" and that additional charges against other individuals will likely be filed.
The announcement of the charges comes after a months-long investigation into the Flint water crisis. Schuette was joined by Genesee County Prosecutor David Leyton; Special Counsel Todd Flood; Chief Investigator Andy Arena and Deputy Chief Investigator Ellis Stafford, WXYZ reports.
The charges were read out two days after Michigan Governor Rick Snyder, who has faced heavy criticism for his handling of the crisis, said he will drink filtered tap water from Flint for the next month. Snyder addressed the charges on Wednesday afternoon, calling them "deeply troubling and extremely serious."
"If these accusations are correct, this would take [the Flint water crisis] to a whole new level," Snyder said during a press conference. He added that his office is fully cooperating with the investigation and that he personally has not been questioned or interviewed in connection with the probe.
Snyder said that Keith Creagh, director of the Michigan Department of Environmental Quality, has suspended without pay Busch and Prysby because criminal charges were filed. He added that Busch was already under investigation, but didn't elaborate.
"These are charges and we need to let due process work," Snyder said.
Flint's water has been contaminated with lead for more than two years after the source of the city's water supply was switched from the Detroit water system to the Flint River in order to save money. The city is battling more than 50 lawsuits that have been filed in connection with the water crisis, CNN reports.
This article has been updated with comments from Michigan's governor.