Florence: Three People, 120 Animals Rescued After Major Flooding At North Carolina Shelter
Three people and as many as 120 animals had to be rescued by emergency crews on Friday night after major flooding at a Newport, North Carolina, animal shelter caused by deadly storm Florence.
Three people and about 120 animals were trapped at the Carteret County Humane Society before they were rescued by emergency crews Friday night.
Cassandra Tupaj, the manager of the Carteret County Humane Society told WRAL news that the shelter was hit by flooding and had its roof cave in.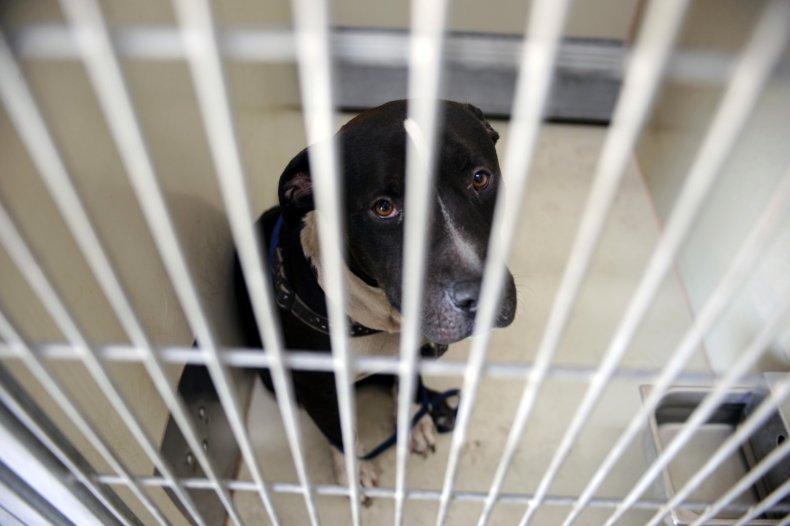 The three people at the shelter were reportedly rescued by the Carteret County Emergency Services, while the Cajun Navy rescued animals at the facility.
As many as 43 dogs and 80 cats had been trapped on the top floor of the building, according to USA Today.
Around 15 chickens and roosters were trapped in an area at the back of the facility as well.
Tupaj told USA Today that the shelter was old and had "needed repairs before the storm."
The shelter manager said the closest safe site from the shelter was located three hours away in the city of Standford, but said that at the time of the flooding, roads were unlikely to be passable.
The National Weather Service had issued a flash flood emergency for the area, which was expected to last until 9a.m. Saturday.
Florence has been downgraded from a hurricane to a tropical storm.
However, forecasters have warned of the risks of flash flooding thoughout parts of North and South Carolina and Virginia.
The National Hurricane Center (NHC) warned late on Friday that "catastrophic flash flooding" is expected in parts of the states and "prolonged significant river flooding."
At least five deaths have been connected with the storm, including the death of a mother and child, while thousands of others have been forced to take refuge in emergency shelters.