Three People Hospitalized Over Mysterious Odor on Frontier Flight That Made Emergency Landing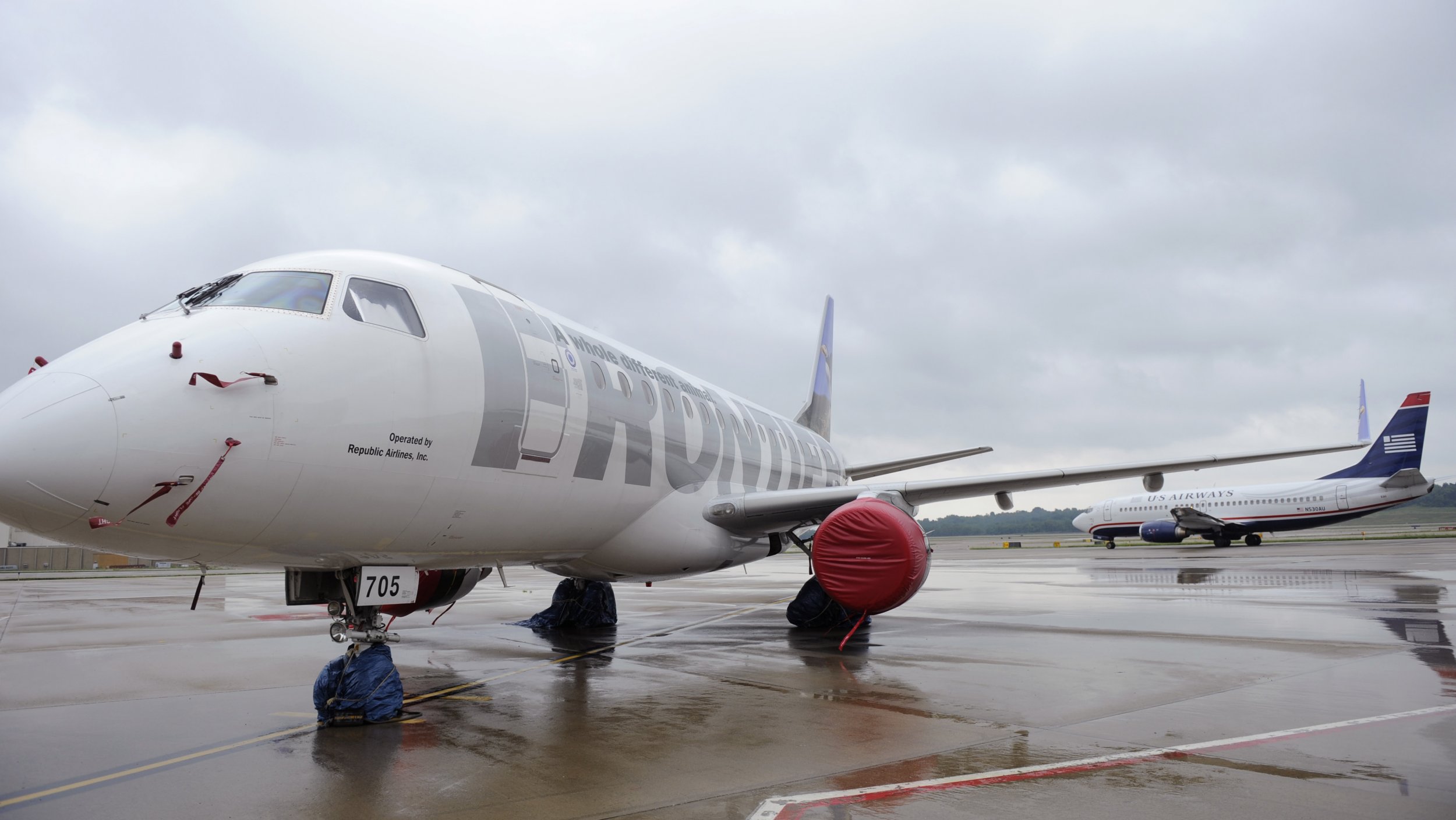 A Frontier Airlines flight that took off from Orlando, Florida, destined for Philadelphia, made an emergency landing on Wednesday in Raleigh, North Carolina, because of a mysterious odor. Three people were taken to the hospital for non-life threatening injuries.
The Raleigh-Durham International Airport tweeted on Wednesday night that a Frontier flight landed safely at the airport after making a diversionary stop on its way to Philadelphia. First responders at the airport met the flight and evaluated eight people who requested medical assistance. Wake County EMS transported three of those people to the hospital.
"Safety and security of our crew and guests is our number one priority and out of an abundance of caution, this flight diverted due to an unknown odor in the cabin," Frontier spokesperson Richard Oliver told Newsweek. "A new aircraft was dispatched to continue the flight."
Oliver explained that 230 passengers and seven crew members were aboard the flight, which landed safely and without incident. The flight, which was scheduled to arrive in Philadelphia at 8:20 p.m. EDT on Wednesday, arrived at 4:53 a.m. EDT on Thursday morning, according to NJ.com.
Oliver explained that a flight attendant was one of the people who requested to be taken to the hospital for further medical attention. It's unclear what the odor was or what caused the passengers to become ill. A passenger told WTVD reporter Josh Chapin that he was grateful Frontier took the "proper precaution" to ensure the safety of himself and the rest of his family.
On Thursday morning, passengers aboard an American Airlines flight, including former Arkansas Governor Mike Huckabee were quarantined at Nashville International Airport after a passenger with viral meningitis was discovered to have gotten sick in the plane's restroom. The passenger was examined by doctors and determined not to be contagious and to have had the proper travel clearance.
Viral meningitis is the most common type of meningitis, according to the Center for Disease Control and Prevention (CDC), and is often much less severe than bacterial meningitis. The disease is spread through close contact with someone who has viral meningitis, although, the CDC explained very few people who are infected with the viruses that cause it actually develop viral meningitis.
In most cases, a person who develops mild viral meningitis usually gets better on their own within seven to 10 days.
Frontier recently came under fire for putting 9-year-old Carter Cray and 7-year-old Etta Gray, who were traveling without their parents, in a hotel with other accompanied minors and an airline employee when the flight was diverted due to weather.
The kids' father, Chad Gray, told TODAY that his son slept with a boy he didn't know who was five years older. Gray criticized the airline for never contacting the parents.
Oliver did not share with Newsweek whether the passengers and the flight attendant had been released from the hospital or what the condition of their illness was as of Thursday afternoon.