Three People Injured in Separate Shark Attacks at Florida Beach
A 68-year-old Tennessee man was bitten by a shark in the waters off New Smyrna Beach, Florida, in what is the third such incident in just two days, according to officials.
Volusia County Beach Safety said that the man from Nashville was bitten on the right foot at around 3 p.m. on Sunday while standing knee-deep in the water, NBC-affiliate WESH 2 reported.
Fortunately, he only sustained minor injuries and was released by medical staff later that day after they had treated his wounds.
Just a day before this incident, two more people were also bitten in the waters off New Smyrna Beach on Florida's central east coast—considered to be the "shark attack capital of the world," according to the International Shark Attack File (ISAF.)
National Geographic reported that anyone who has entered the water in this area has likely come within 10 feet of a shark.
Both individuals were surfing when they got bitten on Saturday. The first—a 20-year-old female—suffered minor injuries to her left hand and wrist. She was later treated at the Halifax Medical Center, abc affiliate WFTV 9 reported.
Shortly afterwards, a 21-year-old male surfer was also bitten on his right foot and was treated on the beach. Currently, it is unclear which species of sharks were responsible for the three attacks.
In the past two weeks, a 19-year-old surfer and a 49-year-old boogie boarder have also been bitten by sharks at the same beach, People reported.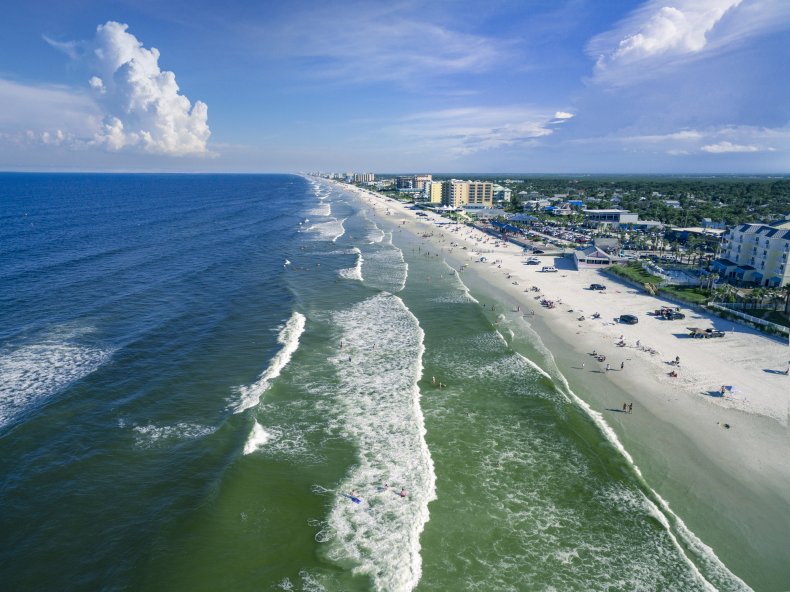 However, despite several recent reports of shark attacks, these incidents are actually very rare—and fatal incidents are even rarer.
The graphic below, provided by Statista, illustrates the number of unprovoked shark attacks around the world.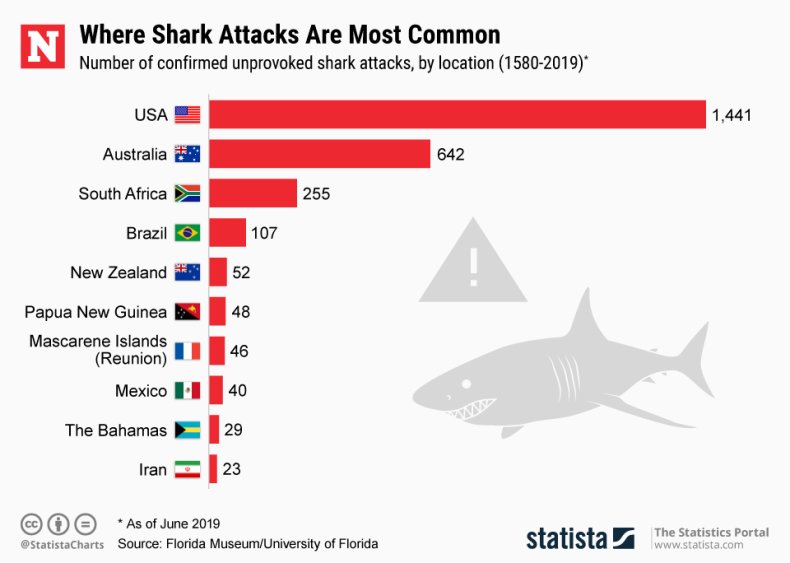 In fact, last year there were just 66 unprovoked attacks around the world—down from a global average of 85 over the past decade—according to the Florida Program for Shark Research. And it is estimated that the odds of being killed by a shark in your lifetime is just over one in 3.7 million, National Geographic reported.
As a comparison, your are more likely to die from being struck by lightning—a one in 79,746 chance over your lifetime, according to ISAF
This year—as of August 1—there have been 53 confirmed shark attack bites around the world, 12 of which are considered to have been provoked, according to the website Tracking Sharks. Just five of these incidents led to the death of the person involved.
Twenty-eight of these shark bites occurred in U.S. waters, with one proving to be fatal. Florida is the state where most bites took place with a total of 12. Hawaii was second with seven, followed by California with two.
This article was updated to include an infographic.