An English conservation group have angrily condemned the "unacceptable" actions of beachgoers after three healthy baby seals died in three days "due to human intervention."
In a Facebook post on Sunday, nonprofit group Friends of Horsey Seals announced the seemingly preventable deaths of two of the seal pups.
"A VERY sad day for us today at Winterton beach," wrote the group. "We lost two young healthy pups due to human intervention."
The seals died at Winterton beach in Norfolk, located on the east coast of England. Horsey is a village located near the beach.
The group said one of the seals had been abandoned by its mother due to a number of people surrounding it, while another pup had been chased into the sea by children, where it drowned because it could not yet swim.
"The first pup... was literally surrounded by people in the dunes and the mum couldn't get back it to, so abandoned it where it later died," the group explained. "The second was a mum and healthy pup near the slope at the cafe. Two young children were allowed by their mother to chase the young unweaned, non waterproof pup into the water where it drowned."
The post urged the public to "listen to the wardens" and stay away from the seals in order to prevent further deaths, emphatically stating that "THIS IS NOT ACCEPTABLE!"
The BBC reported that a third seal pup died two days earlier, after being viciously attacked by a dog. An expert insisted the majority of people visiting the beach had behaved responsibly while a group of "absolute idiots" had recklessly endangered the seals.
"The action of visitors to Horsey and Winterton are killing seals. Actually killing them," University of East Anglia Professor Ben Garrod told the outlet. "The vast majority of people are amazing, it's just a handful of absolute idiots. It is a criminal offense to cause death to any protected species."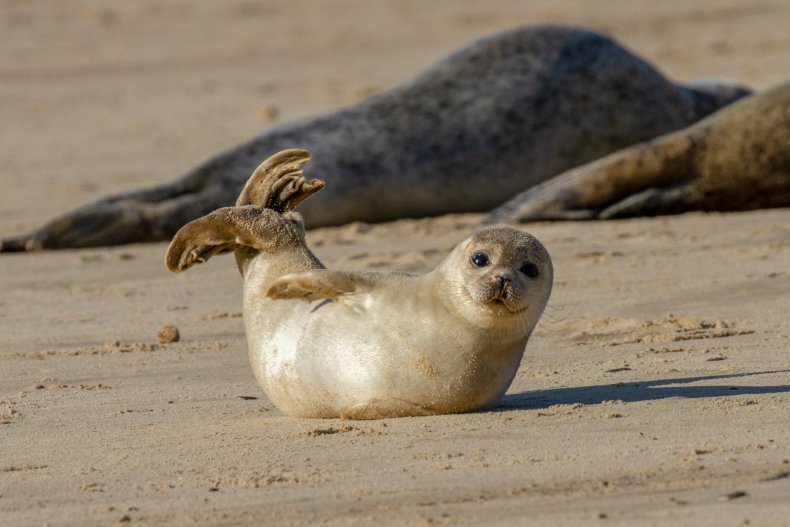 The beach is home to a large population of grey seals, with seal pups typically being born from November to January. Although the three pups died due to entirely preventable human activity, they represent a small fraction of the seals at the beach.
Some seals that were unlucky enough to be injured from human activity on the beach have been fortunate enough to escape with their lives. On December 10, an adult seal was reportedly released after two months of rehabilitation from injuries it received after becoming trapped in netting. It was said to be the ninth seal in 11 years treated for injuries caused by human garbage and debris.
A Thursday post from Friends of Horsey Seals claimed that 2,093 pups had been born during the season to that point, 343 more than the previous year. The number of pups that were said to still be on the beach numbered 2,062. Adult seals on the beach were counted at 1,491.