Three Teenagers Released Without Charges After Video Shows Them Pushing Woman Under Train
Three Teenagers in Dublin were taken into custody by Irish police on Thursday after footage showed footage from April of the three males pushing a woman onto train tracks at one of the city's stations, authorities announced in a statement.
But the suspects, of whom on was aged 16 and one aged 13, were subsequently released without charges. The Cardai, Ireland's police service, said in a statement provided to Newsweek that the investigation is ongoing and asked anyone with information to report what they know to the authorities.
"Three youths arrested earlier today by Gardaí investigating an alleged incident of violent disorder at Howth Junction Dart station on 1st April 2021, have been released without charge," the statement said. "Gardaí are appealing to those who were present at the time of the incident or to anyone who can assist in this investigation to come forward."
Footage shows that the victim was pushed onto tracks underneath an immobile train in the April incident; the video went viral on social media in early May after closed-circuit TV footage of the incident was released. A group of teenage boys with bicycles appear to harass a group of girls boarding the train.
One of the boys is seen attempting to kick one of the victims as she tries to move away from him. Another suspect lunges at the second girl running for the train, and the third boy trips another girl with his bike, sending her from the platform onto the tracks underneath the DART train.
The boys then walk away casually despite the young woman's peril. Onlookers are then seen rushing to help the woman, pulling her back onto the platform.
Gardai said in a previous release that it was investigating the incident and had arrested the three youths suspected of committing violence against the girl in the video. It said that it had seized the boys' bicycles and cellphones.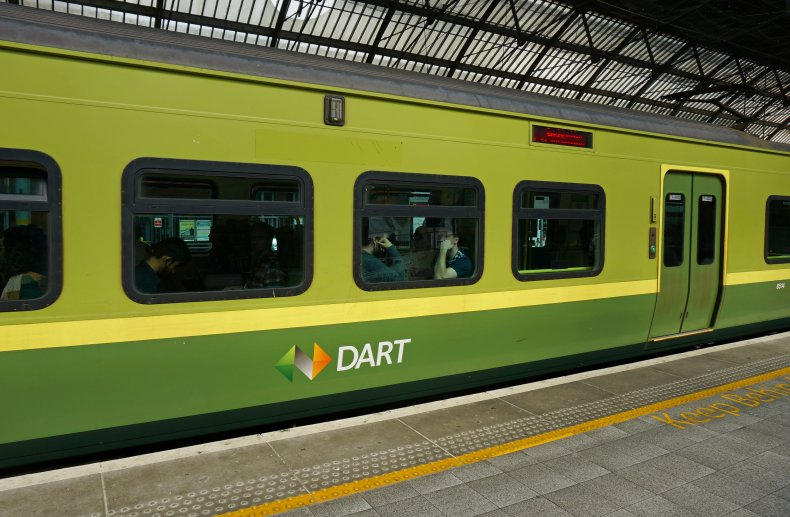 "Gardaí investigating the incident of violent disorder that occurred at Howth Junction Dart station on 1st April, 2021 at approximately 9 p.m. have conducted a number of searches this morning and arrested three youths," the Gardai said. "A search operation began this morning across North Dublin at five locations on foot of warrants issued pursuant to Section 10 of the Criminal Justice (Miscellaneous Provisions) Act, 1997. During the course of the searches a number of items of clothing were seized, as well as pedal cycles and mobile phones."
The teens were released from Clontarf, Rahney and Coolock Garda stations on Friday. Authorities did not say why the boys were not charged.