Three, Two, One...SpaceX Achieves a Liftoff, but Rocket's Return Is a Crash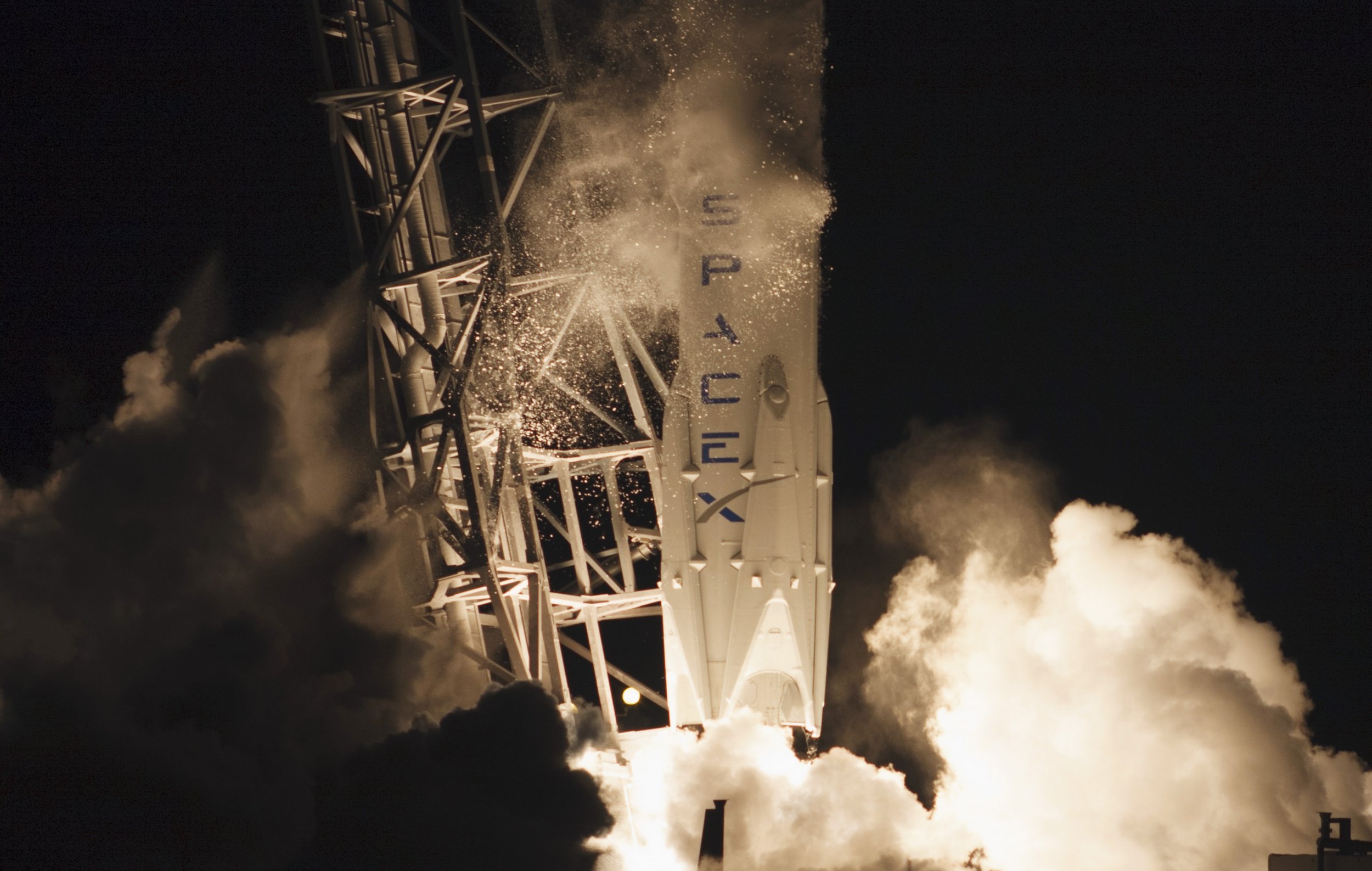 SpaceX, a private company that specializes in manufacturing rockets and spacecraft, recently launched a mission to deliver a 5,000-pound cargo capsule containing equipment, supplies and belated holiday gifts to astronauts at the International Space Station. While the cargo capsule successfully reached orbit on Saturday, the Falcon 9 rocket that launched it into space crash-landed, Reuters reports.
The rocket and cargo capsule were initially supposed to launch on Tuesday, but the mission was called off just a minute before its scheduled departure due to "rocket trouble." On Saturday, it started out well enough: The Falcon 9 rocket, Dragon cargo capsule in tow, lifted off from Cape Canaveral Air Force Station in Florida at 4:47 a.m. local time, BBC reports. The cargo capsule separated from the rocket and was able to reach orbit nine minutes after liftoff.
The rocket then attempted to make a controlled vertical landing on an "autonomous drone ship" that was floating about 300 kilometers from the launch site, where it crashed. The ship sustained minor damage but remains intact. No one was harmed in the crash.
Until Saturday, the Falcon had been tested only during mock landings. According to BBC, SpaceX has been experimenting state-of-the-art boosters that help relight rockets' engines and allow them to coast through the atmosphere. But these boosters failed to sufficiently reduce the rocket's velocity and it "landed hard," according to a tweet from SpaceX's CEO, Elon Musk. Later on Saturday, he added that the steerable fins attached to the boosters, which help the rocket descend, had run out of hydraulic fluid.
Musk, who also helms Tesla Motors, has spoken in the past about his desire to make space travel affordable and his hopes for building human colonies on the Red Planet. SpaceX's ambitious missions and focus on recycled rocket parts would allow researchers to cut costs by reusing rockets, which typically disassemble after one use, and could revolutionize the idea of space travel.
After the failed landing, Musk tweeted about the first phase of the mission: "Close, but no cigar this time." Musk acknowledged that there was only about a 50 percent chance the rocket would land successfully, but said he remains optimistic about the future of SpaceX's endeavors and added that the landing test "bodes well for the future."
Musk also divulged on Twitter that he plans to re-test the landing next month with fins boasting 50 percent more hydraulic fluid. SpaceX currently has a $1.6 billion contract with NASA, which covers the cost of about 12 resupply missions. This marks SpaceX's fifth mission to the International Space Station. The Dragon capsule is expected to reach ISS on Monday, and the six astronauts stationed there will reportedly unload its contents over the next month.