Three US Navy Sailors Died Last Week Despite Pentagon Prevention Efforts, 'There's Something Bigger at Play,' Says Under Secretary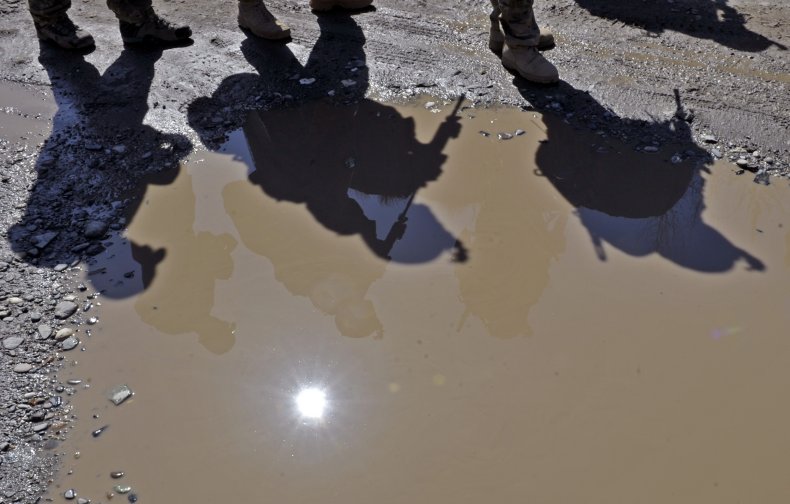 WASHINGTON—As Pentagon leaders continue to grapple with suicide and alcohol-related deaths within the rank-and-file of the U.S. military despite prevention efforts to stem both, three U.S. Navy sailors died last week—two from an apparent suicide and one from an alcohol-related incident, Newsweek has learned.
Cryptologic Technician (Collection) First Class Steven G. Dujmovic passed away in Island County, Washington, due to an apparent suicide on Monday, detective Ed Wallace with the Island County Sheriff's Office told Newsweek. Cryptologic Technician Networks Second Class Quinn T. Teeter also passed away in his residence in Jessup, Maryland, due to what investigators believe to be suicide.
The third sailor, Cryptologic Technician (Networks) Third Class Ian B. Younger, died from over drinking in his residence in Glen Burnie, Maryland, according to U.S. Navy sources familiar with the matter, who spoke to Newsweek under condition of anonymity because they were not authorized to discuss the matter.
The three cases were unrelated, according to Navy Commander Dave Benham, director of public affairs for the U.S. Fleet Cyber Command, U.S. 10th Fleet. All three incidents occurred off base.
The Fort Meade cases were still under investigation as of Friday morning, according to an official from Maryland's Office of the Chief Medical Examiner. But a spokesperson for Anne Arundel County Police confirmed that Younger and Teeter passed away in their homes on October 20 and October 21, respectively, declining to provide further details.
"The loss of these Sailors are tragic and felt deeply by our Fleet, and we are keeping the family and friends of the deceased in our thoughts and prayers," Benham said in a statement to Newsweek.
The news comes roughly a month after a string of suicides aboard the U.S.S. George H.W. Bush, a naval carrier out of Norfolk, Virginia, and amid a Pentagon report released last month that shows the Navy experienced a "statistically significant increase" in suicide rates between 2013 and 2018.
Speaking before reporters in Arlington, Virginia, on Friday at the annual Military Reporters & Editors Association conference, Under Secretary of the Navy Thomas Modly confirmed with Newsweek that the Navy is experiencing a spike in suicides this year.
Modly suggested that interpersonal connection, or lack thereof, could be a contributing factor to the increase.
"I'm not a social scientist on this kind of stuff or a psychologist," said Modly. "But I think that this is a societal problem, and I think people get connected through electronic and digital means and disconnected in much more personal ways."
Modly said the Navy is uncertain about the true causal factors, but their demographic information—more academically intelligent sailors, as well as white males, are more at risk for suicide—tracks with the rest of society.
"It suggests to me that there's something bigger at play here than just what the Navy and Marine Corps are doing with respect to the pace of work and things like that," Modly said. "But we're seriously dedicated to this and we're looking to try to get answers."
This month, the Navy unveiled an update to its suicide prevention policy. Among other things, the program called for teams that connect sailors to mental health resources to pay attention to a broader range of stressors like relationship problems, career transitions and disciplinary issues.
In 2017, suicide was the 10th leading cause of death in the United States, claiming about 130 lives each day, according to the Center for Disease Control and Prevention (CDC) and the American Foundation for Suicide Prevention. The U.S. age-adjusted suicide rate, surpassing Canada, Sweden and the United Kingdom, increased by 33 percent from 1999 to 2017, according to data compiled by the World Health Organization and the CDC.
The suicide rate for active-duty service members reached a record high in 2018, according to a report released by the Pentagon in September. It's significantly worse—at nearly 24.8 deaths per 100,000 individuals—than the national average of about 15 deaths per 100,000 individuals, when not controlling for age and sex. Last year, 541 active duty, reserve and National Guard troops took their lives, including 187 Army soldiers, 77 Marines, 79 Navy sailors, and 63 airmen, according to the report.
For more than a decade, the majority of deaths in the military—more than 12,000 to date—have occurred in circumstances unrelated to war, according to a 2019 Congressional Research Service report. Among them, most were caused by an accident, illness or self-inflicted wound. Alcohol was a factor in 14 percent of all accidental deaths, according to the study.
Alcohol use disorders are the most prevalent form of substance misuse among military personnel, according to the National Institute on Drug Abuse, especially among young men. In general, up to 20 percent of military members frequently engage in heavy drinking, which often co-occurs with post-traumatic disorders, according to data cited in an article published by the National Institute on Alcohol Abuse and Alcoholism.
In 2013, the Navy increased its alcohol education and awareness efforts by expanding the Navy's Alcohol Abuse Prevention program to provide resources and educational material aimed to deter irresponsible use of alcohol as incidents can affect the overall military readiness of the U.S. Navy. In August 2019, the Navy launched the "Keep What You've Earned" campaign—modeled after the Marine Corps' program—to encourage responsible drinking habits by reminding service members of their military achievements and what they stand to lose if involved in an alcohol-related incident.
The program encourages the use of designated drivers and provides resources for those sailors who may need to enter the Navy's Substance Abuse Rehabilitation Program, known as SARP, which is modeled after 12-step programs used by Alcoholics Anonymous and others.
The latest victims to suicide and over drinking in the Navy all served their country in technologically complicated roles that deal with jamming enemy radar signals, deciphering information in foreign languages and gathering secret intelligence, according to the Navy.
Dujmovic, a 33-year-old male, was born in Texas and served the Navy Information Operations Command, according to biographical data released by the Navy. At points in his 14-year tenure, Dujmovic worked night shifts to watch over the ship's computer systems, according to a 2011 article on the Navy's website.
Teeter, a 22-year-old California native, enlisted in 2016 and began his military career at the Recruit Training Command in Great Lakes, Illinois. He studied information warfare in Pensacola, Florida, prior to transferring to Fort Meade, where he served the Cryptologic Warfare Activity 66.
Younger's brief military career—he enlisted in 2015—saw three decorations awarded to him for national defense, service combatting terrorism and marksmanship. Born in Tennessee, Younger, a 22-year-old, joined Fort Meade in 2016, serving Cyber Protection Team 90.
While the circumstances that led to their deaths are unknown, military veterans Newsweek has spoken to over the last month say work and life stress are major contributing factors in recent Navy suicides.
Speaking to Newsweek last month, Shawn Peacock, a former Machinist's Mate Second Class aboard the U.S.S. George H.W. Bush, said current and former crew members told him that supervisors aboard the carrier were blamed for the mistakes of junior enlisted—stress that trickled down to lower ranks.
An official survey obtained by Newsweek through the Freedom of Information Act revealed the Bush crew had concerns about job satisfaction and inclusion of women within the ranks, with Peacock describing a culture of fear in seeking mental health resources.
"It builds up and builds up in your head and that would be the point where...you need to go talk to a psychiatrist but on the Bush, people are afraid to seek out mental health because they fear being removed from their position by the chain of command," Peacock said in an interview.
If you have thoughts of suicide, confidential help is available for free at the National Suicide Prevention Lifeline. Call 1-800-273-8255. The line is available 24 hours, every day.
Blake Dodge is a Newsweek fellow and a recent graduate of the University of North Carolina at Chapel Hill. Prior to joining Newsweek, she worked at Bloomberg News covering health care and the pharmaceutical industry. You can follow her on Twitter @dodgeblake
James LaPorta covers national security and the Defense Department for Newsweek. He is a former U.S. Marine infantryman and a veteran of the Afghanistan War. You can follow him on Twitter @JimLaPorta