Three Valet Workers Killed in Crash After Driver Doing Donuts Flees Texas Police
Police say that three valet workers were killed after a driver trying to evade police in Houston, Texas on Friday night crashed into them.
Police say that around 10:30 p.m. a night shift sergeant was on routine patrol when he saw a driver doing donuts in a private parking lot.
When the driver exited the parking lot and headed down the street, the sergeant put on his emergency lights to conduct a traffic stop. At this point, the vehicle "accelerated at a very high speed," creating significant distance between itself and the officer, Houston Police Department Assistant Chief Yasar Bashir said during a press briefing.
Once the sergeant caught up with the vehicle, Bashir said that they discovered it had struck three pedestrians "who are valet employees for local businesses in the area." The vehicle had crashed into a ditch and hit a "fixed object" before coming to its "final resting point."
The three pedestrians were pronounced deceased at the scene. The driver of the vehicle and a passenger were transported to the hospital with non-life-threatening injuries. Police said Saturday night that they were investigating whether the driver was impaired at the time of the crash.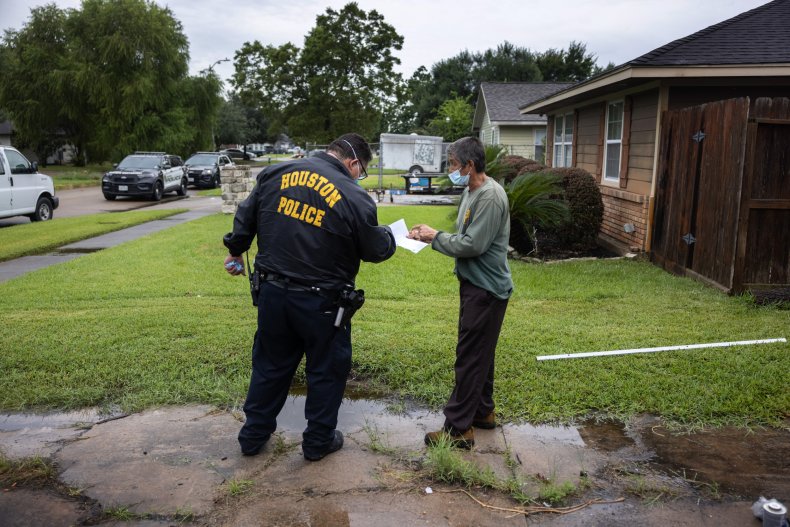 "We're out here because one person decided they didn't want to get a ticket or potentially go to jail for a misdemeanor," said Sean Teare, of the Harris County District Attorney's Office.
Teare said that the vehicle was traveling at least 60 miles per hour, "if not much more" by the end of the crash.
"When this individual struck those three valets, he went from a felony evading arrest to a felony murder. That's a third-degree felony, up to three charges of first-degree felony," Teare said.
"And we're talking about three individuals who were just out here working. They were out here doing their job. They were coming back from parking cars, going to get more cars," he added.
"This one is as egregious as we've seen in a very long time in regards to a pursuit or something like that."
Teare said there were "initial signs that intoxication" may have played a role in the crash, but noted that police had not yet confirmed that as of Friday night. Authorities were still in the process of identifying the driver.
Newsweek reached out to the Houston Police Department for comment but did not receive a response before publication.