With Three Weeks to Election Day, Forecasts Show Democrats With 70 Percent Chance of Controlling Senate
With just three weeks until election day on November 3, Democrats are heavily favored by election forecasts to wrestle back control of the Senate from Republicans.
Currently, Republicans control 53 Senate seats, while Democrats hold 45 seats along with two additional independents who caucus with them. Given this make-up, Democrats must gain at least four seats to take control of the upper chamber of Congress. While just one incumbent Democrat—Senator Doug Jones of Alabama—looks likely to lose his seat to his Republican rival, at least eight GOP incumbents are in danger of losing their seats, according to the Cook Political Report.
The Senate election forecast by The Economist shows that Democrats have a 71 percent chance of holding the majority in the Senate following the election. In the forecast's simulations, Democrats would control an average of about 52 seats while Republicans would hold just 48.
FiveThirtyEight's election forecast shows similar results. In the site's simulations, Democrats have 68 in 100 (about 70 percent) chances of controlling the Senate. Republicans have just 32 in 100 chances. But FiveThirtyEight's simulations project that it is most likely Democrats will have 51 seats while Republicans would have 49.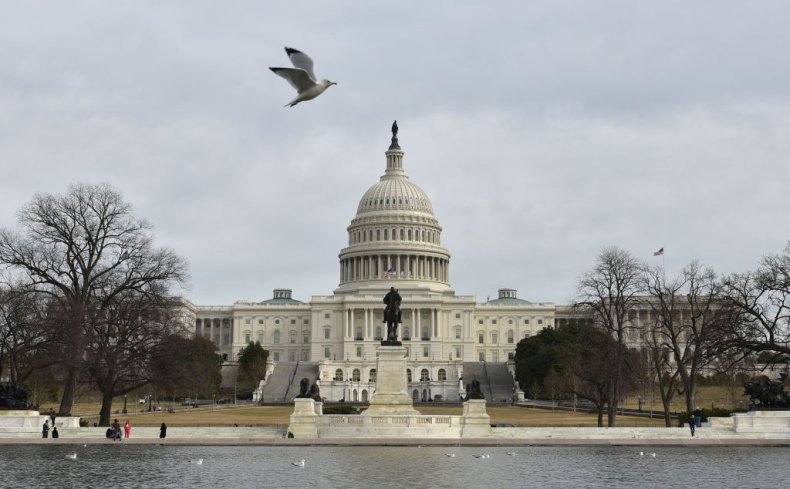 GOP Senators Martha McSally of Arizona and Cory Gardner of Colorado currently appear likely to lose their seats to their Democratic challengers and the Cook Political Report classifies those races as "lean Democrat." Meanwhile, Republican Senators David Perdue of Georgia, Joni Ernst of Iowa, Susan Collins of Maine, Steve Daines of Montana, Thom Tillis of North Carolina and Lindsey Graham of South Carolina all are in "toss-up" races.
In Arizona, McSally's opponent Mark Kelly is ahead by an average of 8 percentage points, with about 50 percent of likely voters backing the Democrat compared to 42 percent who support the incumbent Republican, according to the Real Clear Politics polling average. The most recent poll out of Colorado, conducted by KUSA/SurveyUSA this month, shows Gardner trailing his Democratic challenger John Hickenlooper by 9 percentage points—39 percent to 48 percent.
The averages by Real Clear Politics show Ernst with a disadvantage of 4.8 percentage points, Collins with a disadvantage of 3.7 percentage points, Tillis with a disadvantage of 5.7 percentage points and Graham in a tied race. Perdue and Daines appear more likely to maintain their seats, with both Republican incumbents ahead by about 3 percentage points.
Notably, if neither Republicans or Democrats come out with more than 50 seats, the vice president would serve a more prominent role in the Senate. In addition to serving as the No. 2 in the Executive Branch of government, the vice president is the president of the Senate. Although the vice president does not normally vote on legislation, he or she can cast the deciding vote on evenly split decisions.
All the most recent polling suggests that Democratic presidential nominee Joe Biden and his vice presidential running mate Senator Kamala Harris of California are likely to beat President Donald Trump and Vice President Mike Pence. The national polling averages by Real Clear Politics and FiveThirtyEight both show Biden leading Trump by just over 10 percentage points.
Biden and Harris also lead Trump and Pence by an average of more than 6 percentage points in the key battleground states of Pennsylvania, Michigan and Wisconsin. They are also up by more than 3 percentage points in Florida. These four states are seen as crucial to Democrats, as they went blue for former President Barack Obama in 2008 and 2012 before flipping red for Trump in 2016. If Biden manages to win them, while maintaining all the states that Clinton won in 2016, he would easily win the Electoral College.