Three White House Staffers Have Now Tested Positive for Coronavirus, Including Trump's Valet, Two Pence Employees
Three members of the White House staff have now tested positive for COVID-19, White House officials confirmed Friday.
The most recent White House employee to test positive was Katie Miller, the press secretary for Vice President Mike Pence. President Donald Trump confirmed Miller had tested positive Friday afternoon while answering questions from reporters after a meeting with Republican members of Congress at the White House.
"She's a wonderful young woman, Katie," Trump said. "She tested very good for a long period of time, and then all of a sudden today she tested positive."
Trump said he hadn't been in recent contact with Miller, but Pence had. Pence's team was "taking all of the necessary precautions" in light of the diagnosis, Trump said.
Earlier this week, Trump's personal valet also tested positive for the virus. The first member of the White House staff who tested positive for COVID-19, another member of Pence's staff, was diagnosed shortly after states began implementing stay-at-home orders in March.
After Trump's valet tested positive, the White House's deputy press secretary, Hogan Gidley, said neither Trump nor Pence had been diagnosed, despite reports that Trump had been in close contact with the valet as recently as Tuesday.
"The President and the Vice President have since tested negative for the virus and they remain in great health," Gidley said in an official statement Thursday.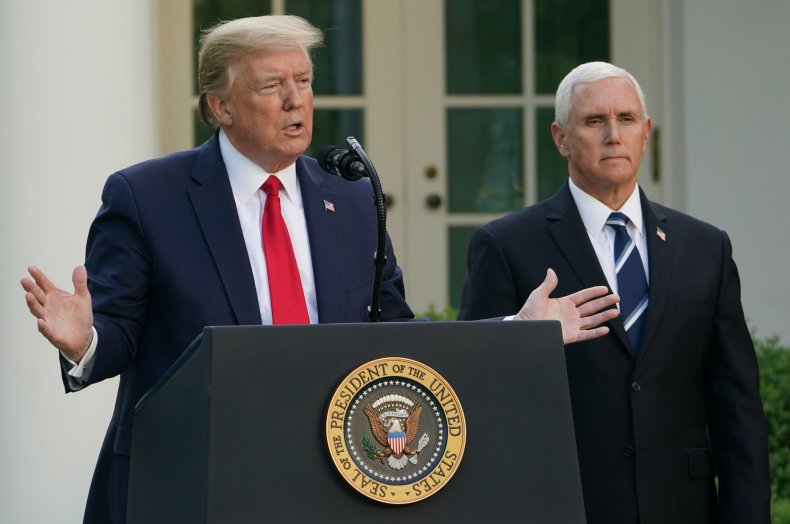 Trump said Thursday that he and other White House officials would be tested for COVID-19 daily after news broke that his valet had tested positive. Pence's office did not respond to Newsweek's request for comment in time for publication regarding whether or not he would be included in that daily testing.
The confirmation that Miller had tested positive for COVID-19 came shortly before Trump's met with members of Congress at the White House to discuss how to continue moving forward with the country's coronavirus response. Before the meeting began, McEnany addressed concerns raised about the safety of visiting the White House at a time when two staff members have recently tested positive.
"We have put in place the guidelines that our experts have put forward to keep this building safe, which means contact tracing," McEnany said during her Friday briefing. "All the recommended guidelines we have for businesses that have essential workers we are now putting in place here in the White House. As America reopens safely, the White House is continuing to operate safely."
Pence also continued with his agenda Friday after news of Miller's positive diagnosis broke. As Trump met with members of Congress in Washington, D.C., the vice president headed to Iowa to discuss the ways in which the agricultural community was handling the pandemic and implementing safety practices in the workplace.
Despite the president and vice president's negative test results earlier this week, there is still some uncertainty in the scientific community regarding when a person becomes contagious after contracting the virus. According to a recent study by researchers at Harvard Medical School, a patient may become contagious two to three days before they start exhibiting symptoms.