Hostages Killed in Veterans Home Remembered as 'Brave Women' Dedicated to Serving Vets
The Napa County Sheriff's office identified the three women killed at Yountville Veterans Home of California on Friday as mental health workers who worked for The Pathway Home, a nonprofit program run at the facility supporting veterans with post-traumatic stress disorder and transitioning to life after the military.
The victims were the program's executive director Christine Loeber, 42, clinical director Dr. Jennifer Golick, 48, and Dr. Jennifer Gonzales, 29, who worked as a clinical psychologist at the Student Veteran Health Program at San Francisco Veteran Affairs Medical Center (SFVAMC), splitting her time between The Pathway Home and the Napa Valley College.
The suspected gunman, identified as 36-year-old army veteran Albert Wong, entered the campus armed with a rifle on Friday morning, when The Pathway Home employees were holding a going-away party for some of their colleagues.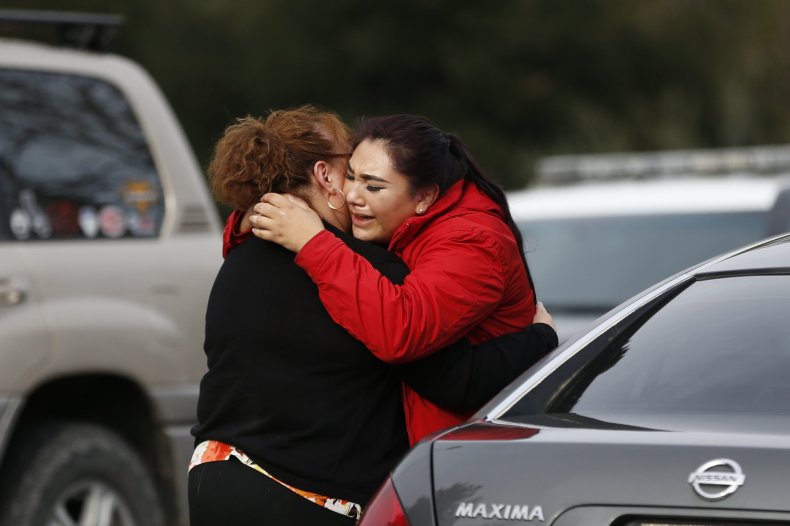 He holed himself up in a room with three hostages after briefly exchanging fire with a Napa County Sheriff's Office Deputy who first responded to the shooting. After an almost eight hour-standoff, authorities entered the room to find the bodies of the suspect and the three victims, California Highway Patrol Golden Gate Division Assistant Chief Chris Childs said in a press conference. He did not speculate on the motive of the killing. "It's far too early to say if they were chosen at random," he said.
Loeber began working for the program in September 2016 and she described the veterans home, considered to be the largest veterans facility in the U.S. founded in 1884 in the scenic Napa Valley, as "tranquil" and "the perfect location for our Veterans to heal," in a message published on The Pathway Home website on March 1.
According to the website, the program has helped more than 450 veterans and their families cope with the effects of their deployment. Wong, a decorated infantryman who served for three years, including a year spent in Afghanistan, was one of the veterans receiving treatment. But clinical director Golick's father-in-law, Bob Golick, said she had recently expelled Wong from the program for reasons that remain unclear, reported The Associated Press.
The Pathway Home issued a statement commenting on the tragedy. "These brave women were accomplished professionals who dedicated their careers to serving our nation's veterans, working closely with those in the greatest need of attention after deployments in Iraq and Afghanistan," the statement said.
California governor Jerry Brown and his wife Anne offered their condolences to the women's loved ones and to the entire Yountville community in a statement. He ordered Capitol flags to be flown at half-staff to honor the victims and their families.