Three Women Leading the Education Revolution in America
Three women you've probably never heard of are leading the charge in an education revolution in America that the national media on the left and right have all but ignored.
One is a recently retired state legislator in Arizona, one is the current governor of Iowa, and one is a school board member in Sarasota, Florida. It's a revolution being driven by mothers across America not pleased with the mass school closings as a result of COVID-19 and the continued push leftward in the K-12 curriculum, particularly regarding sensitive areas like race, sex and American history. Increasingly dissatisfied with public school offerings, these three women represent millions of moms demanding more control over what their children are taught. And where.
When Karen Fann was first elected to the Arizona Senate in 2016, she could not have known that she'd become only the second woman in her state's history to become the chamber's president, let alone that she'd be a driving force in the most aggressive statewide school choice initiative in American history.
But Fann was a key player in the state's historic vote on a 2022 bill, signed by Governor Doug Ducey last July, that allows 90 percent of the state's per-student-based funding to follow the student rather than the school system—a number estimated to be $7,000-plus this upcoming school year.
"We call it the Universal Empowerment Scholarship," Fann told Hugh Hewitt's national radio audience during a broadcast from the American Legislative Exchange Council's (ALEC) Atlanta gathering last summer, where she presided as national chairwoman. "This is about parents deciding what's best for their kids."
Fann, who's owned a highway construction company for 35 years, noted that the bill wasn't an attack on public schools. "Some people have great public schools, but others don't. Some parents with special needs children want options, and so do parents with kids who want a school that can keep up with their talents."
Asked by Hewitt about resistance to the bill, Fann noted that opponents voiced the usual complaints that accompany any school choice debate. "We always have people say this is public monies," Fann said. "First, it's not public, it's taxpayer money. And why should anyone be forced to send their child to a failing school? How's that fair? Rich people can afford to send their kids wherever they want. It's the single parent who has two little girls who needs options."
Kim Reynolds, Iowa's first female governor, was quick to follow up on Arizona's plan, signing the "Students First Act" into law this past January. Parents who enroll their children in a private school will receive an amount equal to the per-pupil funds allocated by the state to public school districts each year, estimated at $7,598 in 2023-2024.
How does it work? The funds are deposited into an education savings account to be used for tuition, fees and other qualified education expenses. If money is left over, parents can use it for textbooks, tutoring, online education programs and vocational and life skills training.
"I've said all along that it's critical that we have a strong public education system, but it's equally important that parents have the opportunity to make sure their child is in the best environment that sets them up to be the best they can be and thrive," Reynolds told a Des Moines reporter. "Parents are the best ones to make that decision, and that choice shouldn't only be available for those that have the resources to do that. I believe every parent should have that option. It's not a zero-sum game."
When challenged by the reporter who said that fewer students in public schools would drain money from the system, Reynolds pushed back. "If public schools aren't teaching those children, they're not using the resources."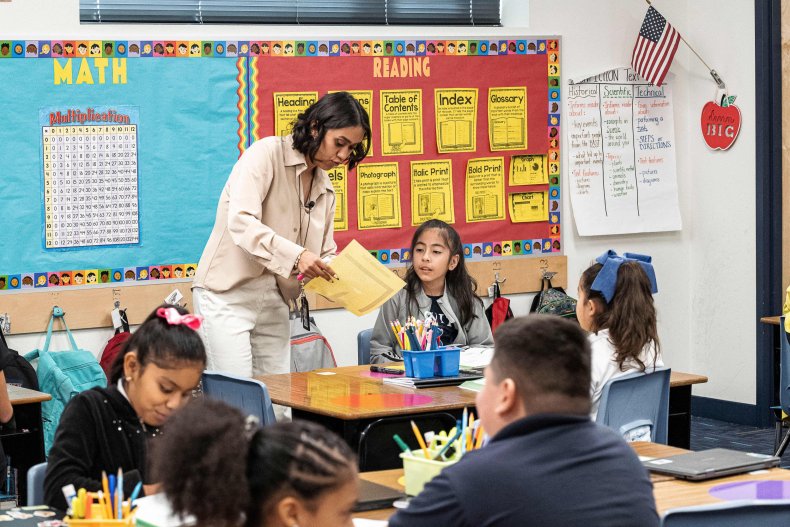 Bridget Ziegler never imagined she'd be at the center of an education reform movement. A mother of three, she worked as a consultant in the insurance industry, but public service beckoned when she was chosen by then-Governor Rick Scott in 2014 to serve on the Sarasota school board, which controls a $1.3 billion annual budget.
She's now the board's chair, and along the way to her leadership position, she's racked up some impressive wins on the parental power front, including drafting— along with Florida state Representative Erin Grall—legislation that would become Florida's "Parents Bill of Rights." Ziegler also co-founded Moms for Liberty, a conservative mothers' activist group with chapters across the country and over 100,000 plus moms enlisted in the cause.
"As a result of COVID, parents have woken up about what's transpiring in the K-12 arena when it comes to the erosion of their rights and the leftward drift of K-12 education," Ziegler told Newsweek. "I believe it's a result of the nonpartisan component of school board elections and the fact that they can hide a leftist agenda under that pretext, and that took a lot of families by surprise."
The progressive agenda, Ziegler explained, is deeply entrenched, particularly in the professional development arena—the whole notion of training the trainers. "There are special interest groups that push into professional development, and it's subtle, but it's soon deeply entrenched in supplemental materials, where the agendas really creep in."
Some of the supplemental material includes work by Nikole Hannah-Jones and her "1619 Project," which has been rebuked by some of the best historians in America but still managed to find its way into thousands of schools across the country, along with Ibram X. Kendi's book How to Be an Anti-Racist and Peggy McIntosh's essay "White Privilege." And there's BrainPop, a platform that reaches millions of elementary students, with animated videos on controversial subjects that are less than balanced.
If you don't believe the moms across America who say that K-12 education is being weaponized by ideologues to advance a progressive agenda, look no further than Tina Heafner's 2019 speech in Austin, Texas. She too is a woman on a mission, and when she made the speech, she was the president of the National Council for the Social Studies, the largest professional association of social studies teachers in America—24,000 strong. It's a speech every mom in the country—and every dad too—should read. It's called, aptly, "Agency, Advocacy and Activism: Action for Social Studies."
"Educators must pay more attention to the ways colonization, racism and power matter in educational settings and work towards more effective and longer-term pre-service and in-service training that helps educators understand and strategize about their role as agents for social change and greater educational equity," she told an eager audience.
The stakes for not taking on this challenge, Heafner added, were high. "An unwillingness to risk the reproach of communities has silenced curricular topics such as racial injustice and Black Lives Matter, LGBT+ history, immigration, human rights and sovereignty," she said.
Straight out of the Kendi playbook, Heafner pressed on. "The reluctance to acknowledge our racialized identities, to confront injustice and to dismantle racism in social studies, suggests neutrality," she said. "Yet there is no neutrality in the racism struggle. One either endorses the idea of a racial hierarchy as a racist or racial equality as an anti-racist."
Heafner warned her army of K-12 social studies activists that their work wouldn't take place without a fight. "Fears of political censure and being accused of partisanship should not be barriers to candid discourse in social studies classes that can lead to antiracist understanding and a more civil, democratic society," she declared.
Heafner's prediction was right. Women like Harnn, Reynolds and Zeigler represent an army of moms who are doing just that: They're fighting back. More and more states, thanks to the work of ALEC, will soon be passing universal school choice.
Arkansas was the latest. The Learns Act was passed by a whopping majority just a month after being introduced in the Statehouse. Sarah Huckabee Sanders, the state's first female governor, signed the bill into law this week.
And Ziegler recently became the education director at one of the nation's premier conservative groups, the Leadership Institute. She's training parents not to just run for school board and win but to turn those wins into impactful change, from budget transparency to curriculum integrity. She's trained more than 800 people, with plans to train thousands more.
The fight for control over our local schools—who pays and who decides what should and shouldn't be taught—is an important one. I wouldn't bet against an informed and motivated army of organized moms hell-bent on protecting their kids from the ambitions of progressive ideologues like Heafner, Kendi, McIntosh and Hannah-Jones.