Three-Year-Old Boy Found in Vehicle With Dead Man Who'd Been Shot: Police
A three-year-old boy was found in a car with the body of a man who had been shot dead on Friday night, according to police.
Houston officers currently believe that the incident took place around 8 p.m. on Friday, KHOU 11 News reported. The victim had been driving in West Houston to meet with someone, potentially the person who ultimately shot him. Police suspect the victim knew the shooter prior to the incident in some way.
Officers responding to the scene told KHOU that the victim's body still had one foot on the vehicle's parking brake. As investigators began to arrive and inspect the scene, police stuck around to make sure the toddler left in the car was looked after. It remains unclear what relationship the victim and the child had with one another, though one lieutenant did off-handedly refer to the victim as the boy's father while addressing the media.
"Seeing this happen and he's possibly going to have to grow up with that," Houston Police Department Commander Trey Coleman said in a statement. "Definitely a devastating thing."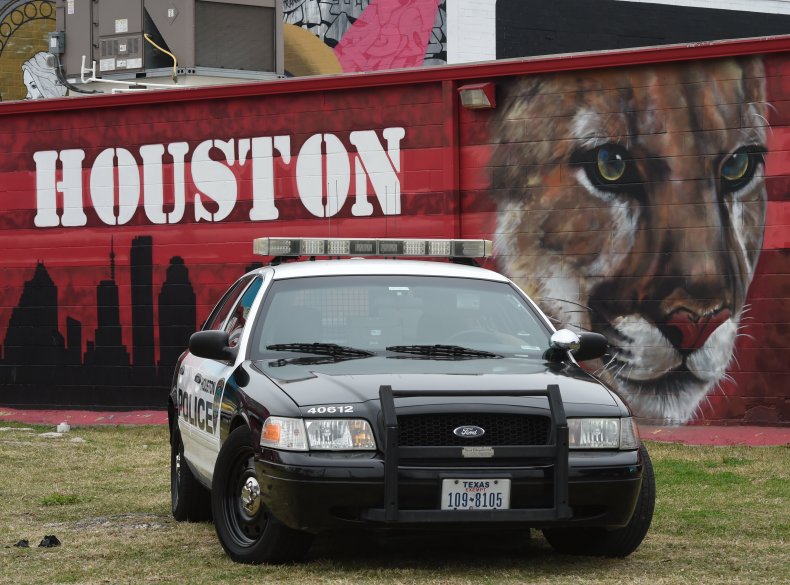 Police are working on putting together a physical description of the alleged shooter and are seeking out surveillance footage from the area around the shooting. At least one witness so far has claimed to have seen a man walking away from the vehicle after the shooting. No weapon was recovered from the scene of the crime.
The child was noted to be unharmed by investigators on the scene. He was eventually taken into police custody, according to Fox 26 Houston.
"The child's OK. Just shook up," said Lt. Larry Crowson, according to the Houston Chronicle. "And he probably saw his dad killed."
Newsweek reached out to the Houston Police Department
A similar incident involving young children witnessing violence played out in Houston on April 10. Keshante Shamirra Harris, 27, allegedly shot her ex-boyfriend, Aaron Williams, multiple times in the arm and leg after he brought his new girlfriend to return their child after a weekend visit, HPD reported. Williams suffered non-life-threatening injuries, and Harris was later arrested and charged with aggravated robbery with a deadly weapon and deadly conduct for discharging a firearm.
Earlier, on the night of April 7, Houston police reported that a grandfather had been shot in the head after four home invaders kicked in his door to carry out a robbery. The man's two-year-old grandson was present in the home at the time, KHOU reported.