Three Years After Elie Wiesel's Death, We Are Desperate for Voices Like His | Opinion
On July 2, 2016, when Nobel Prize peace laureate Elie Wiesel died, a New York Times headline read, "Donald Trump Deletes Tweet Showing Hillary Clinton and Star of David Shape." Across the Atlantic, Brexiteers had already won their fateful referendum, and Europe, the continent of Wiesel's birth, was in the throes of the refugee crisis.
Although alarm bells were ringing, it was impossible to foresee that in a few short months the newly empowered far right in the United States would whip up nationalist sentiment and generate an icy blast of anti-Semitism such as this country had not seen in decades.
It was a few months before members of Richard Spencer's National Policy Institute would celebrate with Nazi-style "Hail Trump" salutes at an election victory party.
It was six months before neo-Nazi website The Daily Stormer would begin to target and troll Jews in Whitefish, Montana.
It was just over a year before the "Unite the Right" rally in Charlottesville left a woman dead.
And it was more than two years before the massacre of worshippers at Pittsburgh's Tree of Life synagogue by a self-proclaimed anti-Semite and the shooting at a Chabad service in Poway, California, that killed one Jew and injured three more.
Wiesel missed all this, and part of me is glad. Another part of me wishes he were here, a visible presence, a respected voice to speak out against growing prejudice of all kinds—including anti-Semitism.
After all, he had performed the important function of standing up to an American president before. In 1985, President Ronald accepted German Chancellor Helmut Kohl's invitation to speak at the cemetery in Bitburg, Germany, where members of Hitler's elite Waffen-SS were buried. Holocaust survivors were shocked and distressed. Wiesel, the chairman of the United States Holocaust Memorial Museum, took the lead.
"That place, Mr. President, is not your place," he said during a speech at the White House that April upon receiving the Congressional Gold Medal. "Your place is with the victims of the SS." Wiesel's stance made headlines and was overwhelmingly supported by both houses of Congress, Jewish organizations, veterans' groups and others.
I believe Wiesel, beloved by many Jews and non-Jews, would have been one of the few people who would have commanded the respect of President Donald Trump and members of his administration. He could have been a guide and positive influence.
Wiesel had a special touch. He managed throughout most of his long public life to transcend polarization, albeit not the bitter polarization we have now. He was able to talk to everyone, including world leaders who sought him out.
How did he do it?
To begin with, he had a history that readers of his first book, Night, could never forget. Wiesel carried with him the resonance of the Holocaust. He was a man who had seen, experienced and known evil in its ugliest form. This imbued him with a moral authority respected by people on all sides.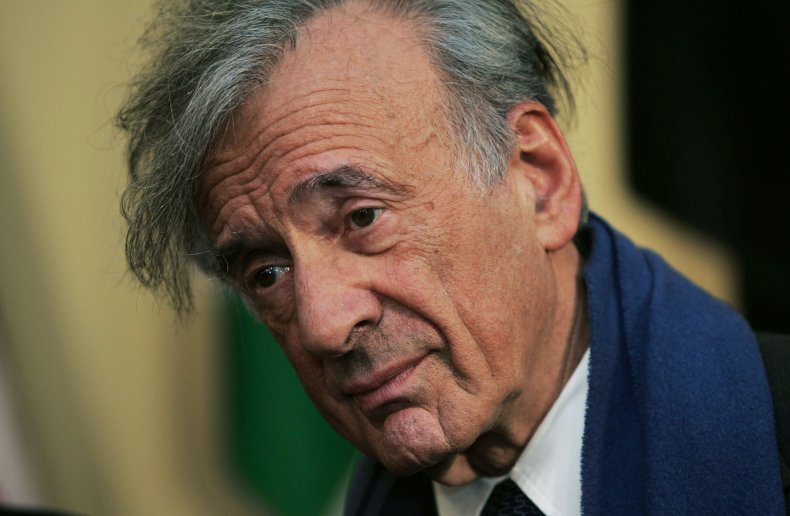 Shaped as he was by his religious Jewish upbringing and despite his belief that the Holocaust was unique, Wiesel knew suffering was not. As someone who helped give us language to express the horror of the Holocaust, he wanted others to find their language and be recognized for their pain. He listened to—and counseled—African Americans shaped by legacy of slavery and deeply entrenched societal racism. He did the same for victims of genocides in Sudan, Rwanda, Bosnia, Cambodia and Armenia.
As both a particularist and a universalist, Wiesel was able to reach people in ways they understood. I recently spoke with a reporter who had been at Wiesel's apartment on November 4, 1995—the day Israeli Prime Minister Yitzhak Rabin was assassinated. He was there to interview Wiesel, but instead sat by as person after person, including world leaders, called to discuss the tragedy. Wiesel conversed with the callers in English, French, Hebrew and Yiddish, and the reporter was struck by the nuance with which Wiesel fielded calls and comforted so many from disparate political, cultural and religious backgrounds.
Wiesel was not an ideologue. He practiced discretion (remember discretion?). For example, he didn't agree with all Israeli government policies, but was generally careful not to express them publicly because, he said, he didn't live there. He met and befriended Republican and Democratic presidents. He was, in my experience, a cosmopolitan man who eschewed xenophobia and extreme political beliefs, and embraced civil discourse, thinking and behavior.
He enjoyed the tumult of cultural religious social political thought, but he wanted that tumult to be civil and tasteful.
We can't be Elie Wiesel. But we can and should learn from those like him who survived the Holocaust and other genocides. We can, as he counseled, not forget, not be indifferent, remember to care about all suffering and take action to combat it. We can listen and encourage other voices, and graciously bend over backward to be civil in our discourse.
Wiesel knew too well what could happen when communication and civility break down, and evil ascends.
Nadine Epstein is the editor of the book Elie Wiesel: An Extraordinary Life and Legacy and editor-in-chief and CEO of Moment magazine.
The views expressed in this article are the writer's own.