Three Young Girls, One in a Wheelchair, Killed by Hit-and-Run Driver While Crossing Road
Four girls were struck by a hit-and-run driver on Saturday in Lucerne Valley, California, killing three of them and leaving the fourth in critical condition.
The four girls, two of whom were in wheelchairs, were traveling down Camp Rock Road around 10:20 p.m., according to the California Highway Patrol. The three girls who were killed by the vehicle were identified as Willow Sanchez, 11, Daytona Bronas, 12, and Sandra Mizer, 13, and were pronounced dead at the scene, according to the report.
ABC 7 reported that the fourth girl who was taken to the hospital with major injuries and in critical condition was identified as Natalie Coe, 14, by Lucerne Valley Unified School District Superintendent Peter Livingston. Coe was taken to Loma Linda University Medical Center via helicopter.
"They obviously knew what they did, and made the decision to flee from the scene instead of rendering aid to those four juveniles," CHP Officer Ramon Duran told ABC 7. "It is just mind-blowing that somebody would do that."
Newsweek spoke with Duran, who described the Camp Rock Road as having "minimal paved shoulders" with most of the road having narrow, dirt shoulders. Duran also said that there are no sidewalks along the two-lane highway.
According to the Independent/Yahoo News, the girls were found on different sides of the road, which seems to indicate that they might have been trying to cross the highway.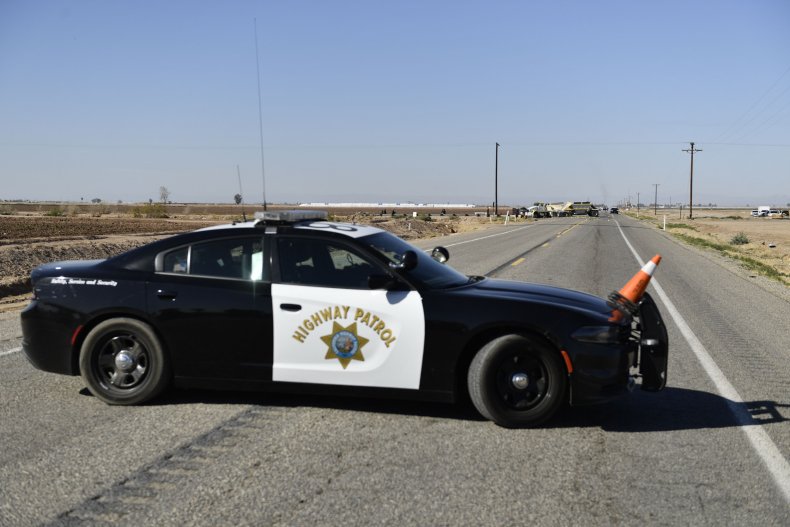 The vehicle that struck the girls north of Rabbit Springs road was a white 2002 Chevrolet Silverado, according to CHP. The driver and passenger of the pickup truck fled the scene on foot.
Duran said that the CHP investigation team is going through the pickup, which was left behind at the scene, to find any evidence that may help the department track down and capture the driver and passenger.
He told Newsweek that he did not have any other information regarding the specific injuries that Coe sustained, but he believed that one victim's mother may have shared additional details to the news.
"Her leg was amputated in the accident, all her other limbs are shattered and her liver is bleeding, her kidneys are struggling," Sherrie Orndorff, Coe's mother and the older sister of Sanchez, said to NBC Los Angeles.
Coe and Bronas were the two girls who used wheelchairs. Orndorff told NBC Los Angeles that the girls were staying over at her house and decided to go for a nighttime walk.
"Please know that Natalie was in a wheelchair at the time of this accident and used her hands to navigate it," Natalie's aunt, Robbin Napier-Florence, posted to her Facebook. "Now with the possible loss of her hands and leg, she will need special care and a special chair."
The CHP released statement that said it was unclear if drugs or alcohol were involved in the incident.