Meet The Woman Who Thrifted 75% Of Her Home Using Facebook
Thanks to thrift shops, eBay, Craigslist, and Facebook Marketplace, secondhand furniture has become a popular trend for homeowners and renters.
According to Statista research in 2022, consumer spending on secondhand furniture and home goods in the U.S. increased by more than $2 billion in 2020, the equivalent of nearly 16 percent.
Since 2015, the market for used furniture and home goods has grown by more than 50 percent, and it is expected to keep growing at a rapid pace. The coronavirus pandemic was named as one of the main contributors to the recent surge of consumer spending on pre-owned furniture and household items.
The hashtag #thriftedhome has over 210 million views on TikTok, and viral videos on the platform show how Americans are prepared to get a little creative when furnishing their home, in order to save money.
Newsweek spoke to 24-year-old interior designer and content creator Bridgette Whitney, (who lives in Texas with her partner Blue), who has attracted over 19.2 million likes to her TikTok page dedicated to their thrifting journey.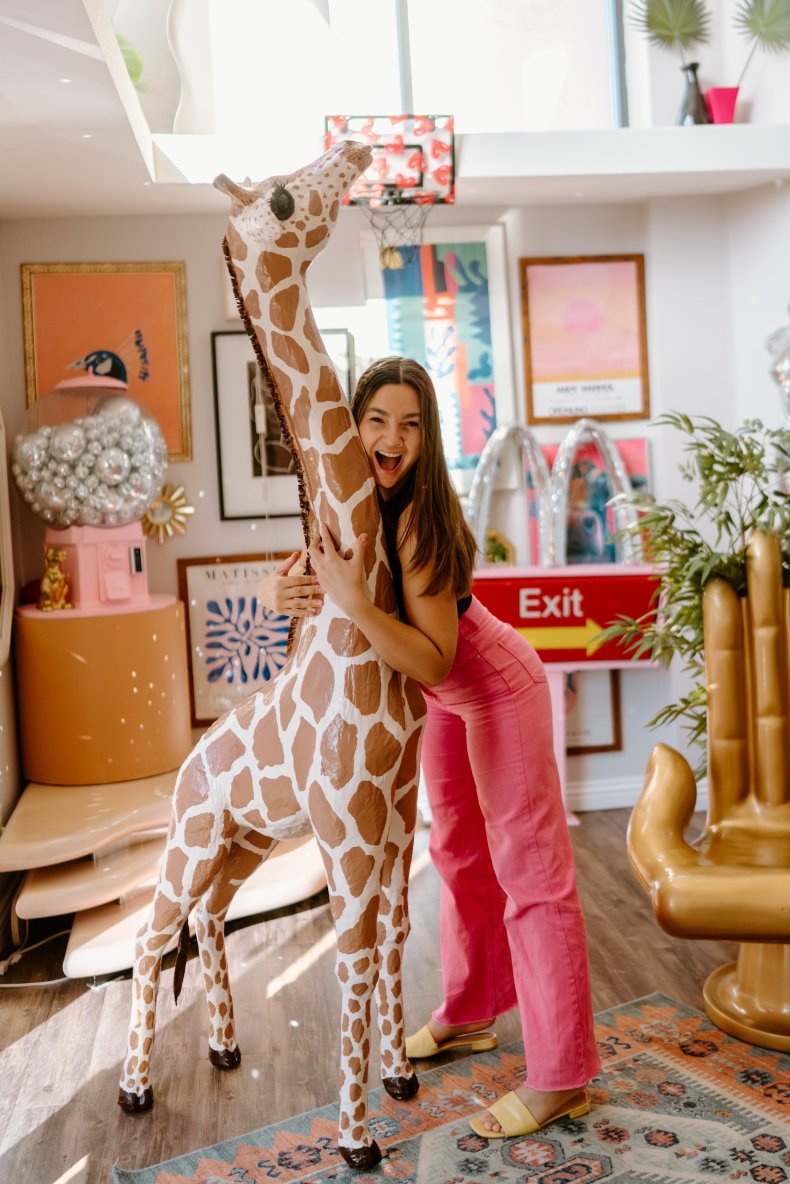 Bridgette claims that over 75 percent of the furniture in their home is thrifted.
She told Newsweek: "I've gone thrifting my entire life, but it wasn't until I was a broke college student that I realized that you could find furniture gems! I love the idea of saving money and having one-of-a-kind items while giving an old item a new life and not conforming to overconsumption culture."
Whether you are a seasoned thrifter, or new to the concept, Bridgette advises that it can take a bit of time and effort to find the perfect pieces. You will probably have to wade through a lot of junk to find a gem, so consistency is key.
"About 75 percent of my home is thrifted!" says Bridgette. "I used to do a lot of thrifting at goodwill and thrift stores nearby, but now I'm a Facebook Marketplace girlie. I check it so much that it's basically a full time job!".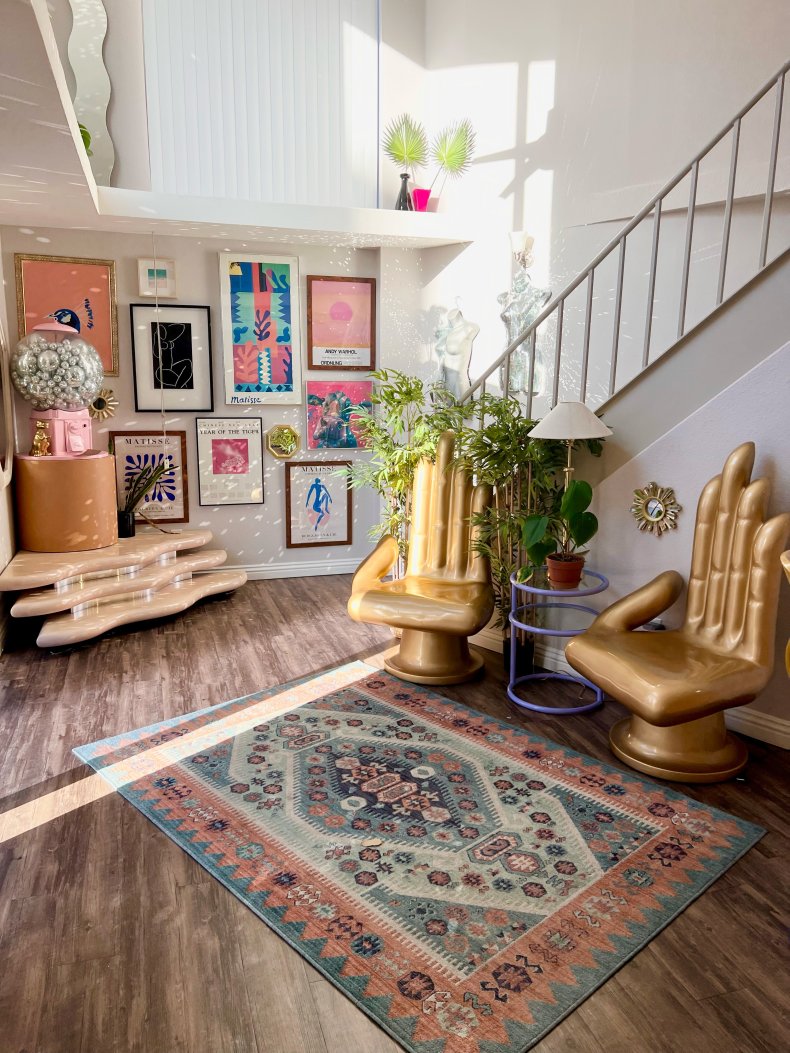 Despite thrifting three-quarters of her home, Bridgette also buys new occasionally.
She said: "Sometimes I have to. Curating your home with secondhand goods can take a long time, so sometimes purchasing an item is needed. I usually end up buying items like nightstands, side tables, and accent chairs. I also am not a broke college student anymore, so purchasing new items is more attainable now."
If the idea of thrifting your entire home may seem a bit extreme, then don't. By mixing recycled and secondhand furniture in with your other purchases, you're still reducing landfill waste, and adding a unique and one-of-a-kind prize piece of furniture to your home décor.
As well as being able to make your home truly feel yours, you can also feel smug knowing you're not part of the problem, as the Environmental Protection Agency report that each year Americans throw out more than 12 million tons of furniture, rather than recycling it, with 80 percent of it ending up in landfill.
This figure is up from 2.2 million tons in 1960.
As well as buying ready-to-go thrifted items, Bridgette said she refurbishes older items to give them a new lease of life.
Bridgette said: "I used to do a lot of refurbishing, but it takes a lot of time and I haven't got as much of that anymore. I used to sand, paint, add trim or details, etc. Now I customize things in different ways, like buying a mannequin and covering it in disco tiles which can really light up a room, or buying an old gumball machine and filling it with disco balls.
"It's really rewarding to see potential in items that may need a little tender loving care. If there's a coffee table that looks great but has a chip, you may just need to put in some wood filler and stain it. Similarly, if you like a dresser but the legs aren't your vibe just buy some new legs on Amazon!"
Bridgette's Top Tips for Thrifting
Buy a portable furniture cleaner to get all the dirt and grime out
Use Google Lens – it will help you identify the age and brand of something
Don't be intimidated! Take your time and really look and you will find a gem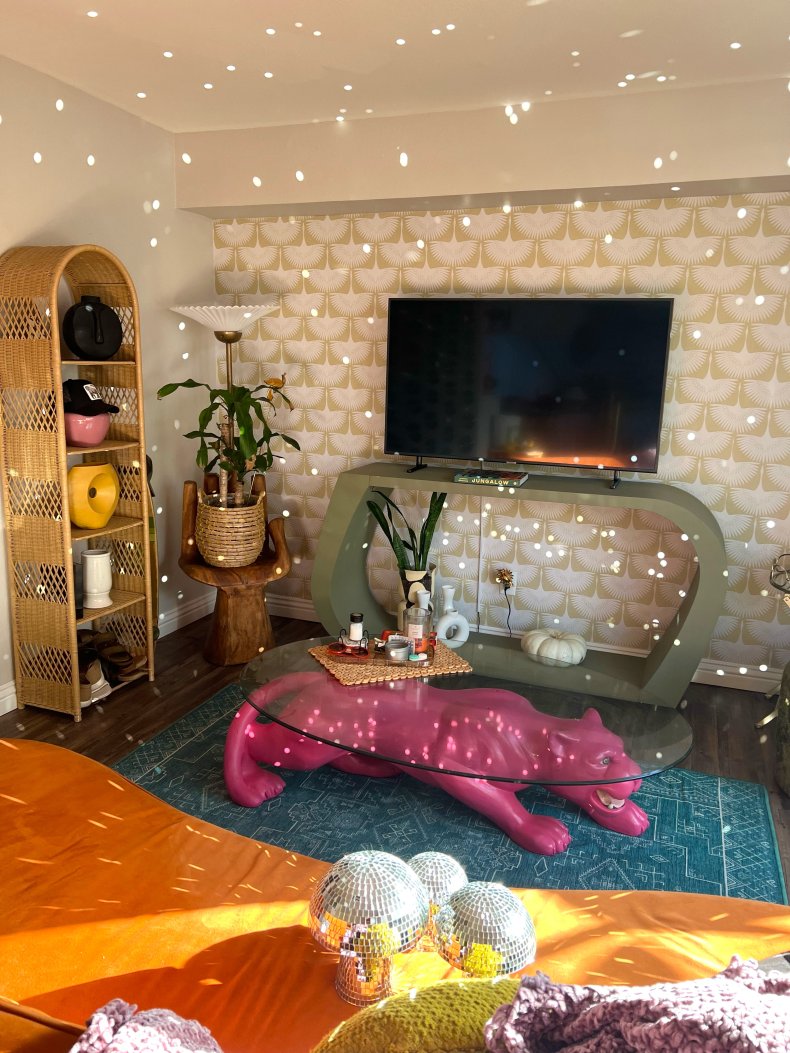 With the current popularity of thrifting and the need to sieve through a lot of tat before finding the prize, Bridgette heavily recommends checking your sources often, "maybe a couple of times a day."
"Things can come and go in the blink of an eye, like our new sofa," she added. It was from Urban Outfitters at $1,600 new but we got it for $500 in amazing condition from Facebook Marketplace. Another amazing find was our coffee table. It was $40 but it's worth over $1,000."
Why not make a fun weekend out of it, and drive to a few furniture yards to hunt for bargains?