'Throw Your Hands Up': Bernie Sanders' Debate Exchange Turns Into An Instant Meme
Senator Bernie Sanders threw his hands up in despair during the Democratic debate for the 2020 election on Tuesday night, immediately creating numerous and varied memes on Twitter.
The viral moment occurred when former Colorado governor John Hickenlooper addressed Sanders, and declared his socialist policies were too extreme and radical to beat President Donald Trump in the next election.
"So again, I think if we are going to force Americans to make these radical changes, they're not going to go along," Hickenlooper said. The moment Hickenlooper invoked the word "radical," Sanders threw his hands up in disbelief. Hickenlooper noticed this and yelled, "no, throw your hands up," which Sanders did again, but with more animation.
The lively exchange immediately caught the attention of social media users, who jumped on the eye-catching gestures:
"This is not radical; this is virtually what every other country on earth does," Sanders replied to the attack on his policies, speaking specifically on his health care plan.
This was not the only stand out moment of the evening for Sanders. When challenged on the details of Medicare for All by Ohio Representative Tim Ryan, Bernie Sanders shot back, "I wrote the damn bill!" Ryan had questioned whether Sanders' proposed health care reforms would provide acceptable coverage to union workers.
Sanders has been making social media headlines lately, after meeting with rapper Cardi B on Tuesday to discuss his plans for racial, economic and social justice.
In the second round of debates, which will run over two nights, Sanders, Elizabeth Warren and Marianne Williamson made the headlines after taking on the so-called centrists who are also running for office. Many lesser-known candidates were eager to contrast themselves with the more progressive candidates on issues ranging from immigration to health care.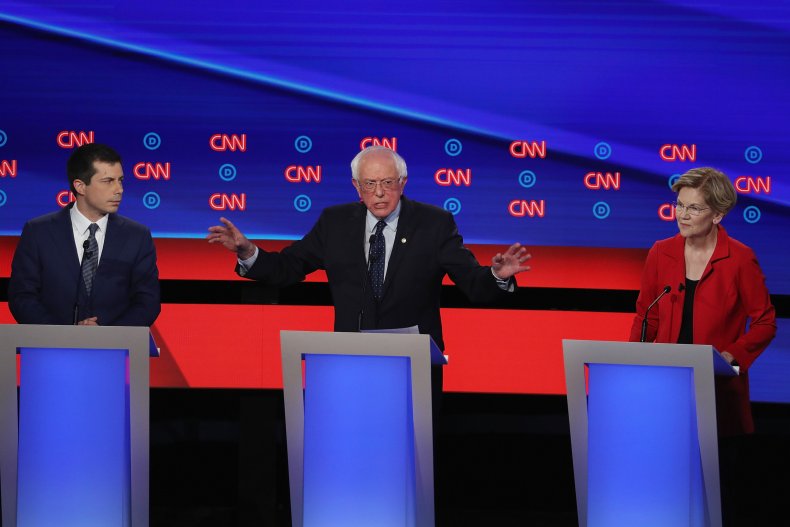 Former Maryland Rep. John Delaney used his opening statement to criticize both Sanders' and Warren's policies, branding them as radicals, and painting them as candidates who would make Democrats lose the general election in 2020.
"Folks, we have a choice," Delaney said. "We can go down the road that Senator Sanders and Senator Warren wanna take us with bad policies like Medicare for All, free everything and impossible promises that'll turn off independent voters and get Trump reelected. Or we can nominate someone with new ideas to create universal health care for every American, with choice."
Given a chance to respond, Sanders, who believes health care is a universal right, said to Delaney, "You're wrong."