Thunderstorm Warnings, Severe Weather Expected Monday Through Wednesday, Possible Tornadoes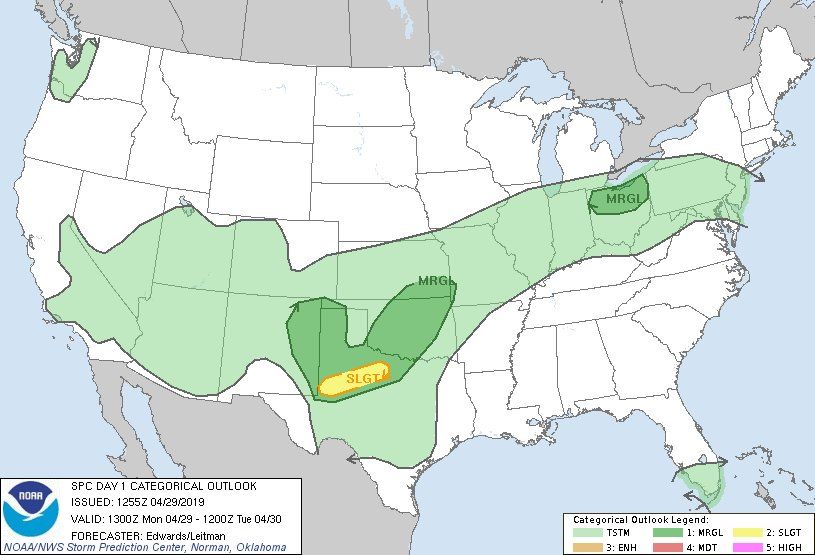 Severe weather was expected across the United States this week as thunderstorms were forecast to develop and spread across the areas of Texas and Oklahoma Monday before heading north and east.
The one-day outlook for the weather showed a slight risk for severe weather Monday, with the risk increasing to an "enhanced risk" come Tuesday, according to the National Weather Service. "Severe thunderstorms and flash flooding Tuesday will be focused across the center of the U.S.," said the NWS forecast.
Along with the risk of thunderstorms, there would also come heavy rain and possible flooding, as well as possible hail. The storms were expected to begin late Monday in Texas and Oklahoma but also across some parts of Kansas and Missouri.
Tuesday conditions are expected to become less stable, increasing the chances of the severe weather and the risks associated with it. By Tuesday, the areas most at risk will be in Oklahoma and Kansas and Missouri, according to The Weather Channel.
One of the most extreme risks associated with thunderstorms are the tornadoes that they can bring in their wake. The tornadoes form when a column of rotating air extends out from the bottom of the thunderstorm down to the ground, according to the National Oceanic and Atmospheric Administration.
The time of year with the most tornadoes in the U.S. depends on the region. Along the Gulf Coast, it tends to begin a bit earlier in the spring, around March and April, but in the Southern Plains, it peaks around May and June. In the northern plains and upper Midwest, the tornado season happens in June or July, according to NOAA. While there is an unofficial tornado season, tornadoes can happen at any time of the year, and at any time during the day or night.
Areas across the south have seen severe and deadly tornadoes in the past several months, which can form during strong thunderstorms. One tornado in Alabama killed at least 23 people in March, while another storm earlier this month killed two in Texas. The Alabama storm that resulted in deaths was an EF4 storm, the second-highest storm on the Enhanced Fujita Scale used to measure tornadoes.
Those in the areas where the extreme storms are expected should be sure to monitor the weather closely and be ready to take cover if a tornado warning is issued and know what to do if there's a watch issued as well.