The Kabul airport attack that killed 12 U.S. troops on Thursday was the deadliest single day for the U.S. military since 2011.
The official news outlet of the Islamic State's Khorasan branch (ISIS-K) said that a "fighter of the Islamic State" had killed about 60 people and injured 100 others after detonating a suicide belt near a gate at the airport. Afghan health officials said that at least 60 Afghan civilians had been killed, according to Reuters.
The military death toll of 12 included 11 Marines and one Navy medic, while at least 15 more U.S. troops were injured. The attack took place as troops were attempting to screen those entering the airport amid the ongoing evacuation effort. More U.S. service members were killed in action than on any day since August 6, 2011.
"It is 12 servicemembers dying. Nobody feels that more closely, more directly than me and everyone else in the chain of command," General Kenneth McKenzie, head of U.S. Central Command, said during a briefing. "We recognize that we need to continue to evaluate our procedures as we go forward."
"At the same time, there's a tension there," he added. "We have to continue to let people on the airfield because that is why we are there."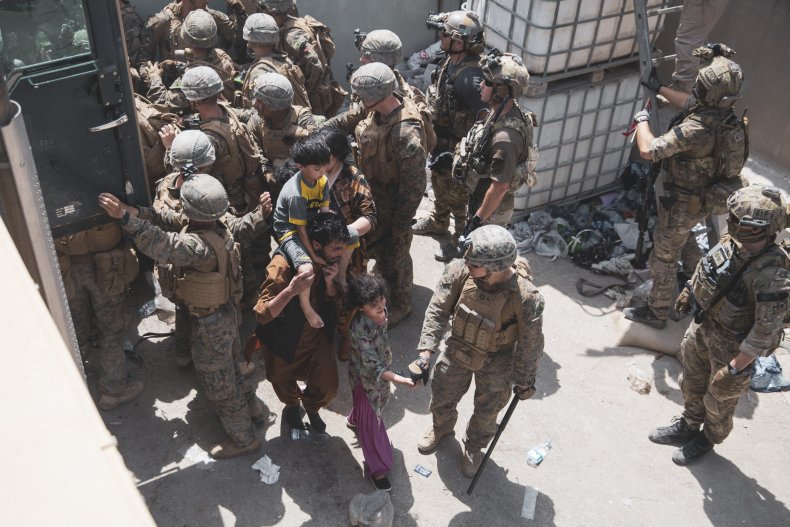 Around 1,000 U.S. citizens are believed to remain in Afghanistan awaiting evacuation before the planned withdrawal deadline on August 31. McKenzie said that a minority of Americans may refuse to leave the country.
McKenzie stressed that the military remained focused on other "extremely active threats," warning that "typically the pattern is multiple attacks." He said that more details concerning Thursday's attack should be revealed within days.
Thursday's attack included the first U.S. military fatalities in Afghanistan in 18 months. Critics of President Joe Biden were quick to blame him for the attack. Some have also blamed the president for the prompt collapse of the previous Afghan government at the hands of the Taliban following the U.S. withdrawal.
Biden has defended the withdrawal and has reminded Republican critics that he is executing a plan initiated by former President Donald Trump. During a Sunday briefing, Biden warned that an ISIS-K attack could strike the Kabul airport "from a distance," while stressing the urgency of a fast evacuation.
"ISIS-K is a sworn enemy of the Taliban, and they have a history of fighting one another," Biden said. "But every day we have troops on the ground, these troops and innocent civilians at the airport face the risk of attack from ISIS-K from a distance, even though we're moving back the perimeter significantly."
Following the attack, Biden said that he was "outraged as well as heartbroken." The president added that he had instructed military commanders "to attack ISIS-K assets" and told the militant group that the U.S. would "hunt you down and make you pay."
The deadliest attack on the U.S. military prior to Thursday occurred when a military helicopter was shot down in Afghanistan on August 6, 2011, killing 30 troops including 22 Navy SEALs—most of whom were members of SEAL Team 6, the unit that killed Osama bin Laden a few months earlier.
Newsweek reached out to the Department of Defense for comment but did not hear back in time for publication.