Thursday Night Football Preview Week 8: Miami Dolphins vs. Houston Texans Live Stream, Spread, Expert Predictions
The Miami Dolphins (4-3) and Houston Texans (4-3) are sceduled to square off in Week 8 on Thursday night in Texas, both squads hoping to continue relatively strong starts to the 2018 NFL season.
The Dolphins, however, are coming off a tough loss to the Detroit Lions last week. The defense struggled in the game, especially against the running game.
"We didn't play very well against the run today," Miami's head coach Adam Game said in a press conference. "Basically they could do whatever they wanted on that side of the ball. It's kind of unusual for our guys."
Gase added, however, that the offense has to try to pick the defense up.
"It's not ideal," he said. "But we've got to find a way to match it on the other side of the ball. Create more points."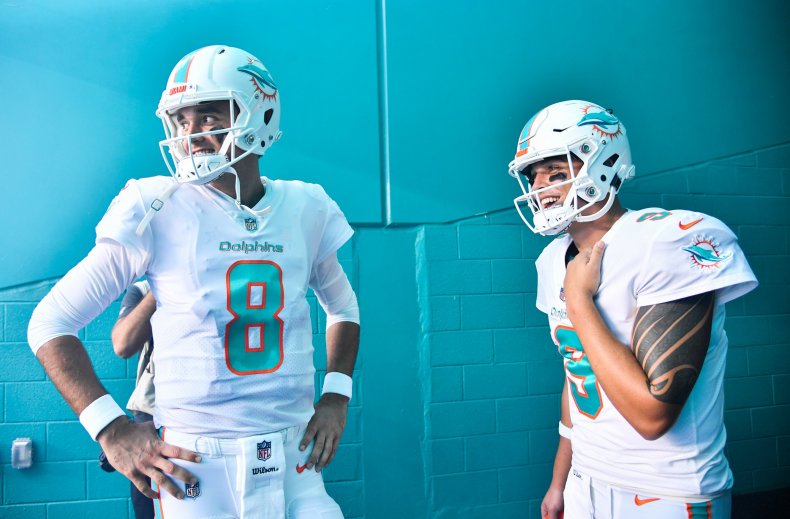 The Texans, meanwhile, are coming off an impressive 20-7 win over the Jacksonville Jaguars. Quarterback Deshaun Watson led the team to victory despite having to take a bus from Houston to Jacksonville over concerns the flight would aggravate his bruised lung and injured ribs.
"Whatever it took to get me down here with my teammates and be able to play and help this team win," Watson said after the game, via the Associated Press. "This is bigger than me. I'm a competitor. I love this team so much. And what I've been through previously and what we've been through leading up to this point, I want to be out there on the field with them and try to win."
Houston has now won four straight games coming into Thursday night. Miami, meanwhile, has lost three of their last four after a 3-0 start.
Here's the info you'll need to tune-in as well as gambling info.
Start time: 8:20 p.m. ET
TV channel: Fox
Live stream: fuboTV (free trial available) or Amazon Prime (for members)
Spread: Houston -7.5, via Odds Shark
Expert predictions: CBS picked the Texans. Nine of 10 ESPN experts picked he Texans. Five of seven SB Nation experts picked Houston.
Thursday Night Football Preview Week 8: Miami Dolphins vs. Houston Texans Live Stream, Spread, Expert Predictions | Sports