T.I. Defends 'Hymengate' After Widespread Criticism, Claims 'Chubby-Fingered Little Boys' Want to 'Come and Defile' Daughter
Rapper T.I., real name Clifford Harris Jr., appeared on Red Table Talk with Jada Pinkett-Smith to address "Hymengate," where he defended previous comments he'd made about taking his daughter for "virginity checks," referring to boys who want to "defile and destroy" her.
During the November 5 podcast of Ladies Like Us, T.I. revealed that he accompanies his 18-year-old daughter, Deyjah Harris, to her yearly gynecologist visits to make sure her "hymen is still intact," something he appeared to believe was confirmation of virginity.
"Deyjah... just graduated high school now and she's attending her first year of college, figuring it out for herself," the rapper said. "And yes, not only have we had the conversation, we have yearly trips to the gynecologist to check her hymen."
On the morning after his daughter's 16th birthday, he said he put a sticky note on her door that read, "Gyno. Tomorrow. 9:30."
There was an immediate backlash to T.I.'s comments from the public and several medical groups, plus an op-ed in USA Today where doctors from Physicians for Human Rights said Harris' comments "exposed deeply rooted misconceptions about women and girls, their sexuality, anatomy, autonomy, privacy and role in society."
"IDK who needs to hear this but virginity is a made-up social construct, and it has absolutely nothing to do with your hymen," Planned Parenthood said in a tweet.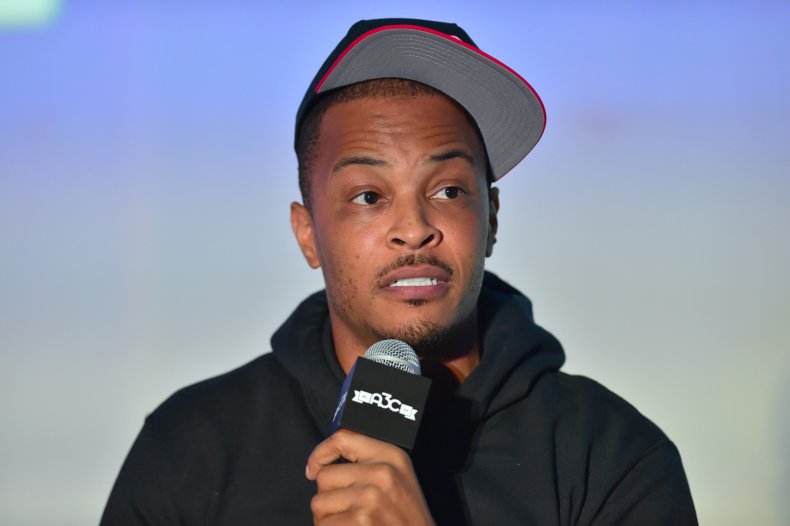 The rapper's Monday appearance with wife, Tameka "Tiny" Harris, on Facebook web show, Red Table Talk, was the first time he had addressed "Hymengate" at length.
"I think that in the age or the time when our women—black women—are the most unprotected, unattended, disregarded women on the planet, I'm being criticized because I'm willing to go above and beyond to protect mine," said the father of six.
He added that he was talking about "all of the slimy, grimy, chubby-fingered little boys who want to just come and defile and destroy the sanctity that I have—" but never finished his thought because the hosts burst out laughing.
Tarana Burke, founder of the #MeToo movement, was filmed for the segment talking about Harris' previous comments, saying they opened up a can of worms she didn't think he was prepared to open.
"We're talking about this long tradition of checking the purity of women's bodies, and I think that a lot of men have this idea that being a good father is protecting your daughter's virginity," said Burke.
"But it's so problematic in so many ways," she continued. "It lends itself to this notion that men own their daughters."