T.I. Trends As Rapper Faces Backlash for Saying He Goes With Daughter to Gynecologist Annually to Ensure Her Hymen's 'Still Intact'
T.I. began trending in American on Wednesday afternoon as the rapper, whose real name is Clifford Joseph Harris Jr., faced widespread backlash for admitting that he accompanies his 18-year-old daughter to the gynecologist every year to ensure her hymen is "still intact."
In an interview on Ladies Like Us with Nazanin Mandi and Nadia Moham on Tuesday, T.I. offered a bizarre answer when asked if he's had the "sex talk" with his teenage daughter, Deyjah Harris.
"Not only have we had the conversation. We have yearly trips to the gynecologist to check her hymen," the 39-year-old rapper said. "Yes, I go with her."
The rapper went on to explain that the ritual began after Harris, who is now attending her first year of college, turned 16. After her 16th birthday party, T.I. revealed that he "put a sticky note on the door" which said "Gyno Tomorrow: 9:30."
"So we'll go and sit down and the doctor comes and talk, and the doctor's maintaining a high level of professionalism," T.I. said. "He's like, 'You know, sir, I have to, in order to share information'—I'm like, 'Deyjah, they want you to sign this so we can share information. Is there anything you would not want me to know? See, Doc? Ain't no problem.'"
"I will say, as of her 18th birthday, her hymen is still intact," he added.
T.I. admitted that the doctor informed him that the hymen is not a good indicator of virginity and that it can be broken in numerous ways, often during physical activities, besides sex. "So I say, 'Look, Doc, she don't ride no horses, she don't ride no bike, she don't play no sports. Just check the hymen, please, and give me back my results expeditiously,'" he said.
Soon after T.I.'s interview became public, millions of Americans took to Twitter to ridicule and criticize the rapper's remarks. As of Wednesday afternoon, T.I. rose to the top most-trending topic on the social media platform in the U.S., with over 100,000 Americans sharing their thoughts on the family's gynecologist ritual.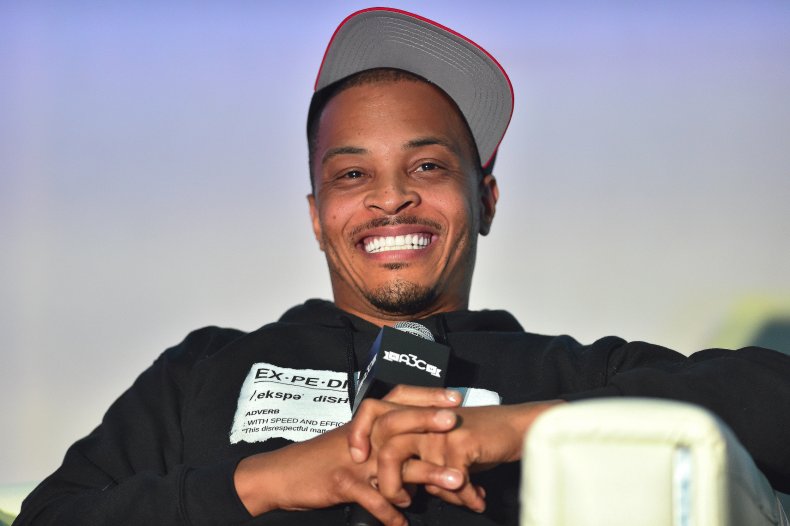 "T.I. live in the 1930s," Twitter user @father wrote.
"I have a daughter and I will never do what T.I did to his daughter. It's embarrassing. It's abusive and it's very sad.," LA Chargers' Tre Johnson tweeted.
"That thing is, I suspect T.I. Is lying," writer Tressie McMillian Cottom tweeted. "But even the choice of lie says everything about his ignorance, misogyny, pathology."
"This is disgusting and horrible. Rapper T.I. says that he takes his daughter to the gynecologist to make sure her hymen is still intact!" New York Magazine contributor Yashar Ali tweeted. "Even after her 18th birthday (not that it makes it ok before her 18th birthday) Horrifying."
"Holy f***ing s**t this is so scary and assault-y and possessive and awful. That doctor should be stripped of his license," GQ Sex & Relationships columnist Sophia Benoit tweeted.
"T.I. is disgusting to discuss his daughters sex life," writer George M Johnson tweeted. "Then to have the double standard of being ok with your 15 year old son having sex. And like, are you gonna beat her ass if she did? And this feels like that 'I didn't want a daughter bc I treated women like trash' bs."
"If you're defending T.I.'s atrocious practice of having his 18-year-old daughter's hymen checked, and the gynecologist violating HIPPA to accomodate T.I.'s creepy request, then you're a disgusting misogynist, too," Twitter user @siano4progress wrote. "Women are not your property. Not even your daughter."
"Jesus, this is just gross," Twitter user @goldengateblond wrote. "I'm not normally a big fan of cancel culture but welcome to the short list, T.I."
"I guess when T.I. sang 'live your life' that didn't apply to everyone," Twitter user @MilesKlee wrote.