Tiananmen Anniversary Gatherings Given Coded Support From West
Some Western countries sent coded messages of support as authorities in Hong Kong banned public commemoration of the deadly 1989 Tiananmen Square crackdown for a third year in a row.
For many years, Hong Kong and nearby Macao were the only places in China permitted to mark the violent suppression by army troops of student protesters demanding greater democracy in Beijing's Tiananmen Square on June 4, 1989. It is estimated that anywhere from several hundred to several thousand people were killed.
But gatherings to mark the events of the day have been banned since Beijing imposed a national security law following massive pro-democracy protests in Hong Kong in 2019.
On Saturday, there was a heavy police presence enforcing the ban in Hong Kong's Victoria Park, the traditional site of the annual Tiananmen candlelight vigil, with several people arrested.
Amid the ban, some Western consulates sent coded messages appearing to mark the anniversary of Tiananmen Square and support those defying the ban.
Consulates in Hong Kong were recently sent reminders urging them not to publicly comment or post on social media about the Tiananmen Square protests, an envoy told The South China Morning Post. According to the newspaper, it was the first time such an appeal had been made to the consulates of Western countries.
The Polish consulate in Hong Kong shared an infographic on Facebook noting that Poland was the "biggest candle producer in the European Union" in what was widely viewed as a tribute to Tiananmen Square.
The European Union's office to Hong Kong and Macao was more direct, sharing a photo of lit candles on a windowsill on social media along with the caption: "In commemoration of the 33rd anniversary of the #TiananmenSquare crackdown on #June4th 1989."
In what appeared to be support for those gathering to mark the anniversary, the caption added: "The European Union always stands in solidarity with human rights defenders across the globe."
The Australian consulate to Hong Kong and Macao also acknowledged the anniversary.
"Today we remember those who lost their lives at Tiananmen Square on 4 June 1989," a Facebook post said. "Australia's commitment to universal human rights is enduring. We continue to stand for every person's right to freedom of expression, association, political participation and religion or belief."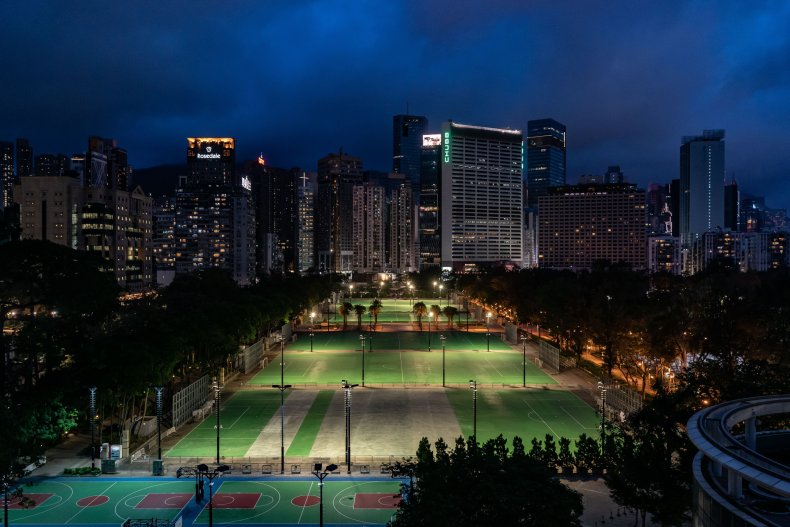 The U.S. Consulate in Hong Kong shared a picture on Facebook showing it had lit candles in the windows of the building to mark the anniversary.
The consulate also shared U.S. Secretary of State Antony Blinken's statement marking the anniversary.
Blinken said that although Chinese and Hong Kong authorities were attempting to suppress the memories of the Tiananmen Square, the U.S. government would continue to speak out and promote accountability on human rights abuses by China, including those in Hong Kong, against Muslim minorities in the western Xinjiang region as well as Tibet.
"Each year, we honor and remember those who stood up for human rights and fundamental freedoms. While many are no longer able to speak up themselves, we and many around the world continue to stand up on their behalf and support their peaceful efforts to promote democracy and the rights of individuals," he said.
"Today, the struggle for democracy and freedom continues to echo in Hong Kong, where the annual vigil to commemorate the massacre in Tiananmen Square was banned by the PRC and Hong Kong authorities in an attempt to suppress the memories of that day. We will continue to speak out and promote accountability for PRC atrocities and human rights abuses, including those in Hong Kong, Xinjiang, and Tibet.
"To the people of China and to those who continue to stand against injustice and seek freedom, we will not forget June 4."