Tiananmen Square Massacre: The Most Extreme Ways China Is Censoring Media on 30th Anniversary
Exactly 30 years have passed since China's government mobilized hundreds of thousands of troops across the country, which led to mowing down of pro-democracy protesters on Tiananmen Square in the center of Beijing.
Hundreds, or potentially thousands, of people are believed to have died on June 4, 1989, but China's government has refused to provide an official death toll and has responded defensively to any criticism of its actions. It has also heavily censored most media coverage of the massacre's anniversary.
This year, China is using both humans and Artificial Intelligence sensors to weed out any online discussions about the Tiananmen Square massacre. AI tools are used to search for and remove content with information about controversial subjects, including references to the massacre, photographs, or even names and dates related to the anniversary.
A filmmaker named Deng Chuanbin was arrested last month after he tweeted a picture of a bottle with a label that had the number '64' written on it, a reference to the date of the massacre.
Any mention of the iconic "Tank Man," who was photographed facing off against a convoy of tanks as they rolled down a Beijing Avenue, have been removed from China's Internet.
Companies like Twitter and Apple say they must comply with China's strict censorship rules in order to operate in the country. Over the weekend, Twitter reportedly suspended several accounts belonging to dissidents for breaking China's "platform manipulation" rules. The company later apologized and said it was working to fix any errors.
Refinitiv, a financial data provider that is partially owned by Thomson Reuters, took down all of its Reuters stories that mentioned the massacre. Refinitiv said the stories, which will only be restricted for viewers in China, were removed in order to comply with its Chinese license.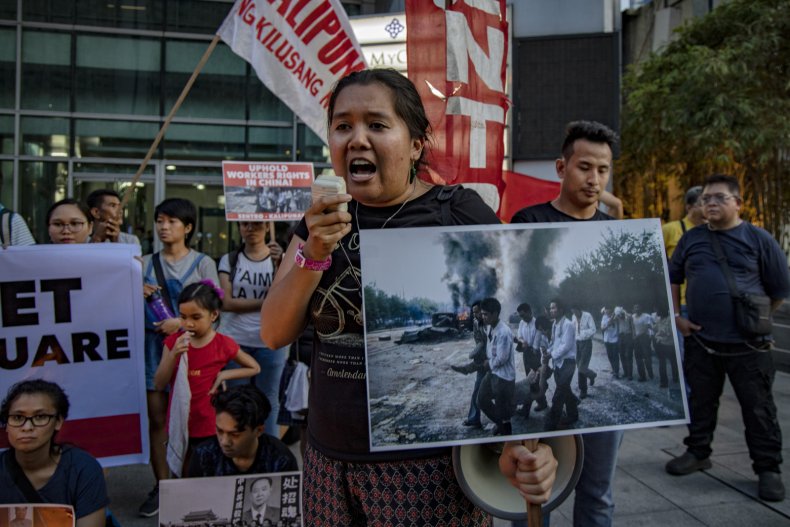 CNN's website was also reportedly blocked in China after it published a story about the anniversary.
"It appears the Chinese government has begun to block @CNN's website in mainland China. It's usually available. Our top story right now is about the 30th anniversary of the Tiananmen Square massacre. The government here is near obsessive about limiting conversation on this topic," Matt Rivers, a CNN reporter, tweeted.
The Foreign Correspondents Club of China also released a statement claiming that authorities had harassed reporters trying to enter the square on the anniversary. Rivers was even stopped from filming at a different location in Beijing by police.
China's government also lashed out at Secretary of State Mike Pompeo for issuing a statement on the anniversary.
"We honor the heroes of the Chinese people who bravely stood up 30 years ago in Tiananmen Square to demand their rights. Those events still stir our conscience, and the conscience of freedom-loving people around the world," Secretary Pompeo said in a statement.
A spokesman for the Chinese foreign ministry responded by saying that "any attempt to interfere in China's internal affairs or destabilize our country is doomed to fail."