Tiananmen Square Leader Says China Banned Uighur Parents From Naming Babies After Him
A student leader of the Tiananmen Square protests 30 years ago says Chinese officials have banned Uighur parents in China from naming their babies after him.
Wu'er Kaixi, who was just 21 years old when he became one of the main student leaders of the 1989 protests and was eventually listed second on China's most wanted list, told lawmakers on Tuesday that Beijing's censors have tried to scrub his name from the history books.
"My name for instance definitely cannot be found in any of the search engines in China," he told a joint hearing on the 30th anniversary of the Tiananmen Square protests.
"Actually, it's also been banned from being used to name newborns among Uighurs," Wu'er, who himself is Uighur, said.
Uighurs are a largely Muslim ethnic minority who have been increasingly repressed by authorities.
Since 2016, China has radically cracked down on its Uighur population and other ethnic minorities, in what it says is a campaign against terrorism but is widely considered to be an effort to stamp out religious influences that it fears could undermine the Chinese Communist Party.
More than 1 million ethnic minorities in the northwest region of Xinjiang have been sent to "concentration camps" and the State Department says there have been reports of torture and "instances of sexual abuse and death." Outside the camps, Uighurs are heavily monitored and attempts to quash religious identity have previously included restrictions on Islamic children's names.
Uighurs face being sent to detention camps for transgressions as vague as observing religious practices like Ramadan and as minor as having a beard, buying a SIM card or speaking to family overseas. They are banned from entering many public spaces and shops and cannot leave Xinjiang, let alone China.
When asked by Florida Senator Marco Rubio whether Uighurs could be involved in the sorts of protests prevalent in 1989, Wu'er said the situation is now "much, much worse."
"You don't need to have an opinion to be persecuted," he said. "I am a dissident, I chose this path — well, history put me in this position, but I gladly accepted this path of being a Chinese dissident. I understand there are some consequences. But for those who did not do anything, did not challenge the government, simply because they are Uighur and being persecuted, it is one of the most heartaching truths."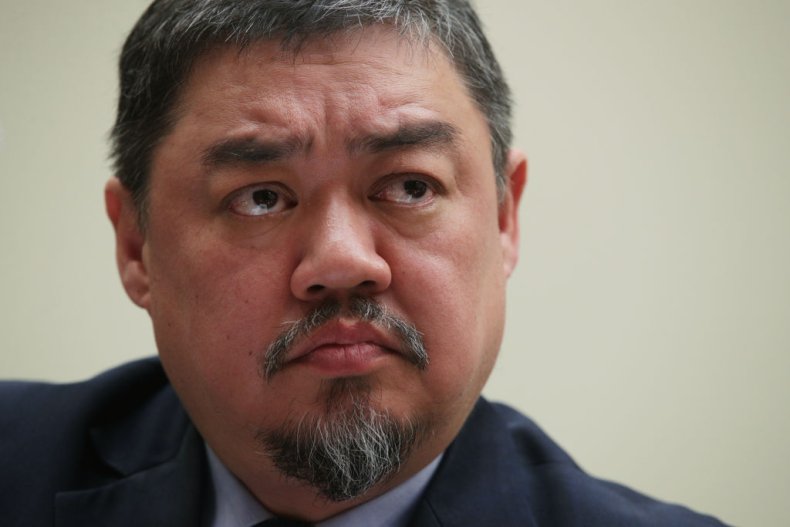 Wu'er, who has lived more than 20 years in exile in Taiwan, also spoke of being unable to see his parents. He has not seen them in the 30 years since the Tiananmen Square massacre.
"They are not getting younger or healthier. Among the student leaders from back in Tiananmen, I think I am the only one person who hasn't been able to see my parents in 30 years," he said, adding that the Chinese government has refused to give them passports.
"They are barbaric, this action of denying my parents the right to travel abroad is primitive," he said.
While Wu'er's experience with his family has been an anomaly for the student leaders of the Tiananmen Square protests, they indicate some of the earliest techniques Chinese officials have used to repress and try control its Uighur population in recent years.
Last month, Newsweek reported that local officials used the Uighur mother of a U.S. citizen, who has been unable to get a passport for eight years, to try silence his criticisms of Xinjiang's human rights abuses.
These parents aren't alone. In 2016, Xinjiang officials required Uighurs to hand over their passports for "safekeeping" and in the years since, embassies have largely stopped renewing passports for Uighurs living overseas.
And those who return to Xinjiang face an uncertain future. Traveling overseas is one of the biggest targets for "political re-education" in a detention camp, and there are countless stories of Uighurs disappearing once they return. In one notable case, a Uighur soccer player in China's Super League was reportedly detained for months for "visiting foreign countries" to take part in training camps. (He later resurfaced with a social media post thanking the Chinese Communist Party.)
Even still, Wu'er has tried to turn himself in to Chinese authorities multiple times over the years — in hopes that he could see his parents while in prison — but, despite a warrant having been issued for his arrest, he has been prevented from returning each time.