On Eve of Tiananmen Square Anniversary, Chinese Detention Camp Whistleblower Seeks Asylum in Europe
On the eve of the 30th anniversary of the Tiananmen Square massacre, a whistleblower who spoke out about conditions in China's detention camps has reportedly left for Europe with her family in hopes of seeking asylum.
Sayragul Sauytbay, an ethnic Kazakh Chinese national, was the first—and remains the only—person to have spoken out publicly about working in what have been deemed by the Pentagon to be "concentration camps" in China's northwest Xinjiang province. It's estimated that more than 1 million people are currently being held in these camps as China has radically cracked down on Xinjiang's Uighurs, a largely Muslim ethnic minority population, and other ethnic minorities.
Now, one day before the Tiananmen Square anniversary on June 4, Sauytbay and her family have flown to Sweden in hopes of eventually seeking asylum, her lawyer confirmed to Radio Free Europe/Radio Liberty on Monday.
In April last year, Sauytbay escaped China for Kazakhstan, where her husband and children are citizens, but was arrested for illegally crossing the border. During her trial, which was closely watched by activists abroad, Sauytbay testified about the conditions she witnessed in the camps while her lawyers sought to prevent her deportation back to China, claiming she would be tortured if returned.
Sauytbay, who ordinarily worked as a kindergarten administrator, testified that she was taken to a "political camp" holding 2,500 ethnic Kazakhs and forced to train "political ideology" teachers.
"The fact that I've arrived in Kazakhstan and am talking in court about the camps, the number of people there, and their ethnicities is considered a disclosure of state secrets," she testified.
The court surprised many China watchers months later when it found Sauytbay guilty but essentially defied its close ally by declining to order her deportation back to China. Yet despite the ruling, Sauytbay's applications for asylum in Kazakhstan were repeatedly rejected, leaving her fearful she would eventually be deported anyway.
"I am an inconvenient witness. I saw everything [in the camps]," Sauytbay told Foreign Policy earlier this year. "I can't say that [China is] afraid of me, but they want me to keep silent."
Also on Monday, Secretary of State Mike Pompeo invoked the memory of Tiananmen Square in condemning China's current human rights abuses in Xinjiang, saying that the world's hopes for a more tolerant society "have been dashed."
"Today, Chinese citizens have been subjected to a new wave of abuses, especially in Xinjiang, where the Communist Party leadership is methodically attempting to strangle Uighur culture and stamp out the Islamic faith, including through the detention of more than one million members of Muslim minority groups," he said in a statement.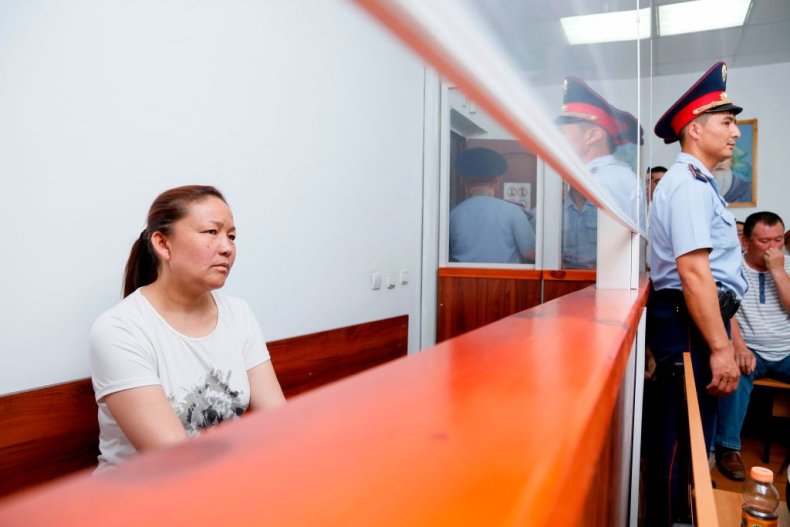 While Sauytbay's flight to Europe comes at a poignant time for the world, it could come at a difficult time for Sweden.
Diplomatic relations between the two countries have been strained since the arrest of a Chinese-born Swedish citizen in January last year.
Gui Minhai, a Hong Kong-based bookseller who has disappeared and resurfaced in China previously, was on a train headed to Beijing with two Swedish diplomats when he was arrested in 2018. His daughter has been vocal since his most recent disappearance and in recent months Sweden's ambassador to China was reportedly investigated by Stockholm's foreign ministry for organizing a highly unusual meeting between Gui's daughter and Chinese businessmen in order to try to secure his release.
The diplomatic feud between Stockholm and Beijing was not helped by several other incidents during 2018. In September, the Dalai Lama, who Beijing considers a separatist threat, visited Sweden and China hit back at what it says were false claims that it interfered in Swedish elections.
That same month, police were called to a Swedish hostel after it informed a Chinese family they were unable to check in without a reservation, an incident that led to Chinese officials condemning the country's "brutal treatment" that violated it's citizen's human rights. Relations soured further when a Swedish satirical comedy show played up the incident.
In November, Swedish King Carl Gustaf canceled a planned visit to China.