'The Tick' Creator Wants Cancelled Amazon Series to Be the Next 'Expanse' or 'Brooklyn Nine-Nine'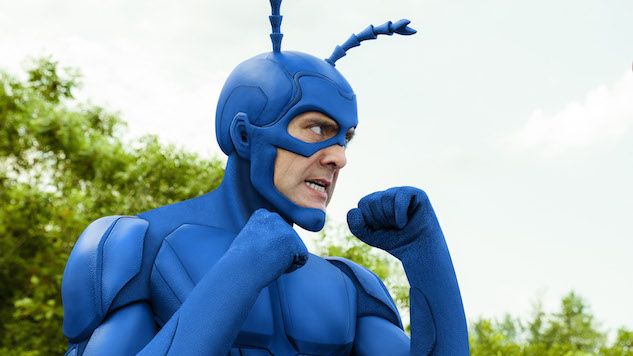 Amazon on Thursday officially canceled acclaimed superhero comedy The Tick following the conclusion of its second season on Amazon Prime, but the show's creative team is trying to fight its fate and hope the show can be resurrected on another platform like a handful of beloved programs.
News of the cancelation came directly from Ben Edlund, who not only created the Amazon show but the comic on which it was based. Edlund announced the sad news on his twitter account but went on to thank the fans and let them know that he's currently seeking a new home for the series.
To assist in the search, Edlund has begun rallying fans, who he endearingly calls "LunaTicks," instructing them to tweet with the hashtag #SaveTheTick.
Twitter users immediately expressed their dismay with the cancelation. Matthew Mercer, voice actor, and star of the D&D podcast Critical Role commented on the cancelation with a simple but effective howl of distress.
Connor Ratliff, another Twitter user stated in regards to the show," We live in an age where good shows don't *have* to die, they can stay alive if bright people at other companies make the smart call to keep them alive and get those LOYAL VIEWERS to come watch the thing they like on another platform…"
Cancelation is no longer the definitive death knell for a show that it used to be. Though it is rare, some shows with dedicated followings have been resurrected elsewhere.
Brooklyn Nine-Nine is the rare show that was canceled by one network (Fox) and found new life on another broadcast network (NBC). In many cases, it's more likely to move from TV to streaming. Community survived its NBC cancellation by moving to Yahoo, Arrested Development died an untimely death at Fox but was reborn several years later on Netflix. The Expanse initially aired on Syfy for three seasons but was picked up for a fourth exclusively on Amazon Prime.
Comedian Griffin Newman, who portrays the Tick's sidekick Arthur Everest on the show, attempted to sway fans to vocalize their want to see another season by stating that all the actors are still under contract for the show. The actor also noted that going the crowdfunding route wouldn't be feasible, for reasons he couldn't go into on Twitter.
Newman continued his efforts by presenting a series of fan castings that could occur were the Tick to be picked up. One favorite being Patrick Warburton as Barry Hubris. Warburton portrayed the title character in the first live-action version of The Tick, which only aired for one season in 2001 and 2002 on Fox.
Other efforts are being made by the Tick's creative team. Susan Arneson, who's a writer and co-executive producer on the show, looked to Reddit for fan assistance, making pleas for the fandom on both r/television and r/thetick
"The Tick is unlike any other Superhero show or movie out there," said Arneson in a comment to Newsweek. "It's always been its own unique thing. A strange, beautiful outlier. That's because it's able to embrace the absurd without sacrificing character or heart. We're a bit of honest sunshine in a scary world that's full of darkness.
Arneson also told Newsweek that, unlike some TV shows, The Tick knows where it is going and how to get there, story-wise.
"Ben has always had a five-year plan for the show. We know where we want to go and how to grow this world and deepen the characters. We all just want the chance to bring that vision to life," she explained.
Author, actor, podcaster and raconteur John Hodgman — who had a recurring role as Hobbes on The Tick — urged his Instagram followers to help save the show.
"Hi if you have a streaming platform (or broadcast TV network) would you please consider saving the universe by saving @theticktv?" wrote Hodgman. "If you don't have a streaming network a) what's wrong with you? Don't you know there aren't enough steaming networks yet? And b) please spread the word, or more specifically these words: #savethetick"
To take part in their attempt to save the show, tweet #SaveTheTick.