Tick Paralysis: Five-year-old Ohio Girl Left Temporarily Unable to Move or Swallow After Contracting Rare Disease
A five-year-old girl from Ohio was left paralyzed and unable to swallow on her own after being bitten by ticks, according to reports.
Doctor's at Cincinnati Children's Hospital diagnosed Avery Mell with a rare disease known as "tick paralysis" that is thought to be caused by toxins present in the saliva of the creatures, Fox 19 reported.
According to the Centers for Disease Control and Prevention (CDC), the symptoms include tingling and numbness, which may be followed by "acute, ascending, flaccid paralysis."
Once the offending ticks have been removed, these symptoms tend to disappear within about 24 hours.
Newsweek subscription offers >
The girl's mother took her to the ICU at the hospital after noticing that something was seriously wrong with her daughter—who had fallen, face first, in the family's bathroom.
When the pair arrived, doctors were initially unable to diagnose her. But the mother subsequently found two dog ticks on her head and behind her ear.
"When we got to ICU I noticed a lump in her hair. It was a tick," the mother, Sami Mell, wrote in a Facebook post. "I searched her and found another at the back of her head in neckline. Both me and the doctors have searched her before this."
Doctors placed the girl in an incubator because she was unable to swallow on her own and was choking on her saliva. At one point, her lungs almost stopped working.
Newsweek subscription offers >
"She couldn't feed herself," Mell said. "They were prepared for her lungs not to work on her own."
After diagnosing the girl with tick paralysis, doctors removed the bugs and her condition quickly began to improve. She was later released from hospital and is expected to make a full recovery at home.
"The infectious disease doctor of 30 years said he's never seen nothing like it," Mell's grandfather, Dave Goslin, told Fox 32.
The mother said she didn't know where the ticks bit her daughter but she urged parents to always check their children after spending time outdoors.
The first symptoms of the disease are usually tingling and numbness in the legs, which may then be followed by weakness and paralysis. In rare cases, the disease can be fatal as it can affect the lungs, making it hard to breathe.
The symptoms are often confused with other disorders or diseases such as botulism and Guillain-Barré syndrome, according to the CDC.
While the disease is rare in the U.S., it is most commonly reported in the Pacific Northwest, the Rocky Mountain states and the southeast of the country, WebMD reported.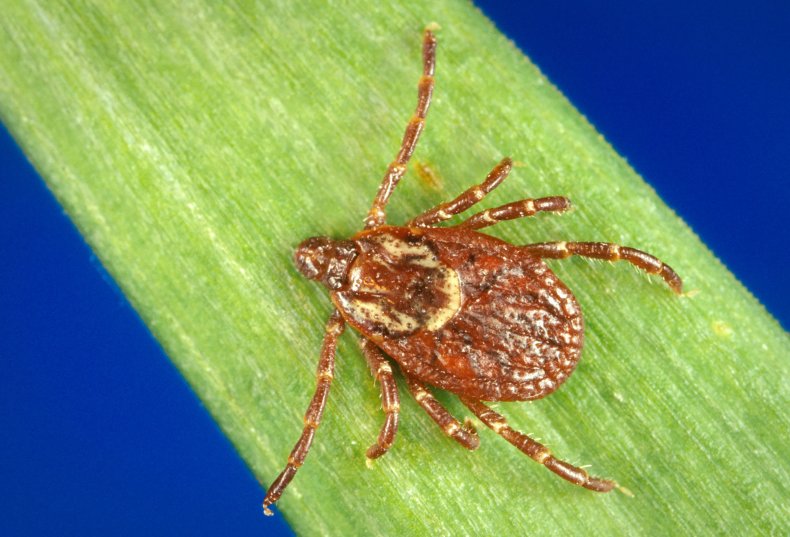 Tick Paralysis: Five-year-old Ohio Girl Left Temporarily Unable to Move or Swallow After Contracting Rare Disease | Health