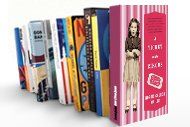 by Norris Church Mailer
432 Pages | Buy this book
The high times of Norman Mailer, as seen from the perspective of his much younger, good-humored sixth wife, who takes you ringside for 33 tumultuous years with one of 20th-century literature's biggest icons.
What's The Big Deal?
Norris wasn't Mailer's first wife—or even his second or third. (Nor was she the one he stabbed.) But she was "the last wife," as she calls herself triumphantly, and she's got decades of dirt on the Pulitzer Prize–winning author and journalist. Among the many details she divulges: Mailer's quirks (coleslaw obsession?), his infidelities (duh), and his love letters, somewhat embarrassingly laid bare in all their red-meat, testosterone-oozing glory for the first time. Also: naked pictures (page 209)!
Buzz Rating: Hum/Rumble
The New York Times granted the book a glowing trifecta: a flattering review from Dwight Garner, who writes that A Ticket to the Circus is as refreshing and Southern as "lemony sweet-tea"; a 3,000-word magazine profile of the author (with slide show); and an excerpt of the first chapter. The New York Observer recounts Circus's many (many, many) boldface names in a review, and this month's issue of O: The Oprah Magazine unpacks the book in a long feature. But like the Mailers' bustling social life, buzz for the book doesn't extend far beyond New York.
One-Breath Author Bio
Before the exotically beautiful Church became a model, an artist, and companion to a public intellectual (one older than her father, it's worth noting), she was an art teacher and daughter of a mule skinner in rural Arkansas.
Judging By The Cover
Red, white, and retro, the book emits vintage-popcorn-tub vibes that are apt for its cinematic content.
Don't Miss These Bits
1. The sex. As they aged and fought over his quirks and cheating—at times leading Norris to question why she was "with a man who had so little respect for me, and who I couldn't trust" (page 332)—their explosive sexual relationship remained "the cord that bound us together" (page 99). That's fitting, considering that sex is what inaugurated their pairing: the first night they met, Norris took Norman back to her place, offered him some cheap Arkansas apple wine, and they "made love ... on the living room floor" (page 89). The result was "rug burn" and, five years later, marriage. (The interlude was full of love letters, which were less sweet nothings than lines like "The thought of talking to you soon is half as exciting as the thought of f--king you, and that means it's very exciting" [page 114]. Romantic!)
2. The rival. Norman Mailer wasn't the only powerful man in Norris's life. She dallied with Bill Clinton when he was just 27 and running for Congress. He was apparently known throughout Arkansas as an "attractive young man" who was notoriously "hard to resist." Their relationship soured after Clinton invited her to watch election returns, where she met "the girlfriend." Her name was Hillary, and she "wore enormous thick glasses, no makeup, and rather ugly colorless baggy clothing" (page 76). High praise. How far did Norris and Bill's relationship go? As she coyly puts it, "Years later in New York, after all the scandals broke, a man I knew socially who was in politics said, 'I guess he slept with every woman in Arkansas except you, Norris.' 'Sorry Russ,' I replied, 'I'm afraid he got us all' " (page 75).
3. The names. It was Andy Warhol who urged Norris to record her life with Norman, and Don King used to hit on her constantly. Oscar and Francoise de la Renta wined and dined her, plying her with runway samples from their fashion line, and John Cheever, John Updike, and Saul Bellow were good friends of the family. Woody Allen, Bob Dylan, Joni Mitchell, Jackie O, Kurt Vonnegut, and Ali MacGraw were regulars at their parties; Norris spent afternoons with her friends Susan Sarandon and "Chris" Walken. And at a party thrown by NEWSWEEK special diplomatic correspondent Lally Weymouth, Norris watched in horror as her husband threw a drink in Gore Vidal's face, an exploit covered in People.
"It's The Next [Blank]!"
Norris's tell-all is the next Save Me the Waltz, Zelda Fitzgerald's loosely fictionalized novel about her adventures as Scott's wife. Both are the tales of a Southern glamour girl falling in love with and moving north for an intelligent, philandering artist.
Swipe This Critique
If you're expecting Norris to use this as a chance to finally condemn her husband as the misogynist so many others took him for, don't hold your breath. She recounts the time that Vidal famously implicated Mailer in a 1971 essay as one of the "M3," or one of the three worst misogynists of our time (the other two were Henry Miller and Charles Manson). The M3 "think of women as, at best, breeders of sons; at worst, objects to be poked, humiliated, killed," Vidal wrote. Norris swats such charges away, especially those directed at Mailer's sexist writing: "[T]o me, the humor and irony was inherent, but you can't transfer the twinkle in the eye to the page ... [A] lot of people treated everything he said as perfectly serious, like his famous comment that women should be kept in cages. Who would think he was serious about that?" (page 110) Gloria Steinem, for one. Steinem said that "anybody who would marry Mailer couldn't be healthy, well adjusted, conscious or aware" (according to Norris's recounting, page 111), which Norris says she "totally resented." She lovingly defends Mailer as simply hotheaded, saying he "didn't couch his language at all; he threw it out there with force." But the facts she relays don't always portray her husband as the harmless joker she wants us to believe he was. Take the couple's discussion about birth control: Mailer "thought the pill was absolute poison for women" (page 137), and asked Norris not to take it. But, lo and behold, he also didn't enjoy "other methods." The result? While Mailer was still married to another woman, he impregnated Norris in his marriage bed. But at least his eye had that twinkle.
Blurbotism
Doris Kearns Goodwin gives high praise on the front and back jackets. (This is hardly her first taste of the Mailers: they threw her a blowout wedding reception when she married Richard Goodwin in 1976.) Joyce Carol Oates, another enthusiastic blurber of the book, was Norman Mailer's peer in writing about the world of boxing, he with The Fight and she with On Boxing. And Douglas Brinkley, author and history professor at Rice, calls Norris's book "a magnificent piece of work" and also profiled Norman Mailer in 2005 for Rolling Stone.
Gradebook

Prose: Norris can't hold a candle to Norman's florid excerpts, but her words are warm and funny.
Aesthetics: Amazing photographs are sprinkled throughout, including a fab portrait of the couple that highlights their age difference: 28-year-old Norris is beach-tanned with voluptuous, nearly exposed breasts and dark Madonna eyes; Norman (then 54) looks like a mall Santa off-duty (page 226). Fittingly, she's sitting on his lap.
Miscellaneous: ... but the photos might be better if they included the original version of Norris's fabulous nude-in-a-fox-coat shoot, not one with an awkward black bikini painted on (page 209). So coy!