Ticketmaster Draws Bipartisan Fire From Congress in Taylor Swift Hearing
The entertainment company Live Nation managed to bridge the partisan gap in Congress today as Senators on both sides of the aisle scrutinized the company over its business practices and grip over the live entertainment industry.
During a Judiciary Committee hearing today attended by Newsweek, Democratic Senator Amy Klobuchar, who chairs the antitrust subcommittee, made the case that Live Nation's dominance over the market was a reason why Live Nation's Ticketmaster system failed customers in November eager to purchase tickets to Taylor Swift's The Eras Tour.
"To have a strong capitalist system, you have to have competition," Klobuchar said in her opening statement. "You can't have too much consolidation, something that unfortunately for this country, as an ode to Taylor Swift, I will say we know 'All Too Well.'"
Klobuchar went on to state that Live Nation controls "about 70% of the big concert market" and "owns many of the major venues." Because of the company's size, she said mishandlings like the Swift concert situation are met with "few consequences," saying "this is all a definition of monopoly."
Live Nation Entertainment's president and chief financial officer Joe Berchtold refuted this claim, stating that ticketing markets have "never been more competitive" and that Ticketmaster "has lost, not gained, market share" since it merged with Live Nation in 2010.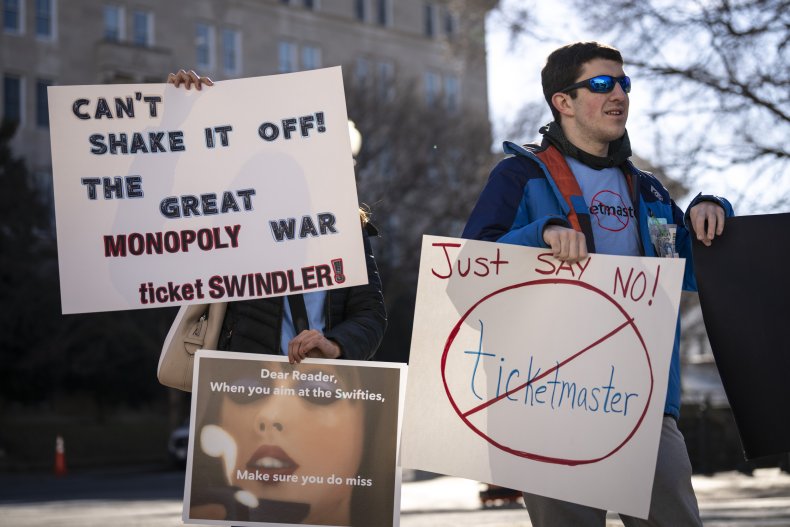 He also said that the company has invested "over $1 billion" toward improving the Ticketmaster system. Despite this, he said that "unprecedented demand" for Swift tickets resulted in the company being hit with "three times the amount of bot traffic than we have ever experienced" as ticket scalpers aimed to profit off the tickets.
Berchtold's comments were not ultimately enough to convince lawmakers of Live Nation's innocence.
"Mr. Bechtold, I want to congratulate and thank you for an absolutely stunning achievement. You have brought together Republicans and Democrats in an absolutely unified cause," Democratic Senator Richard Blumenthal of Connecticut said. "As I hear and read what you have to say, it's basically, 'it's not us, it's everybody but us.'"
Blumenthal called the live events market a "monopolistic mess." He said that Live Nation is "ultimately responsible for the astronomically rising prices, exorbitant hidden fees, the sold-out shows, the bots, and scalpers."
"I'm not against big per se, but I am against dumb," Republican Senator John Kennedy of Louisiana said regarding the situation. "The way your company handled the ticket sales for the Swift was a debacle, and whoever in your company was in charge ought to be fired."
Live Nation's role in the Taylor Swift ticketing situation has sparked one of the more high-profile bipartisan conversations around monopolistic behavior in recent years. However, America's largest tech companies have drawn the ire of lawmakers on both sides of the aisle for some time.
Both Democratic Senator Elizabeth Warren of Massachusetts and Republican Senator Josh Hawley of Missouri have expressed support for a bill led by Klobuchar and Republican Senator Chuck Grassley of Iowa aimed at addressing the control big tech firms exert over the app developers who use their digital marketplaces.
Democratic Congressman David Cicilline of Rhode Island, who previously chaired the House Judiciary Subcommittee, expressed optimism to Newsweek that antitrust may be an issue where Democrats and Republicans can find common ground in this divided Congress.
"Since beginning our investigation into competition in the digital marketplace in 2019, we have been able to bring much needed attention to the abuses of Big Tech and how these monopolies are hurting workers, consumers, and small businesses," Cicilline told Newsweek.
"We made great progress last Congress in passing the Merger Filing Fee Modernization Act and with increased scrutiny on anticompetitive behaviors not just in the digital marketplace, but also in areas like live entertainment, I'm hopeful we can continue this work," he added. "Clearly, the American people are paying attention and want us to act."