'Tickled' Director David Farrier Claims At Least Three U.S. Marines Tricked into Tickling Videos
David Farrier, the co-director of the 2016 HBO documentary film Tickled, on Thursday claimed on his personal website that the antagonist of his film, the now-deceased millionaire David D'Amato, deceptively lured at least three young U.S. Marine recruits stationed in Washington D.C. into participating in tickling fetish videos from 2009 to 2010.
According to the now-former Marines interviewed by Farrier, whose filmmaking career is centered on quirky and odd stories, when the Marines refused to continue making the videos, D'Amato allegedly revealed their participation to their commanding officers, causing unit disruption and spurring an investigation that led to at least two Marines to be court-martialed.
"It's an angle that we never got to put in the film because we found out about it quite late in the process," Farrier told Newsweek. "Any solid leads we got on tickling happening in the barracks all came to us after the film was released."
In his 2016 documentary, Farrier revealed that for many years D'Amato, hiding behind young male recruiters and the online female aliases of "Terri DiSisto" and "Jane O'Brien," would lure impoverished young men with paid trips, hotel room stays and thousand dollar paydays into participating in "competitive tickling" videos. In the videos, one clothed man was tied down and tickled by others.
Whenever a young man would try to stop participating in filming new videos, DiSisto and O'Brien would threaten to share their videos and other defamatory stories with the young men's families, coaches and employers.
This modus operandi is similar to what allegedly occurred with the three Marines that Farrier has interviewed. They all knew one another and had all been allegedly stationed in Washington D.C..
All three said that mutual friends got them involved by connecting them with DiSisto, O'Brien and D'Amato's third female alias, Terese DeTingo. Via email, these "women" would offer them thousands to film tickling videos in D.C. and New York hotel rooms. Farrier says one was given money to buy a digital video camera and film tickling videos in the military barracks.
The women claimed the videos were for their own personal use or a wacky new reality show, and many Marines allegedly participated.
"We ended up getting a bunch of guys in my platoon and across the barracks in D.C. who ended up doing this: eight guys in my platoon, a couple of guys in other platoons, and Bravo company," said Lance, one of the Marines given a pseudonym by Farrier to protect his identity. "I tripled my income."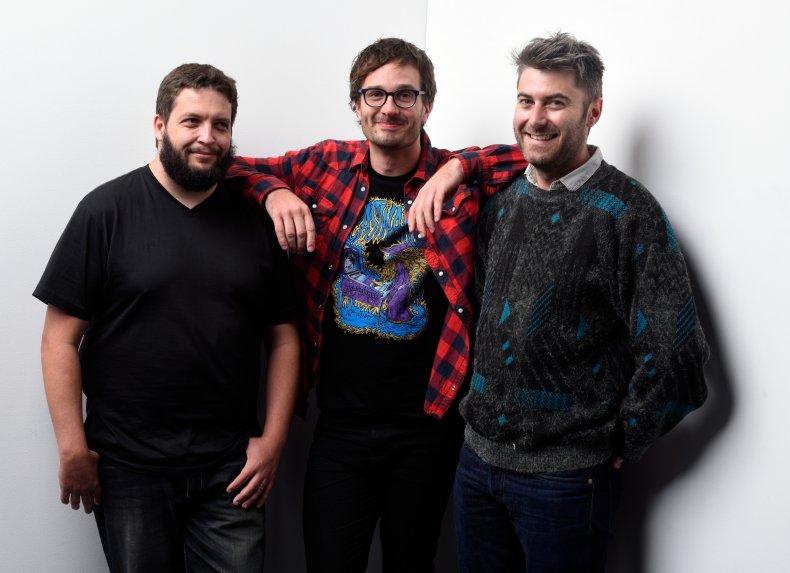 When Lance told Di Sisto that he was no longer interested in making videos, D'Amato set up a website publishing Lance's videos online, sharing his personal information and accusing him of committing $1,200 worth of damage to a hotel room at the D.C. Mandarin Oriental hotel. Lance has admitted to the hotel room damages.
Lance claims that Di Sisto then shared all this information with colonels, generals and sergeant majors at his base, resulting in a nine-month Naval Criminal Investigative Service inquiry into the matter which concluded in him and several other Marines being demoted.
Farrier showed Newsweek a typed personal statement from Lance detailing his experience, an archived version of the website that D'Amato created to blackmail Lance, as well as an archived page from a now-defunct website containing numerous tickling videos and revealing the names of at least four Marines being tickled and the faces of several other unidentified Marines who took part in the videos.
Farrier also reached out to the Naval Criminal Investigative Service (NCIS) under the Freedom of Information Act, requesting documentation on both underage drinking and tickling videos, the NCIS said it could find no information about any investigations into tickling or drinking.
When reached by Newsweek, the United States Marine Corps agreed to investigate the matter. This story will be updated with any additional information.
While Farrier has shared this information now in hopes of possibly getting other armed service members to come forward and share their stories, he doesn't think he'll pursue the issue in a cinematic follow-up to Tickled. "I just don't think there's enough, personally, to justify another 90-minute film," he said.
He also thinks the allegations of anonymous people luring and blackmailing young military recruits could point to a potentially serious security issue within the U.S. Armed Forces.
"I think you can look at it and laugh it off if and go, 'Look, what's the problem if some Marines want to tickle each other on camera?'" Farrier said. "You've got a lot of these Marines on tape doing an exercise that could be portrayed as homoerotic, and suddenly those videos are being used against them and threats are being made to make them public.... to disrupt things on the base."