Festival Goers Spend $786 on Average as Nearly Half Say Drugs an Absolute Necessity
As the festivals are in the midst of returning after a year-long, pandemic-induced hiatus, a new study has found some highly revealing information about the upcoming season.
Ticket seller TickPick conducted a study of 1,000 festival goers along with search volume data to find out how differently people feel about weekend-long music events this time around—including where they got the money for their ticket from, and which festival is set to be the friskiest.
After a year away, it's unsurprising to find that people are more ready than ever to let go of their worries for a weekend of music and fun, with 85 percent or people who had been to a festival before planning on going again in the next year.
Taking a leap out of the book of the grandmother caught rapping along to Kodak Black at this year's Rolling Loud festival in Miami, 38 percent said they are planning on partying "harder than before," while 50 percent said, "about the same."
"It's been a very tough year and a half for music fans and artists, so it's not surprising that fans are ready to let loose and enjoy live music again," said Paul Jones, VP of Business Development at TickPick.
"Whether fans are attending a festival for the very first time, or finally able to attend after a year of cancellations/postponements, our research shows that it's going to be a very lively festival season for attendees. It's important to follow the festival guidelines and safety precautions so we can continue to enjoy live music together."
Festivals After COVID
Attendees might be planning on keeping their partying habits, but they do seemingly want some things to still look a little different this year. Some 55 percent asked have said they won't be hooking up with anyone who is unvaccinated. Of just the women asked, a whopping 69 percent said they wouldn't, while men didn't mind so much—46 percent were against an unvaccinated rendezvous.
That leaves over a fifth of festival goes almost guaranteed not to get lucky, with 77 percent of the study reporting to be fully vaccinated.
As states continue to lift mask mandates, 46 percent of respondents said they will however be wearing a mask at all times at festivals, while a third will be wearing them just in crowded areas.
Masks may have high importance, but only 17 percent want rapid COVID tests prior to attendance. However, over 40 percent feel vaccinated attendees and staff along with social distancing are a must to feel safe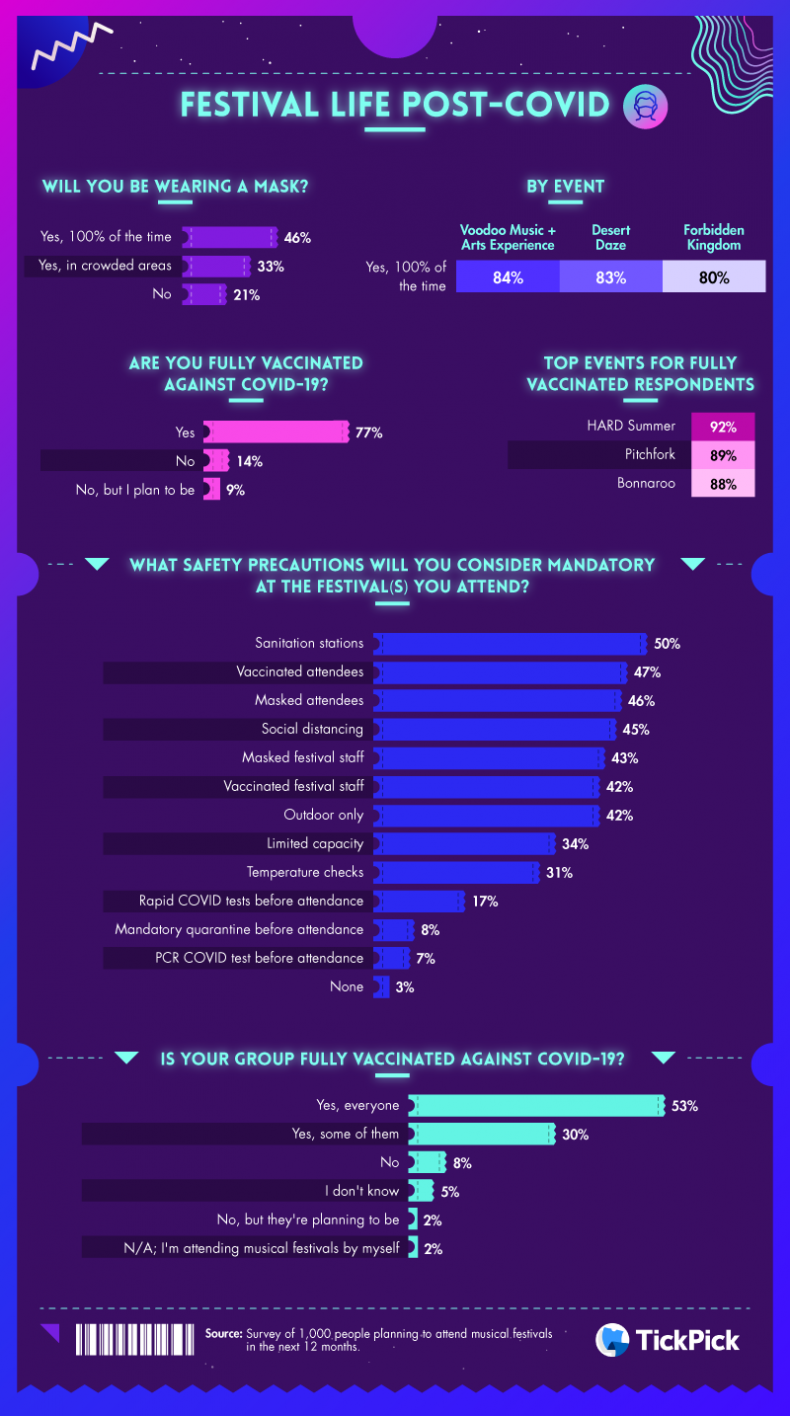 Funding the fun
Although Coachella 2021 was cancelled, 2022's return next April is the go-to festival with 29 percent of returning festival goers planning on attending, and nearly a third of first-timers too.
A general admission ticket for Coachella starts at $449, which is just above the average ticket price for festivals this year at $427.
The study found that people are spending an average of $786 on each festival, the majority use their own income while 24 percent will use their highly-anticipated stimulus check and 20 percent said they will be spending their parents' money.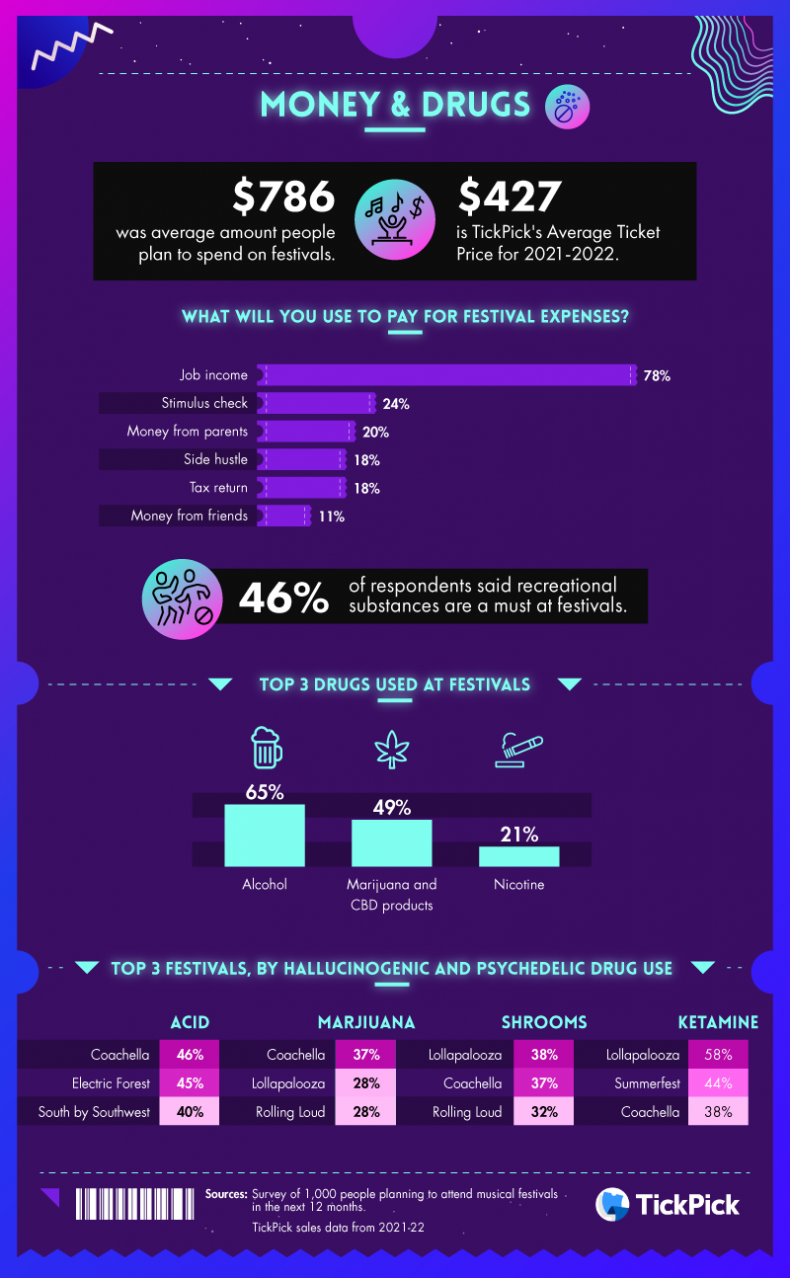 Drugs and alcohol
Living up to the movie-like representations we see of festivals, 46 percent said recreational drugs are a must, which the study counts as alcohol and nicotine included.
Unsurprisingly, alcohol was the most popular drug of choice, followed by marijuana or CBD products.
Coachella reigned supreme in the drug category too, along with Lollapalooza, being the most drug-fuelled. LA-hosted Coachella ranked top for acid and marijuana use while Lollapalooza topped for shrooms and ketamine.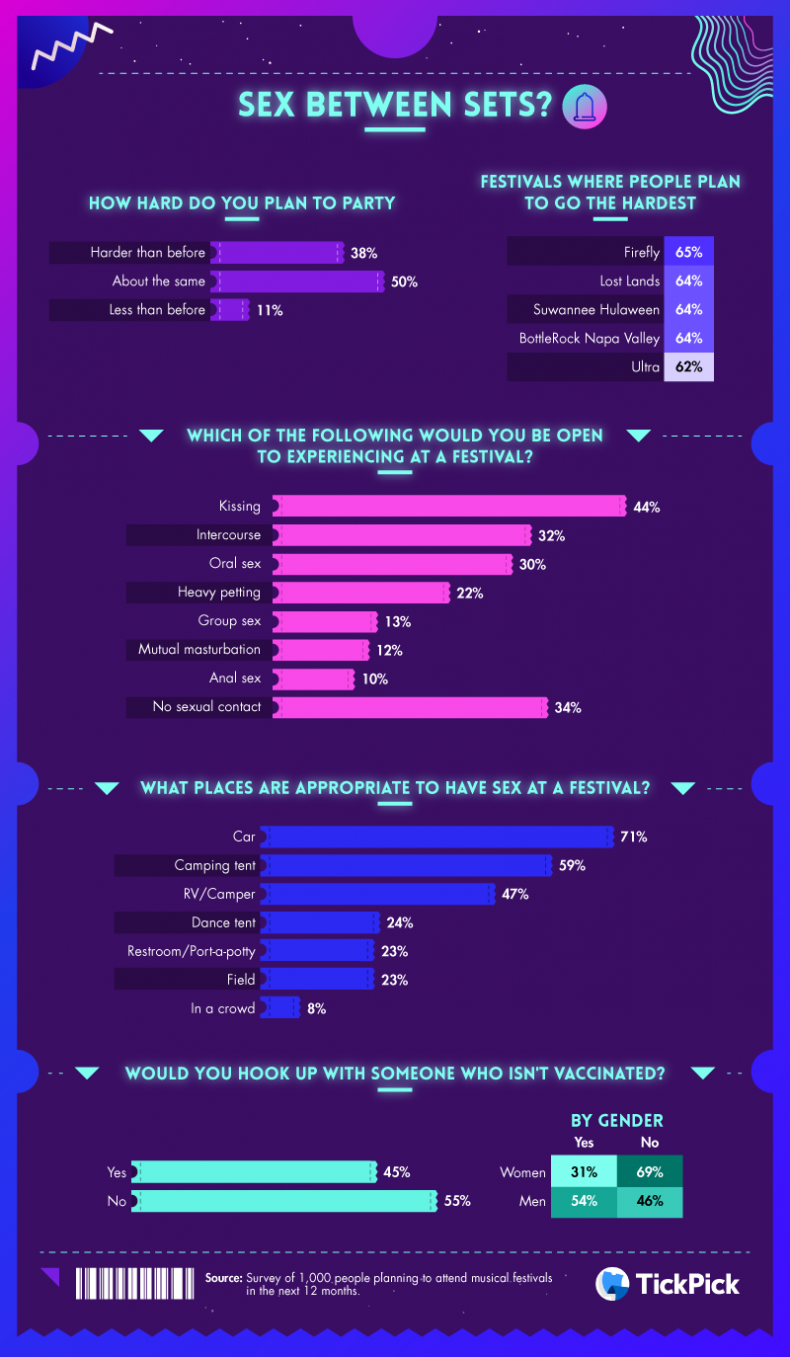 Getting frisky
While some go for the music, others are looking for more than just that—32 percent to be exact. Just over a third said they would be open to intercourse at a festival, but there's deliberation over just where is acceptable.
Some 71 percent gave a car the a-okay for a night (or day festival) of passion, while 59 percent agree with a camping tent.
What may come as a surprise however is that 24 percent said a dance tent would be just fine. Those whole will be wearing masks in crowded places may actually want to give those areas a miss anyway, as 8 percent of the study also said they find having sex in a crowd "appropriate."
Again, Coachella came out on top for over half of the sexual acts, while Lollapalooza claimed the rest, including group sex and heavy petting.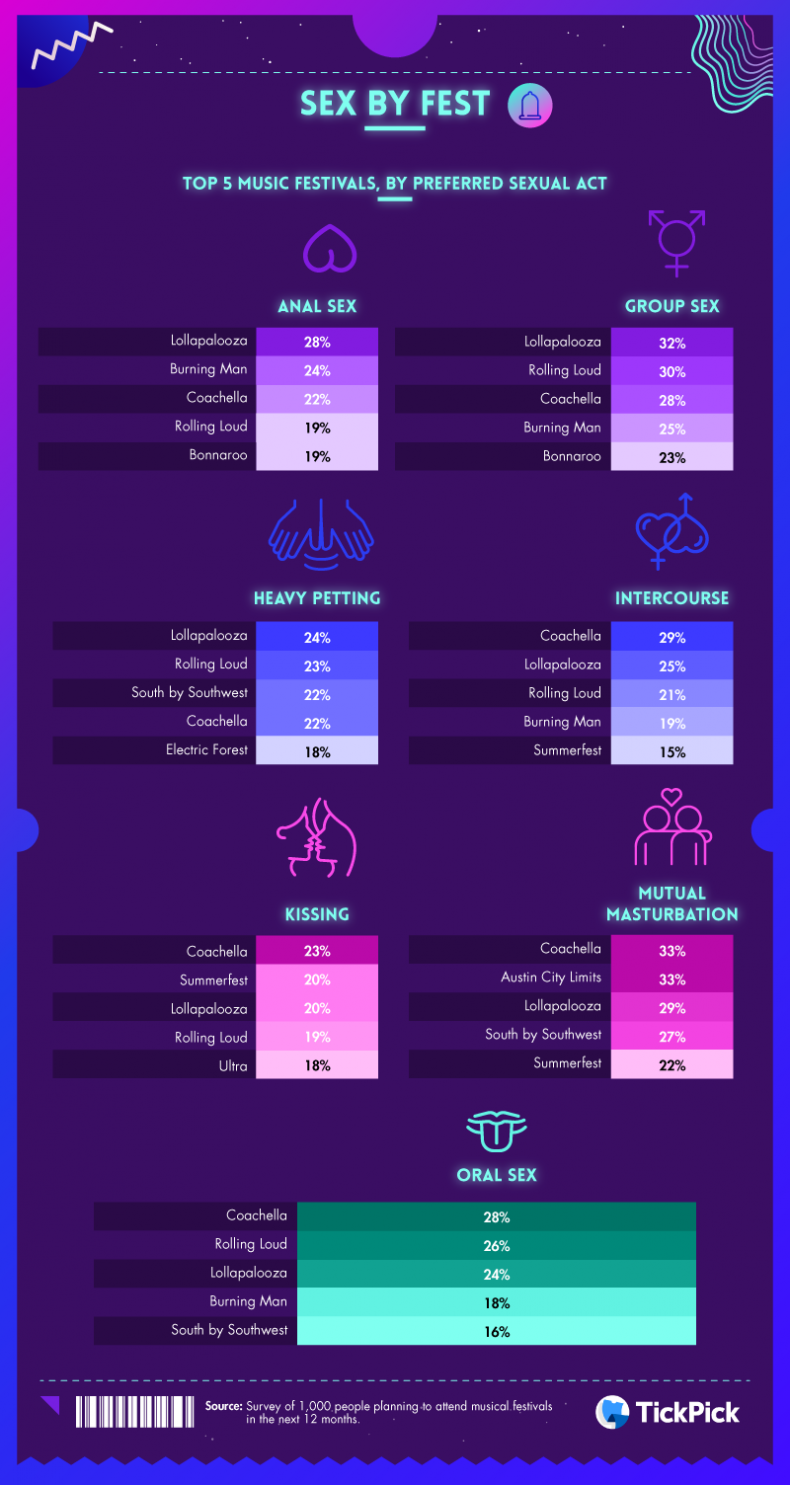 The full results of TickPick's insights into the new world of festivals can be found here.