Why Is the Gulf Turning Brown in Florida? Naples, Seagate Beaches Have Algae Bloom
If the impact of the red tide on Florida's beaches wasn't enough to hurt tourism and ruin the last bits of summer, there's a new ocean hazard in some towns and at beaches along the coastline.
A bloom of a diatom, or algae, called Cylindrotheca is now also making the water unsuitable for swimming in the areas of Collier and Lee counties. Monday swimmers weren't taking to the water, the Naples Daily News reported.
On the bright side, the diatom doesn't cause any health concerns for humans on the shore because, unlike red tide, it doesn't release any toxins into the air. It does, however, discolor the ocean water and make it appear brown or a rusty red color.
It can also cause some sea life to die due to the fact that the water no longer has enough oxygen in it for them to survive on when the diatom is thriving. Hundreds of crabs reportedly washed up on the beaches along the coastline due to the red tide and the lack of oxygen in the ocean water, according to the Naples Daily News.
So while the water might not be sending any toxins up into the air, it is causing sea life to die and rot alone the breaches, which could end up smelling.
Some beach-goers were tweeting photos of the abnormally colored water and sharing their experience at the beaches that are usually skirted with clear blue waters. One person said the water looked like watered down coffee with cream.
The current red tide bloom in the waters off Florida has been ongoing for months. It's a Karenia brevis red tide that's resulted in the death of sea turtles, fish and shellfish and caused health issues in humans as well. The tide produces toxins that can cause respiratory problems like sniffling and red watery eyes in humans.
The tide can stick around for months to more than a year and can even seem to be gone and then reappear, according to the National Oceanic and Atmospheric Administration. This year's bloom, in general, isn't rare or unusual, but its duration is. The current bloom started about a year ago, last fall, according to NOAA. So it's lasted quite a while longer than others typically do and officials have no way of knowing how long it might last.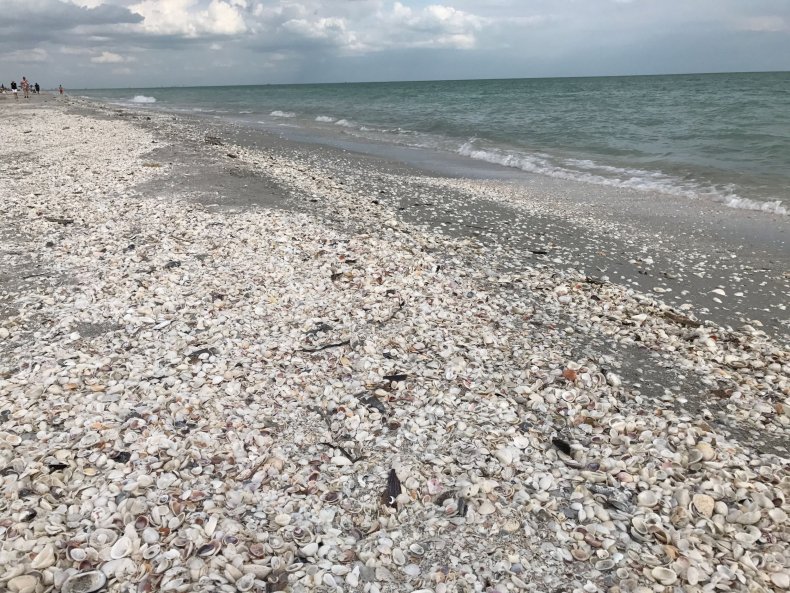 ​
Why Is the Gulf Turning Brown in Florida? Naples, Seagate Beaches Have Algae Bloom | U.S.