Tiffany and Ivanka Trump Wearing Short Skirts Caused an International Uproar Because Sexism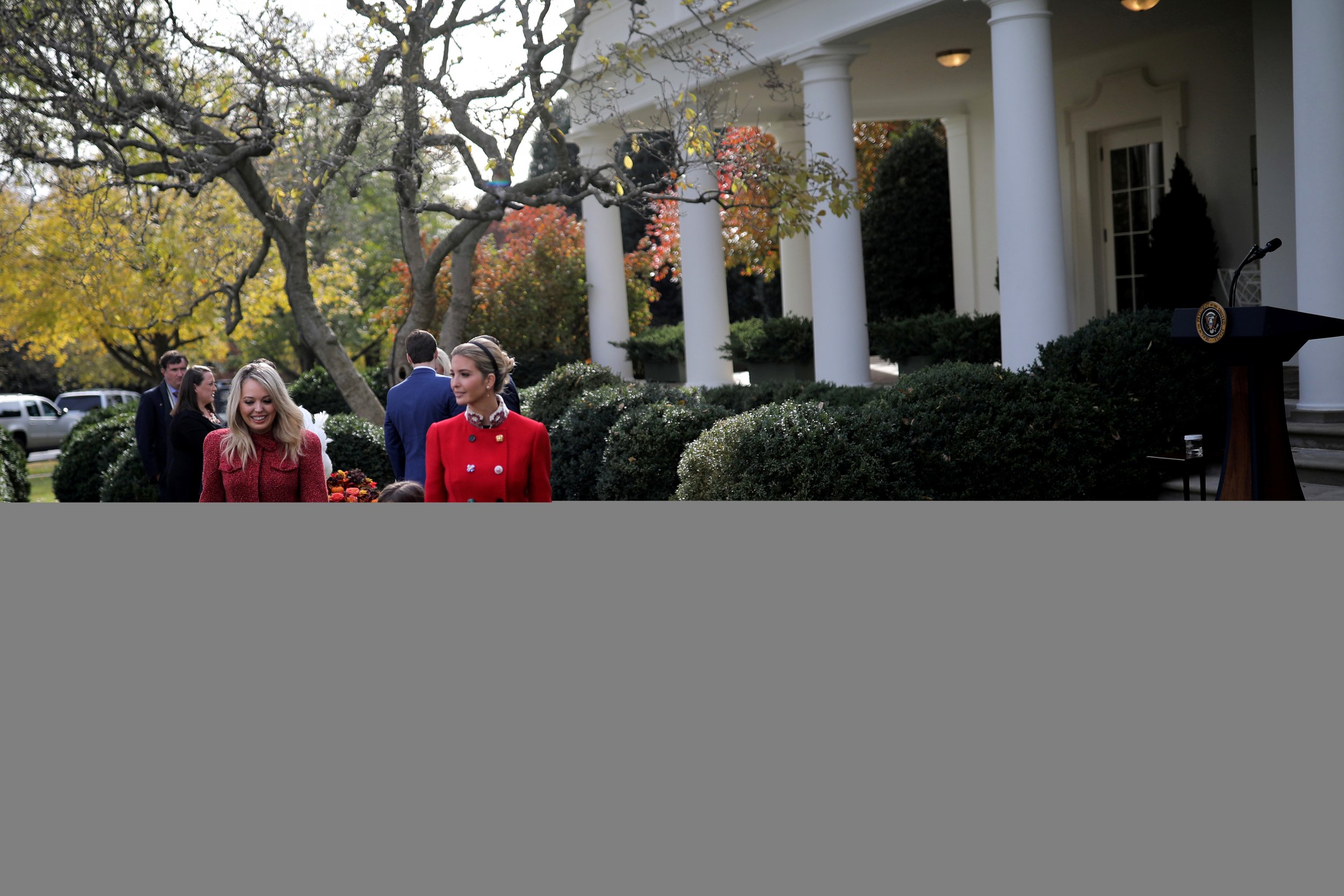 The bare legs of Ivanka Trump and Tiffany Trump, President Donald Trump's only daughters, have caused an international uproar this month because in 2017 women's hemlines still make headlines across the globe.
"Forget something? Tiffany Trump puts her bare legs on full display in a very short coat and heels, as she joins her sister Ivanka to watch their dad pardon the National Thanksgiving Turkey," wrote the Daily Mail Tuesday after the president's youngest daughter attended a White House turkey pardoning event without wearing tights or pants.
Hollywood Life offered Tiffany Trump fashion and beauty advice in its critique of the first daughter's choices. "Even though it was chilly coat weather in Washington D.C., First Daughter Tiffany Trump, 24, decided to turn heads by baring her long legs in a super short mini-dress and equally short red jacket. While her older sister Ivanka, 36, also wore a short skirt, she added warm black tights to her autumnal look. Tiffany on the other hand went with much more summery bare legs, showing them off from her thigh all the way down to her black high heels. It is November, so her very unseasonal wardrobe choice was a little confusing. She could definitely have used a trip to a spray tan salon if she was going to show so much late-autumn pale leg," the site wrote.
Ivanka Trump sparked a similar fuss earlier this month while visiting Japan ahead of her father's 11-day tour of Asia. "Ivanka Trump dons bright pink miniskirt for Japan speech: Chic or inappropriate?" wrote the Bay Area News Group.
Yahoo News blamed the controversy on the Twitter users. The site wrote: "The Japanese have been huge fans of Ivanka Trump's style, but the miniskirt she wore to a women's conference in Tokyo may have changed that. Wearing a $1,960, bubble-gum pink Miu Miu crepe jacket with a matching miniskirt, Ivanka, 36, took the podium at the World Assembly for Women on Friday. After being introduced by Prime Minister Shinzo Abe, who is reputed to have established a 'bromance' with President Trump over their united front against North Korea, Ivanka spoke on workplace harassment and economic empowerment for women. But the public questioned her hemline."
So is such thinking sexist? Professional women have long debated whether a woman's appearance should be subject to scrutiny. Some argue that a professional setting demands traditional clothing.
"My insistence on professional dress (i.e., skirts, heels and ironed shirts) is not a subscription to patriarchy; I want to be recognized and respected," wrote Miriam "Duchess" Harris, chair of the American Studies Department at Macalester College in Minnesota, in a post Tuesday titled, "This is what a feminist professor looks like."
Others argue that netpicking over women's clothing contributes to keeping them out of positions of power.
"Unless women dress modestly and conservatively, they look out of place in academia, because fundamentally, they don't have the right bodies to be academic authorities. This infuriates me, and I refuse to accept it. My intellectual abilities as an academic should be judged on my work: my research, my publications, and my lectures," wrote Francesca Stavrakopoulou, professor of Hebrew Bible and ancient religion at the University of Exeter, for The Guardian in 2014 in an article titled, "Female academics: don't power dress, forget heels – and no flowing hair allowed."
It's also possible to say that Ivanka and Tiffany Trump simply looked fashionable, comfortable and put together at a time when their father's associates are under investigation for potentially colluding with Russia in the 2016 election. That seems like an impressive enough feat without having to worry about the length of their skirts or how pale their legs are.