Tiffany Haddish has a murder to solve in the new Apple TV+ whodunnit The Afterparty, and she's drawing on her past real-life interrogation experiences to help her.
The Afterparty is a new eight-part comedy series which sees a group of people turned into suspects when pop star Xavier (Dave Franco) is killed while hosting the afterparty for his high school reunion.
It's Detective Danner's (Haddish) job to interview each suspect and find the murderer.
Alongside Haddish, the prospective killers include Sam Richardson, Ben Schwartz, Ike Barinholtz, Zoë Chao, Ilana Glazer and Jamie Demetriou.
The cast and creators, Christopher Miller and Phil Lord, all spoke to Newsweek ahead of the launch of the genre-jumping comedy series.
Tiffany Haddish's Experience With Interrogation
One of the refreshing things about The Afterparty is the detective, played by Haddish. Serving her own hidden agenda while simultaneously interviewing each of the partygoers, Danner disarms her suspects with charm and charisma.
"In the script she definitely had some personality in there, then I put a little more flavor in it," Haddish explained to Newsweek.
"Here's my thing," she continued, "I've been interrogated by many detectives from South Central Los Angeles and guess what? They all have personalities. I've dated some too.
"Some of them are funny, some of them are boring as hell but weird, some of them are really into sports, and everything they asked me was sports-related and they trick you with it. Most of them like to have fun too but also want to uphold the law."
Haddish took that knowledge and put it into Danner.
"She's someone who cares about the safety of people but also wants to be entertained at the same time. She's a little quirky, she a little weird, she's not conventional, but if you ever meet real life detectives, they're different, not conventional and very different than on TV."
Danner must sit and interrogate each guest, and Haddish gave Newsweek a crash course on how to deal with interrogation based on things she learned in real life.
"The first time I was interrogated, I did not do good. I didn't give up no information, but I didn't not give up information. My body language gave me away, I was dumb. I was naive.
"After that, interrogation became pretty easy. You just repeat the question, and give very short, vague answers. That's how I see it." Haddish revealed.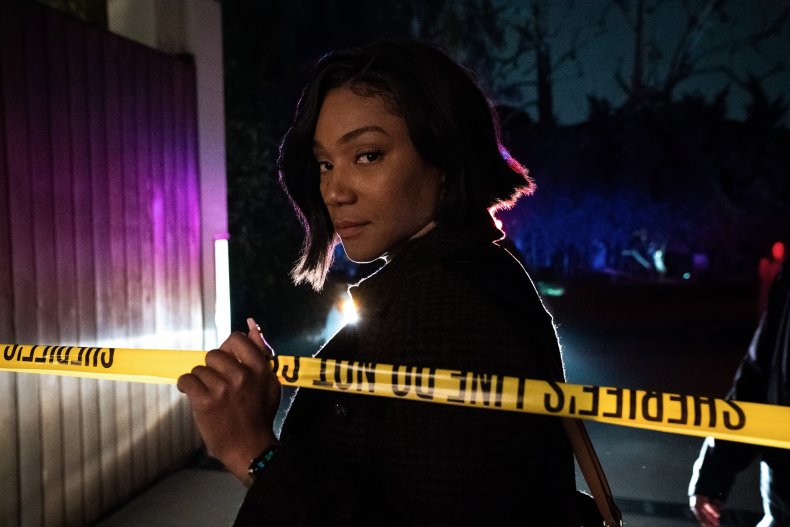 Multiple Movie Genres
Each episode focuses on a different character who is interrogated by Danner, which leads to events of the night being told from a different perspective. Each story is told with a unique movie genre that reflects the character.
In the first three episodes, Richardson's Aniq is a sweetheart so his story is a romcom, Barinholtz' Brett is a tough guy who recalls an action movie, while Schwartz' Yasper is an entertainer who tells his story through song.
Chao, who plays Zoe, told Newsweek, "I thought our episodes articulated our character's spirits in such intelligent ways." Zoe has an animated episode to reflect her artistic nature, and "that feels like a bucket list thing to be animated, and there's plenty of parallels between real life Zoë and the character Zoe."
On his Fast & Furious style, Barinholts said, "I am obsessed with action movies, from like Die Hard to off brand [Steven] Seagals. So to be able to scratch that itch and be the tough guy was so so fun."
During Yasper's episode, Schwartz, who we've seen sing on camera many times during his run as Jean-Ralphio in Parks & Recreation, performed a surprise best friend-rap with Richardson.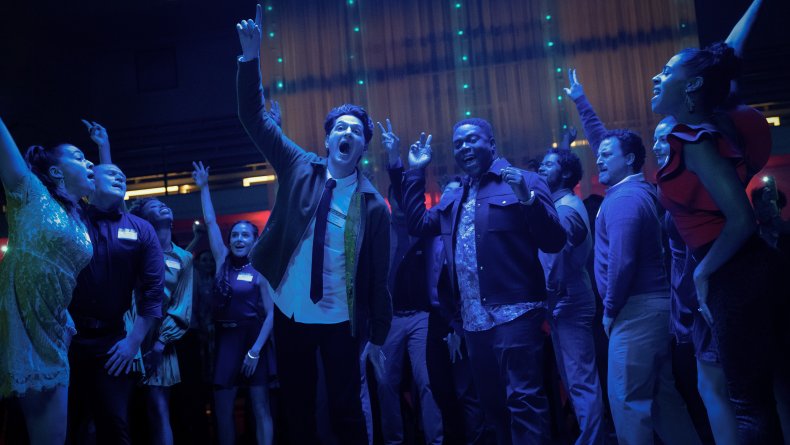 "It was a challenge but really fun," Richardson told Newsweek. "There's so many moving pieces, choreography. I've never rapped before, except for on Drop the Mic versus the Hanson brothers, so I just channeled that energy."
Christopher Miller and Phil Lord are a film-making duo who have put together works like 21 Jump Street, The Lego Movie and Spider-Man: Into the Spider-Verse. Miller is credited as the sole creator of The Afterparty with Lord acting as an occasional writer and producer. Since the story contains so many different genres, the pair had to conduct extensive "research" with many movie nights.
Miller told Newsweek: "We had long conversations with Carl Herse the cinematographer who did an amazing job setting up all these different looks and lighting styles and camera packages and aspect ratios.
"Say we were shooting an action movie, well okay, is it John Wick style? Are we talking Fast & Furious? Or are we talking classic old dialogue? There's so many sub genres of these genres," Miller said.
From The Reunion to The Afterparty
Since the same story is told from different perspectives, the cast had to act out the same scenes but in many different ways.
Co-creator of Broad City Glazer admits the experience made her a bit "loopy." She told Newsweek: "It was so exciting, fun, challenging and like brain twisting. I think shooting the same scene three times in a day, by the third time I would have all these different iterations inside of me. It was loopy and then I think we would start giggling where I was like 'haven't we done this before?'"
Miller and Lord have been sat on the concept of The Afterparty for nine years. Originally a comedy movie about a high school reunion called The Reunion, it was eventually brought to Apple TV+ who announced in June 2020 that it would produce it as a straight-to-series order.
"It was always a murder mystery told from different points of view," Miller said, commenting on how the story developed from inception to execution. "We got busy making movies and didn't get the chance to make it. When we revisited it we realized we gave some characters short shrift in a movie, but if you turn it into a series, each character could get their own episode, and get a bit more complex."
Glazer is also thrilled with how the project turned out after such a long production process.
"Chris Miller held this idea for a long time and took his time creating it, and you can feel it because it really feels like a no-brainer of a story. Like, how has this not been done before? It's such a good idea and so specific that it's really broadly appealing."
The Afterparty launches with three episodes on Friday, January 28, 2022. New episodes will then air weekly.