Tiffany Trump Lived Her Best Life in 2017, Despite Being Trump's Second Favorite Daughter Next to Ivanka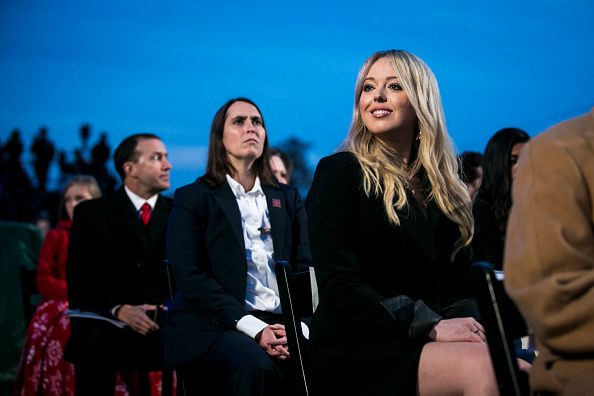 Tiffany Trump is sometimes called President Donald Trump's "forgotten" daughter or the daughter who he "wants to hide," but she has had a fairly eventful 2017. Even though she doesn't hold a position in the White House like some of her half-siblings do, Tiffany Trump has been in the public eye for her new start at school in Washington D.C., several trips abroad, and participating in family events like the Thanksgiving turkey pardon.
She usually flies under the radar compared to her half-sister Ivanka, who is the president's favorite child, according to the rest of the kids, and his most trusted adviser on some issues.
While she's more private than some of her other family members, here are some of the things that Trump did this year.
Started at Georgetown University
Trump began classes at Georgetown Law in the fall, following in the footsteps of older brother Eric Trump, who attended the university, and older sister Ivanka, who spent two years at Georgetown before transferring to the Wharton School of the University of Pennsylvania.
Her decision to attend Georgetown ended the ongoing mystery and speculation that she might choose a New York-based school or shoot for Yale University, the top-ranked law school in the country. Her first semester wrapped up, and Trump returned to New York for winter break.
Took a yacht trip with her mother
Trump and her mother Marla Maples, the president's second wife, took a trip to the Tyrrhenian Sea in July, documenting a vacation that included a visit to Capri, Tuscany and Ponza.
The duo shared images on social media over the course of about a week, showing idyllic views of the sea and activities like jet skiing.
Made some jewelry
Trump stopped by a jewelry shop she frequents in the Hamptons in July to show off some custom-made necklaces that she had crafted. Trump, who was named after the jeweler Tiffany & Company, has apparently taken up jewelry making as a hobby.
The shop owner was sure to clarify that her boxing glove pendant and lightning bolt shaped necklace were not for sale. The jewelry can be seen in an Instagram post from Blue & Cream, the shop.
Celebrated her 24th birthday
Trump turned 24 in October and celebrated with a trip to New York City. She met with friends at Urbani Truffles on the Upper West Side. Her mother, as well as Donald Trump Jr., joined, but the rest of the First Family did not. The president was criticized for failing to wish his youngest daughter a public happy birthday, since he has posted birthday wishes for others in his family. Instead, the president tweeted about health insurance stocks that day.
Traveled over the holidays
Trump participated in the White House turkey pardon for Thanksgiving, joining the rest of her siblings in the tradition, but then spent the holiday with her mom, away from Palm Beach where the rest of the First Family spent Thanksgiving dinner. Similarly, the youngest daughter spent Christmas in New York City, but only after joining the rest of the Trumps on a getaway to Mar-A-Lago, where she and Ivanka posed for a photo that sparked outrage online.
It wasn't the first time she caught heat for spending time and money on travel as the political landscape intensifies back home. Her trip to Europe with boyfriend Ross Mechanic was controversial because it cost more than $22,000 in hotel rooms alone to bring along Secret Service protection.