Tiffany Trump Celebrated Pride Despite the President Not Recognizing It
President Donald Trump's youngest daughter, Tiffany Trump, celebrated LGBT Pride Month in New York City on Saturday, breaking from her father's failure to recognize the observance for the second straight year.
Related: Trump would be up to his neck in Tiffanys without birth control, Samantha Bee jokes
Tiffany, 24, was captured in a Soho House photo booth with her Just Drew fashion line friends Andrew Warren and Julius Barnathan. The latter posted the clip on his Instagram with the caption "Happy pride from us to you," along with flag and rainbow emojis.
She replied with emojis of pink hearts, a unicorn and sparkles. Her enthusiasm for celebrating lesbian, gay, bisexual and transgender people suggests some defiance toward her father's anti-LGBT record.
Former Presidents Bill Clinton and Barack Obama acknowledged LGBT Pride Month in June, and the White House was lit up in rainbow colors after the Supreme Court legalized same-sex marriage, but that tradition stopped with President Trump.
President Trump broke his word from the campaign trail in June 2016, when he tweeted, "Thank you to the LGBT community! I will fight for you while Hillary brings in more people that will threaten your freedoms and beliefs."
In his first year in office, Trump tried to reinstate a transgender ban in the military and nominated judges with anti-LGBT stances.
While Tiffany displayed support for LGBT Pride Month, her older sister, Ivanka, who serves as a senior White House adviser and is aligned closer to her father politically, did not.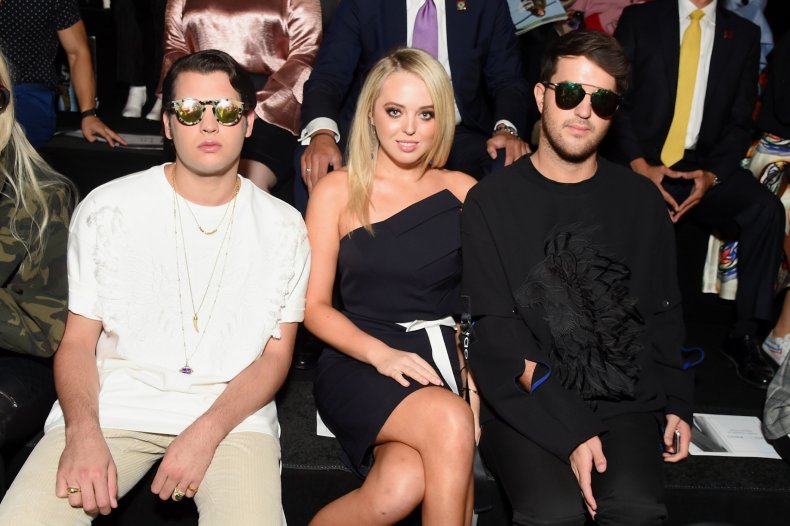 Ivanka, 36, received a backlash on social media for tweeting in June 2017, "I am proud to support my LGBTQ friends and the LGBTQ Americans who have made immense contributions to our society and economy," because of the Trump administration's policies stripping protections from the LGBT community.
President Trump has repeatedly indicated that his favorite child is Ivanka. In March, when both daughters accompanied him at an infrastructure talk in Ohio, he said, "Speaking of a job well done, we have two of my daughters here today: Ivanka, who is working hard on infrastructure! Ivanka...and Tiffany!"
Asked in a 2004 New York magazine interview if favoritism was in play, Donald Trump said, "Come on! Daddy's little girl!" in reference to Ivanka, then suddenly remembered Tiffany. "You know, I have another daughter, with Marla, named Tiffany?" he said at the time. "She's just a beautiful great kid also. But it's very separate. When you have separate wives, it's sort of…separate."
A Georgetown Law student, Tiffany does not appear in public with her father as often as her older sister does and has kept a relatively low profile.