Tiffany Trump Child Support Payments Would Have Been Stopped by Donald if She Joined the Military: Prenup
President Donald Trump's newly revealed prenuptial agreement with his second wife Marla Maples contains rules regarding their daughter Tiffany Trump — specifically on circumstances under which his child support payments for her would end early.
The 1993 prenup, obtained and reported by Vanity Fair on Tuesday, established that Donald Trump would halt $100,000 child support payments for Tiffany Trump when she turned 21 years old, or earlier if she joined the military, the Peace Corps., or landed a full-time job.
"The way it was drawn up is ironclad and shows how wary he was," divorce lawyer Raoul Felder, who has represented Trump's attorney Rudy Giuliani, told the magazine after reading the prenup. "He was leaving nothing to chance."
The prenup was a reflection of Trump's fierce desire to guard his money at a time when he faced bankruptcy from three Atlantic City casinos and debt.
Trump negotiated to pay Maples just $1 million if they divorced within five years, and an additional $1 million to purchase a house. Maples reportedly had requested $25 million.
Maples gave birth to Tiffany Trump in October 1993 and wanted to marry soon after. Besides that, Donald Trump warmed up to the idea of marrying Maples because his conservative parents were not happy he had a daughter out of wedlock, and the marriage could calm investors as he prepared to go public with his casinos to pay his debts.
Donald Trump and Maples eventually settled the prenup at $14 million. Maples tried to negotiate better terms but was forced to cave, 24 hours before thousands of guests were set to arrive at their wedding.
"Marla was under duress," a source told Vanity Fair. "Donald's position was: without the prenup he wasn't going to get married."
They separated after only four years. Maples moved to California and took Tiffany Trump with her, while Donald Trump remained based on the East Coast.
The White House did not respond to a request for comment from Newsweek on Tuesday.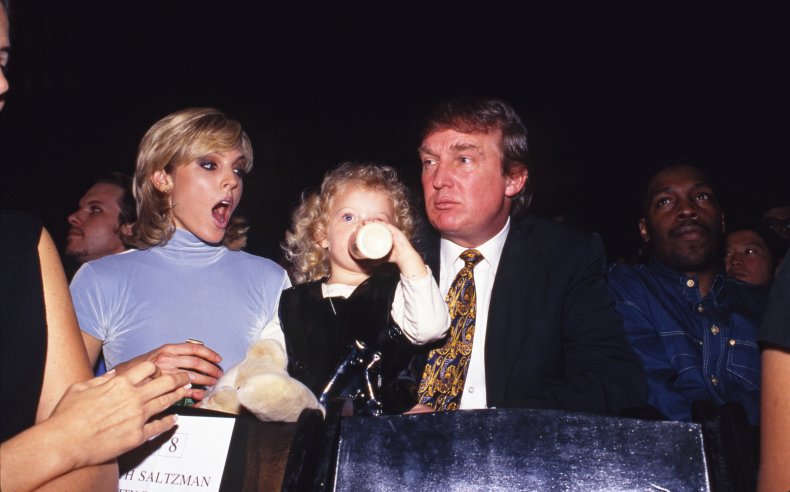 Trump has appeared to favor his older daughter Ivanka Trump, whom he had with his first wife Ivana Trump and now serves as a senior White House adviser. The president regularly praises Ivanka Trump, 37, while barely mentioning Tiffany Trump, 25, who does not frequently appear at his official events.
But Tiffany Trump has displayed appreciation for her father. She posted a photo on Instagram of herself with him at his Mar-a-Lago resort in April along with, "Happy Easter."
More recently on Mother's Day, she was more expressive to Maples.
"Thank you @itsmarlamaples for being there for me always and guiding me throughout my life!" Tiffany Trump wrote on the Instagram post. "I wouldn't be where I am today without your unconditional love!"