Tiffany Trump Gets Faux Praise as Family 'Black Sheep' for Avoiding Lawsuit
New York Attorney General Letitia James' lawsuit against former President Donald Trump and his children Donald Jr., Eric and Ivanka did not name Tiffany Trump, his fourth adult child, and social media soon took notice.
"Tiffany Trump is now taking a big sigh of relief that she wasn't included in Trump's business," wrote a Twitter user. "Sometimes it pays being the black sheep of the family!"
Several others also used the term "black sheep" in discussing how Tiffany wasn't named in James' lawsuit, which was announced Wednesday and includes other senior executives of the Trump Organization, in addition to the former president and his three eldest children.
The suit accuses Donald Trump and the Trump Organization of "knowingly and intentionally" filing more than 200 false and misleading valuations of multiple properties and assets to inflate the elder Trump's net worth and obtain better loans. James said she wants to permanently ban the Trump Organization from operating commercially or requesting loans in the state of New York.
Donald Jr., Ivanka and Eric are from Trump's first marriage, which was to the late Ivana Trump, who died in July. Tiffany is the only child from the former president's second marriage, to Marla Maples, and he shares 16-year-old Barron with his current wife, Melania. (Barron was also not named in the lawsuit.)
In referencing the lawsuit, one person tweeted, "Tiffany Trump just realized it pays to be the forgotten one."
Others joked that they felt bad for the only adult Trump child not named in the lawsuit.
"Tiffany Trump is so low on the family totem pole, she can't even get a lawsuit filed against her. #sad," wrote one person.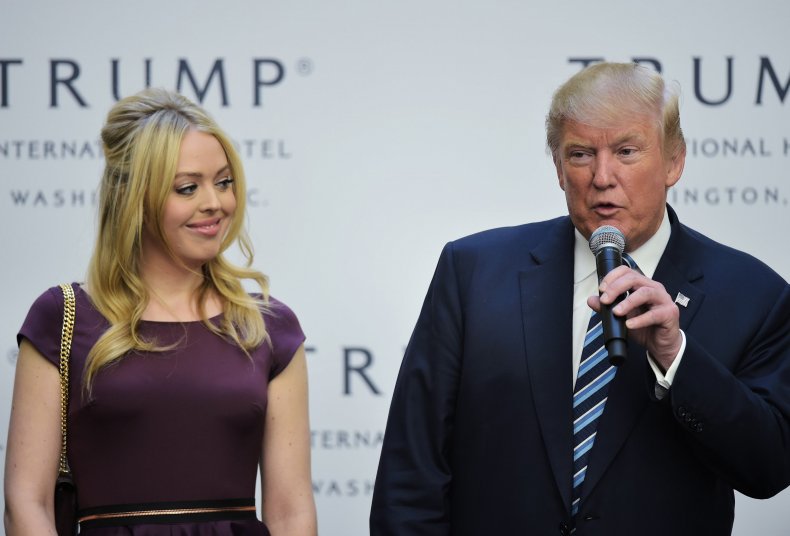 "Poor Tiffany. She can't even get invited to a trump lawsuit," another said.
Novelist Paul Rudnick tweeted, "After half-sister Tiffany was excluded from the latest Trump family lawsuit she responded, 'Maybe now Ivanka will stop calling me Taffy, snubbing me at Grand Jury hearings and sending me her old hair for Christmas.'"
Among the backhanded congratulations given to Tiffany were some messages that contained what seemed like earnest praise for Marla Maples.
"All of @itsmarlamaples parenting choices are paying off because knew exactly what she was doing raising Tiffany Trump away from that family and giving her a 'normal' childhood secluded from biz & fame. Now, she's the only adult Trump kid NOT named in a lawsuit! Bravo, Marla!" a Twitter user wrote.
"Marla did the right thing by raising Tiffany in California," another person tweeted.
Newsweek reached out to a Trump representative for comment.