Was Tiffany Invited to the Trump Family Thanksgiving? First Daughter Spends Holiday With Marla Maples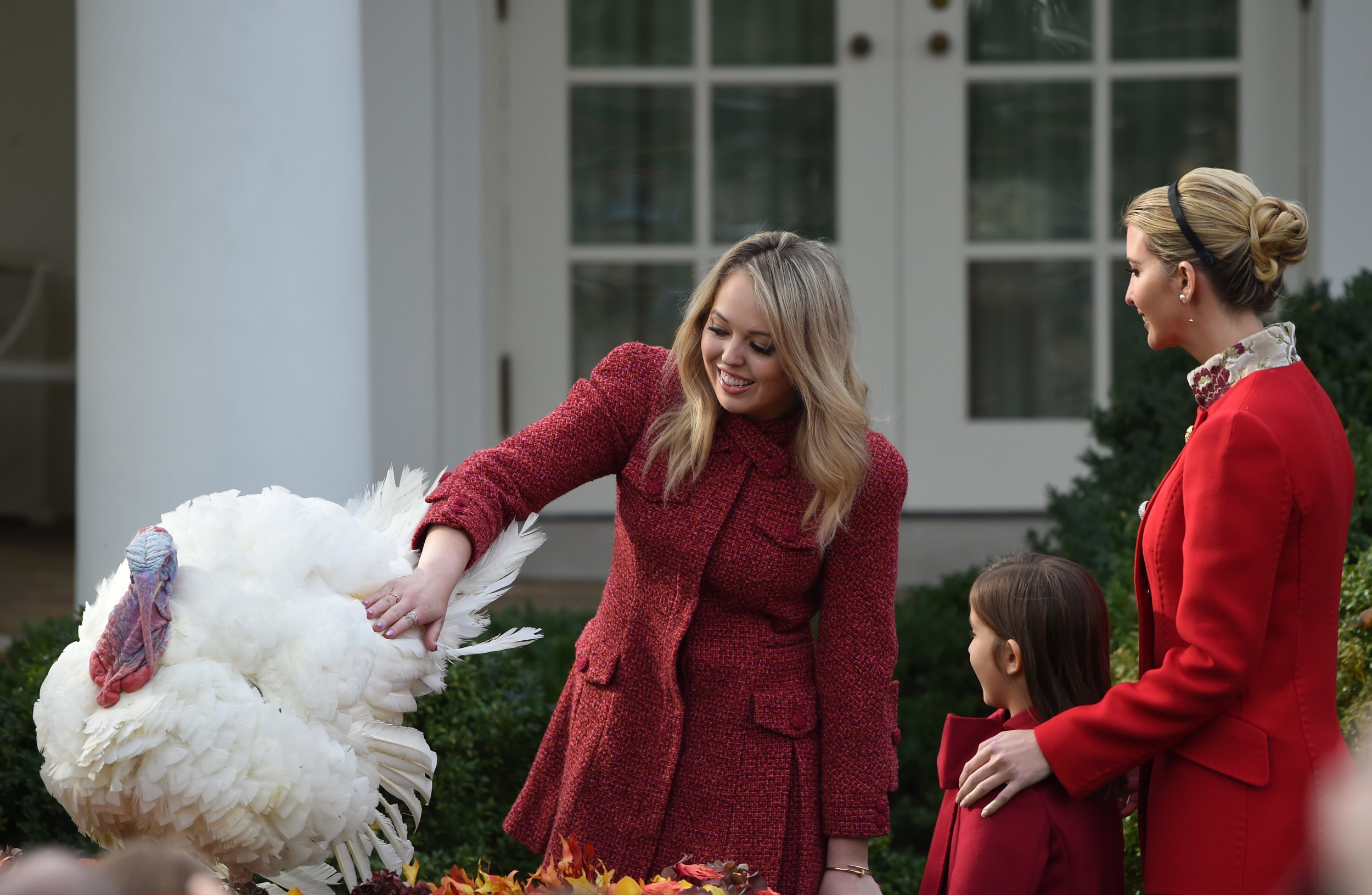 The White House may have told reporters that President Donald Trump was having "a nice Thanksgiving dinner with all the family" on Thursday, but it doesn't seem like all his relatives showed up. Tiffany Trump, the often overlooked first daughter who is not Ivanka, appears to have spent the holiday away from her father.
While the president and first lady were at Mar-a-Lago enjoying turkey, stuffing, mashed potatoes, gravy, sweet potatoes, red snapper, Florida stone crab and more, Tiffany Trump was with her mom, Marla Maples. It's not clear exactly where they were, but Tiffany Trump posted a series of photos on Instagram wearing clothing for weather much colder than the high 70s Palm Beach had on Thursday.
Maples, who was married to Donald Trump from 1993 to 1999, also shared a picture with her daughter, writing, "Me and my little drumstick. After dinner, pre-dishes fun! Hope you found lots of reasons to smile today. Grateful for time with Tiff sharing in a special #momsanddaughters weekend."
The duo appeared to have eaten dinner with private chef Cheyenne Van Zutphen and her mom, psychic Tara Sutphen. In one post, Trump supervises while Van Zutphen carves a turkey, joking that "that's one thing I'm not probably good at."
Trump's nonattendance at the Mar-a-Lago dinner isn't that unusual. While her half-siblings Donald Jr., Eric and Ivanka are constantly in the spotlight, she's more private—her family didn't even wish her happy birthday on social media last month. Trump recently started school at the Georgetown University Law Center and rarely does public appearances.
However, the 24-year-old made an exception this week for her dad's turkey pardoning ceremony, where she made headlinesafter wearing a red coat and bare legs. Her equally reclusive half-brother Barron, who at 11 is the only Trump kid to live in the White House, also attended the event.
In her dad's Thanksgiving address, he didn't specifically talk about his family at all. The president, after giving a summary of how the Thanksgiving started in the 1600s, bragged about his accomplishments in office thus far.
"Our country is doing very well. Our stock market has hit a new all-time high. Unemployment is at a 17-year low. We've created $5.5 trillion worth of values," he said. "We are doing something very special. People are feeling it. The enthusiasm in this country has never been higher."
No word on whether Tiffany Trump agrees.