A tiger at the Bronx Zoo in New York has tested positive for the new coronavirus in what is believed to be the first recorded incident of a human infecting an animal with COVID-19 in the U.S.
Officials at the Wildlife Conservation Society's Bronx Zoo released a statement on Sunday, announcing one of the big cats—a 4-year-old Malayan tiger called Nadia—had been diagnosed after developing a dry cough.
The National Veterinary Services Laboratory at the U.S. Department of Agriculture (USDA) confirmed the positive result, revealing she had been infected with SARS-CoV-2, the virus that causes COVID-19.
The virus is believed to have been spread to the tiger by a person who had been caring for the zoo's animals before developing symptoms themselves.
"We tested the cat out of an abundance of caution and will ensure any knowledge we gain about COVID-19 will contribute to the world's continuing understanding of this novel coronavirus," zoo officials said.
Six other cats, including Nadia's sister Azul, two Amur tigers and three African lions also developed a dry cough. However, the zoo decided against testing them so as not to subject them to anesthesia, Paul Calle, Bronx Zoo chief veterinarian, told Reuters.
Nadia was the sickest and started developing symptoms on March 27, Reuters reports. Calle explained the test used is different to tests used on humans.
"You cannot send human samples to the veterinary laboratory, and you cannot send animal tests to the human laboratories, so there is no competition for testing between these very different situations," he said.
All seven animals are expected to recover and aside from a decreased appetite, are doing well under veterinary care. According to the statement, they are "bright, alert, and interactive with their keepers."
"It is not known how this disease will develop in big cats since different species can react differently to novel infections, but we will continue to monitor them closely and anticipate full recoveries," said zoo officials.
"There is no evidence that animals play a role in the transmission of COVID-19 to people other than the initial event in the Wuhan market, and no evidence that any person has been infected with COVID-19 in the U.S. by animals, including by pet dogs or cats."
The USDA said this is the first instance of its kind, and more research is needed to determine how different animals may be affected. "Although there have not been reports of pets becoming sick with COVID-19 in the United States, it is still recommended that people sick with COVID-19 limit contact with animals until more information is known about the virus," it said in a statement.
"This reported case is yet another example of the risks of close interaction between wild animals and people," said Dr. Jan Schmidt-Burbach, Global Head of Wildlife Research at World Animal Protection. He calls for zoos to implement thorough safety measures to make sure captive wild animals are not at risk.
"Sixty percent of emerging infectious diseases are zoonotic, meaning they originate from animals, with 70 percent of these thought to originate from wild animals. The demand for and exploitation of wild animals exposes us to disease and puts us all at risk."
The Bronx Zoo is one of four zoos and one aquarium owned by the Wildlife Conservation Society. All have been temporarily closed as of March 16 amid the coronavirus outbreak.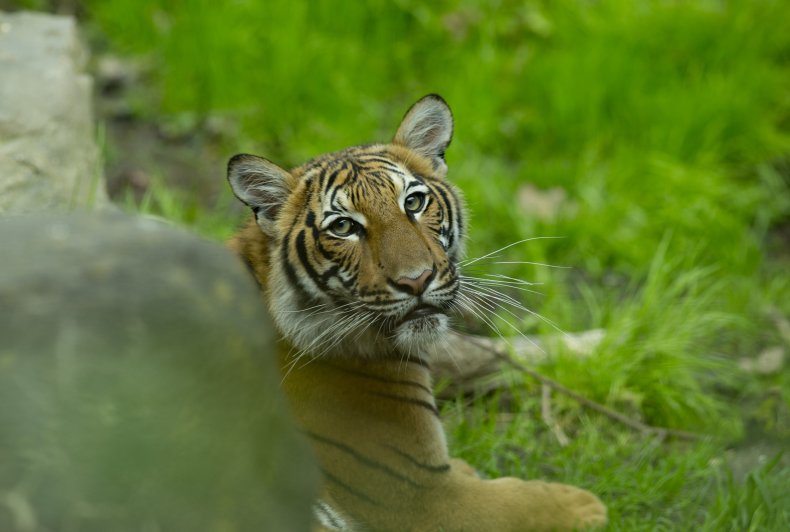 COVID-19 is a zoonotic disease, meaning it can be transmitted from animals to humans. and is thought to have been transmitted to patient zero by an animal host. However, little is known about the threat it poses to other animals.
There have been reports from Hong Kong of dogs testing positive for COVID-19 and scientists in China say it is possible for cats to be infected with the virus. But according to the Centers for Disease Control and Prevention (CDC), there is very little evidence to suggest that pets can be a spreader of disease.
"The virus that causes COVID-19 spreads mostly from person to person through respiratory droplets from coughing and sneezing," the CDC said. "At this time, there is no evidence that companion animals, including pets, can spread COVID-19 to people or that they might be a source of infection in the United States."
The infographic below from Statista shows a sharp rise in the number of confirmed COVID-19 cases in New York between March 16 and April 5, 2020.
The article has been updated to include comments from Dr. Jan Schmidt-Burbach.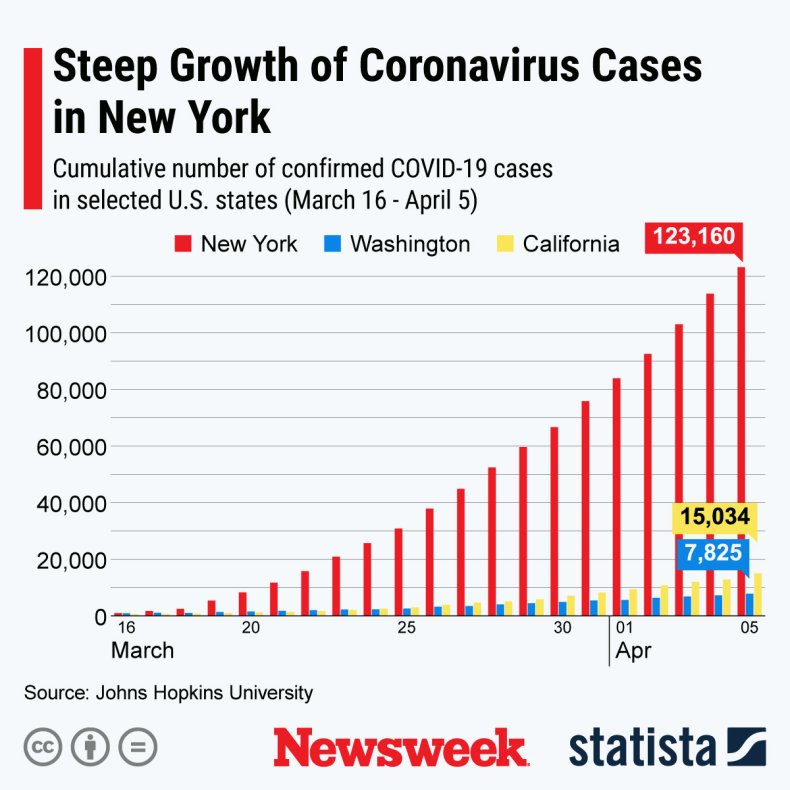 Centers for Disease Control and Prevention Advice on Using Face Coverings to Slow Spread of COVID-19
CDC recommends wearing a cloth face covering in public where social distancing measures are difficult to maintain.
A simple cloth face covering can help slow the spread of the virus by those infected and by those who do not exhibit symptoms.
Cloth face coverings can be fashioned from household items. Guides are offered by the CDC.
Cloth face coverings should be washed regularly. A washing machine will suffice.
Practice safe removal of face coverings by not touching eyes, nose, and mouth, and wash hands immediately after removing the covering.
World Health Organization advice for avoiding spread of coronavirus disease (COVID-19)
Hygiene advice
Clean hands frequently with soap and water, or alcohol-based hand rub.
Wash hands after coughing or sneezing; when caring for the sick; before, during and after food preparation; before eating; after using the toilet; when hands are visibly dirty; and after handling animals or waste.
Maintain at least 1 meter (3 feet) distance from anyone who is coughing or sneezing.
Avoid touching your hands, nose and mouth. Do not spit in public.
Cover your mouth and nose with a tissue or bent elbow when coughing or sneezing. Discard the tissue immediately and clean your hands.
Medical advice
Avoid close contact with others if you have any symptoms.
Stay at home if you feel unwell, even with mild symptoms such as headache and runny nose, to avoid potential spread of the disease to medical facilities and other people.
If you develop serious symptoms (fever, cough, difficulty breathing) seek medical care early and contact local health authorities in advance.
Note any recent contact with others and travel details to provide to authorities who can trace and prevent spread of the disease.
Stay up to date on COVID-19 developments issued by health authorities and follow their guidance.
Mask and glove usage
Healthy individuals only need to wear a mask if taking care of a sick person.
Wear a mask if you are coughing or sneezing.
Masks are effective when used in combination with frequent hand cleaning.
Do not touch the mask while wearing it. Clean hands if you touch the mask.
Learn how to properly put on, remove and dispose of masks. Clean hands after disposing of the mask.
Do not reuse single-use masks.
Regularly washing bare hands is more effective against catching COVID-19 than wearing rubber gloves.
The COVID-19 virus can still be picked up on rubber gloves and transmitted by touching your face.