Italian police are investigating after one of the country's most famous tamers was killed by four tigers he was training.
Ettore Weber died Thursday evening during a rehearsal at Marina Orfei Circus in Triggiano, Bari, Italian newspaper Repubblica reported.
Police said they think one tiger bit Weber, prompting the other three to attack. The animals mauled the tamer for some 20 minutes, according to Notizie.it.
Some 118 people tried to rescue Weber, but he died from his injuries. He was in his early sixties.
Weber's show was part of the circus's "Animal Park" event, which featured live animals from five continents. It was due to run from June 15 to July 14. The circus did not immediately respond to Newsweek's request for comment.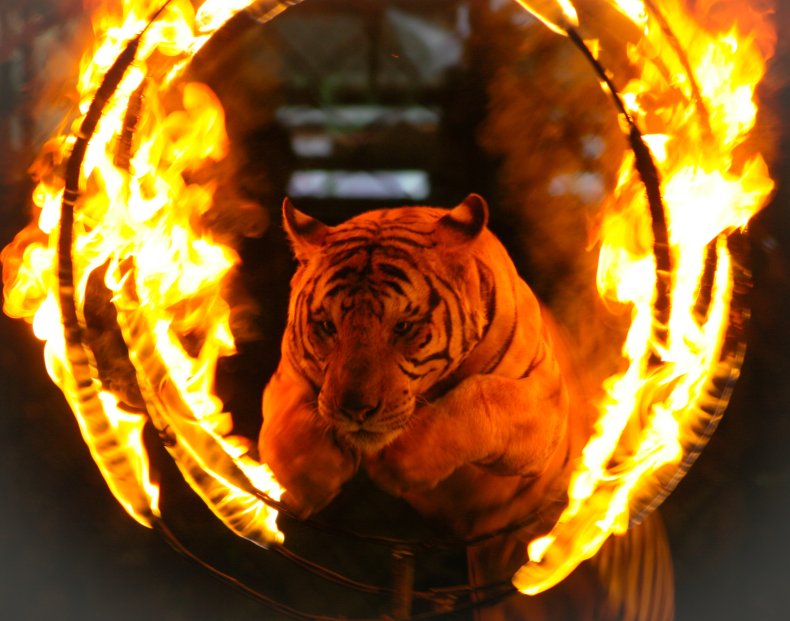 Weber's death provoked fierce criticism on social media of circuses that feature wild animals. One Twitter user wrote: "Animals have to stay where nature puts them, stop. You can't torture them for your own profit and delight."
User Lello Pinto called those who run circuses with wild animals "beasts." "A decent parent doesn't take their children to see animals behind bars," Pinto added.
User Katerina Medici said she was not "at all" sorry about the tragedy. "This is not their natural habitat," she wrote. "Let these animals go free."
"Karma is a b****," tweeted another user. "Another reason not to use animals in circuses."
User Paola Massari said she was "dismayed, of course," but added: "This could also be an opportunity to stop exploiting, segregating and mistreating exotic animals."
But some Twitter users hit back at critics. One said those "rejoicing" over Weber's death wouldn't do the same if he was their own friend or relative. The user added: "If you are so opposed to the mistreatment of animals in the circus, why don't you actually take action?"
Italy's parliament voted to phase out animal circus acts in November 2017, with a requirement that new legislation be outlined within a year. Campaign group Animal Defenders International hailed the move as "a major breakthrough" for animal rights.
In the U.S., some states have banned the use of exotic wild animals in circuses. When New Jersey governor Phil Murphy signed such a bill into law last December he said he was proud his state would no longer allow animals to be "exploited and cruelly treated." He added: "These animals belong in their natural habitats or in wildlife sanctuaries, not in performances where their safety and the safety of others is at risk."