​​'Tiger King 2' Uses Male Pronouns For Saff Saffery After First Season Backlash
Tiger King 2 may claim to be the next chapter in the stories of Joe Exotic and Carole Baskin, but in many ways the second season is more about the reaction to the first season. It also fixes what some saw as the biggest problem of that season—the way it spoke about Saff Saffery
The new episodes give much time to the armchair detectives who took up the case of the disappearance of Don Lewis after watching the first season, plus Joe Exotic's attempt to get a presidential pardon from fellow reality TV star Donald Trump. The show also seems to have taken one criticism about the first season to heart.
Original Tiger King viewers will remember Saff Saffery as Joe Exotic's former employee, who lost his arm following a tiger attack. What they may not have known from watching those episodes was that Saffery is a transgender man.
The reason that viewers may not have known this is that the film uses she/her pronouns to describe him, and uses what the transgender community calls his "deadname" (the name assigned to him at birth) throughout. The misgendering of Saffery in the first season caused much ire among transgender people and allies on social media. When Netflix released season 2, they did not address the outrage directly, but did do one important thing.
Tiger King 2 uses Saff Saffery's proper pronouns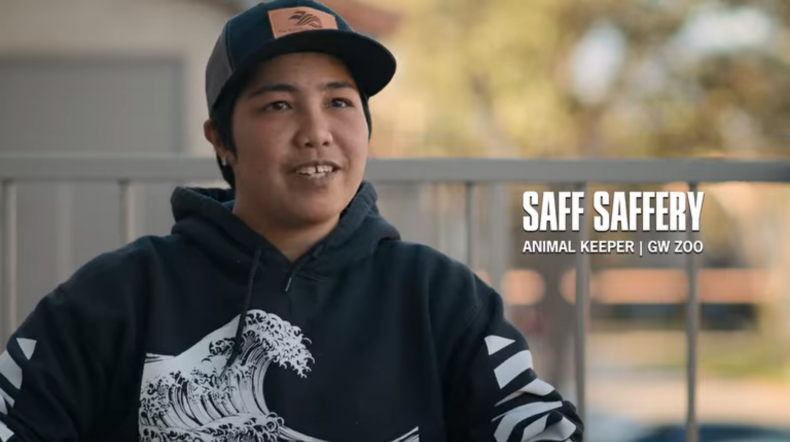 Saffery makes only a fleeting appearance in the first episode of Tiger King season 2. But when he does appear a few minutes in, it is under the name he uses, Saff Saffery.
When someone talks about him in a later scene, they use he/him pronouns. That moment comes around 31:12 in episode 1, when Joe Exotic's former campaign manager Joshua Dial is talking about some of the events covered in the first season. Speaking about the Saff getting attacked by a tiger, Dial says: "Wherever Joe went, he left a wake of misery, pain, and suffering...Saff. Saff lost his arm."
What did Saff say about being misgendered?
In an Esquire interview, Saffery seemed fairly laidback about what name and which pronouns people used for him. He said: "I don't care if they're calling me she; I don't care if they're calling me he. On a daily basis, I am called 17 different things. I never really took it to heart."
However, in the same interview he made his preferred mode of address clear. He said: "I was in the army prior to the park and they always use last names. So, Saff was my preferred name. And I've always gone by 'him' since I could say that out loud. My family was always very supportive—it was never an issue."
In the Joel McHale-hosted reunion show for Tiger King, Saffery said that: "I don't think it bothered me as much as it bothered everyone else. It didn't really pay it any mind."
Following that, however, he stated the importance of pronouns in a Reuters interview: "I don't think they intended to be cruel in any way, but dismissive or not, it still made a very, very loud statement about the way they feel about the [LGBTQ+] community. These titles and these pronouns, they matter just as much as calling someone by the wrong name. It's something that you shouldn't dismiss."
Tiger King 2 is streaming now on Netflix.